London's Royal Opera House has unveiled the huge hand-painted silk installation that will hang in the Paul Hamlyn Hall next month.
Twelve giant, 11-metre banners will be displayed vertically in the Covent Garden hall's stunning vaulted glass ceiling as part of the Deloitte Ignite festival from 4 September.
Ali Pretty, founder and artistic director of not-for-profit outdoor arts organisation Kinetika, has designed the artwork, which tells the story of the Royal Opera House from its establishment and evolution of its architecture to the changing nature of performances and its development in the late Nineties. It also offers a glimpse of plans for the historic building's future.
Royal Opera House silk-painted banners
Royal Opera House silk-painted banners
1/12 Harlequin

Banners 1-6 illustrate the history of the three theatres that have stood on the Covent Garden site since 1732. The banners show the evolution of the architecture and the changing nature of the performances at the theatre; the establishment of The Royal Opera and The Royal Ballet; and the redevelopment of the Royal Opera House in the late 1990s – as well as offering a glimpse of plans for the future of this historic building.

2/12 Fire

3/12 Theatre

4/12 Muses

5/12 Redevelopment

6/12 Open Up

7/12 Dance

Banners 7-9 celebrate the world-class music, dance and singing that are synonymous with the Royal Opera House.

8/12 Singing

9/12 Orchestra

10/12 Learning and Education

Banners 10-12 focus on the activities of the Learning and Participation Department, the backstage technical departments who make the productions possible and the audiences who enjoy the performances.

11/12 Backstage Stagecraft

12/12 Front of House Staff
Pretty spent nearly 750 hours waxing and painting the colourful installation along with a dedicated team of 20 local artists and volunteers. She used the batik method, in which selected areas of silk are blocked out using wax before being hand-dyed.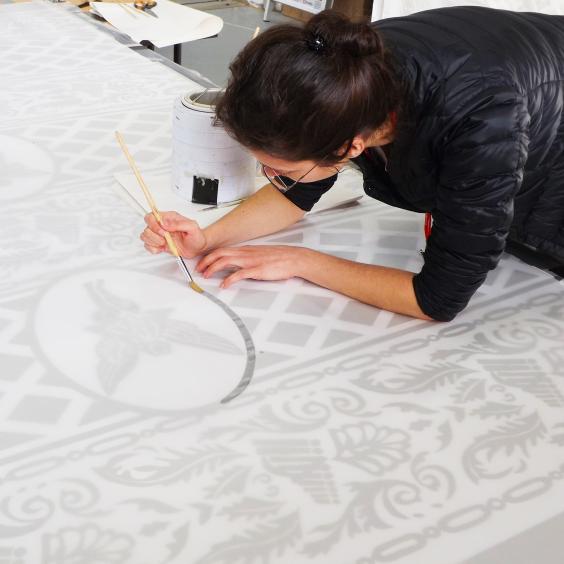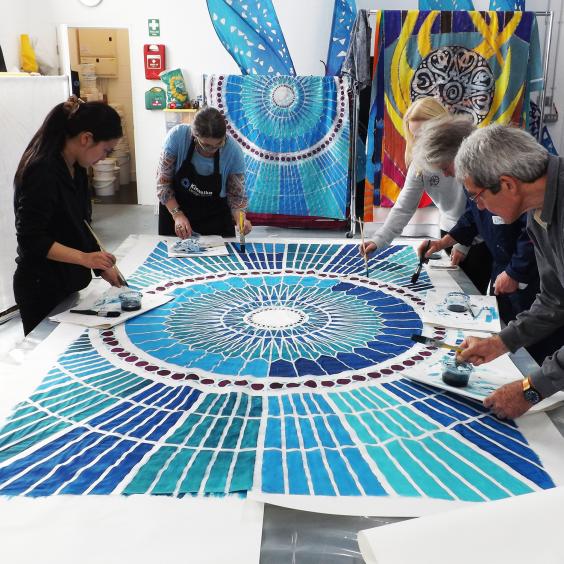 The project is of personal significance for Pretty as her mother danced with the Royal Ballet Touring company in the Fifites.
"The Royal Opera House is one of the world's most foremost cultural institutions. Telling almost 300 years worth of history in such a small space has been a challenge - there's so much! - but we're happy with how we've captured it," she said.
"With the silks, the aim was to create something that connects the narrative of the Royal Opera House with the building itself. The silks will live on as a unique snapshot of the past that can be used over and over again."
The installation is open to the public for free, with Kinetika also offering free hour-long batik workshops on 5 and 6 September.
Reuse content