Alice's Adventures Under Ground, Barbican, London, review: Barbara Hannigan as Alice has vocal gymnastics that leave most sopranos standing at the lights
Lewis Carroll fuses with classical music's funniest living composer in Gerald Barry's hilarious new opera performed by the Britten Sinfonia and conducted by Thomas Adès
5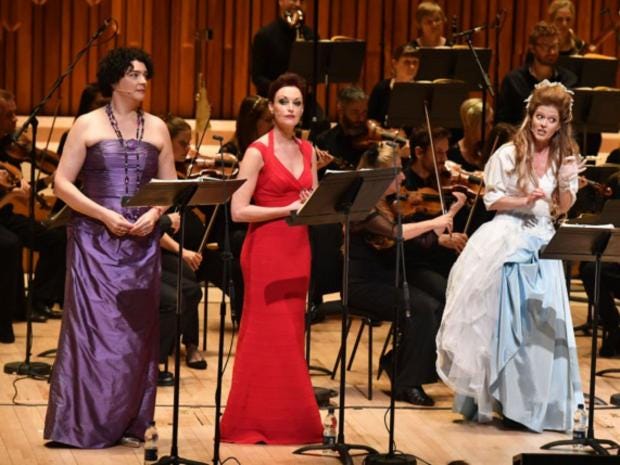 Humour and modern music don't generally cosy up to one another in the same sentence, but add in the composer Gerald Barry and they become very happy bedfellows indeed. Following the success of his opera The Importance of Being Earnest, Barry has moved on to another classic, conflating Alice in Wonderland and Through the Looking Glass into Alice's Adventures Under Ground, which received its European premiere in concert performance last night at the Barbican, under Thomas Adès's precise baton and the ever-remarkable Britten Sinfonia.
It's a frenetic whistlestop tour of key moments, with five singers beautifully multi-tasking numerous roles, and Barbara Hannigan as Alice, whose vocal gymnastics leave most sopranos standing at the lights. She has all Alice's pertness and conveys a kind of manic disbelief at what's happening to her: it's an extremely funny performance. Huge demands are made of all the performers, requiring exact comic timing of both sung and spoken word, all of whom rose splendidly to the challenge. Constant humour derives from mismatch – Humpty-Dumpty's little fishes song sung ponderously to "Ode to Joy" – sometimes just plain absurdity suffices: "Jabberwocky" rendered successively in French, German and Russian, or wisps of Tipperary sliding past.
Tuneful but always attractively off-kilter, the score boasts brass riffs as appealing as any in Janácek's Sinfonietta. It's music as though refracted through a dream, and with a hefty dose of laughing gas.
The performance was recorded and will be broadcast on BBC Radio 3's 'Hear and Now' on 14 January at 10pm
Reuse content
Comments