Don Carlo, Royal Opera House, London, review: The evening's tours de force come from Ekaterina Semenchuk
Nicholas Hytner's production of Verdi's opera conducted by Bertrand de Billy disappoints on many levels but the Russian mezzo-sopprano steals the show as Princess Eboli
3
Click to follow
The Independent Culture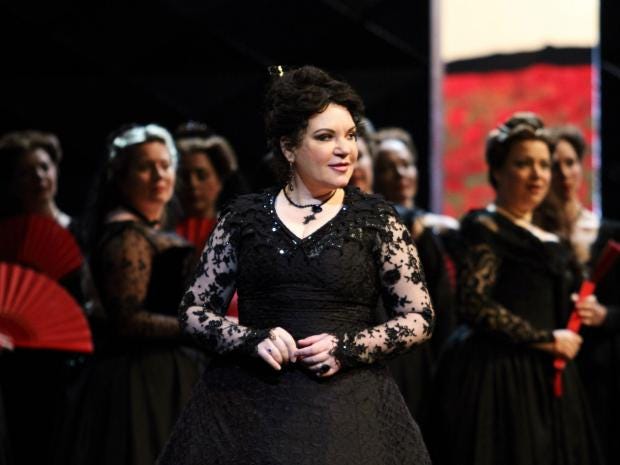 With its God-given melodies, ravishing orchestration and intricate but whizzing plot, Verdi's Don Carlo ticks all the boxes, including that of topicality 150 years after its Paris premiere.
Based on a play by Schiller but grounded in the history of the Spanish Inquisition, it's a rumination on libertarianism versus a punitive form of theocracy with which we are now all too familiar. Its eponymous hero, standing shoulder to shoulder with his blood brother Rodrigo, takes up his sword against his father King Philip on behalf of their downtrodden subjects in the Netherlands.
But the mainspring of the plot recalls Hamlet, as Elisabetta, the woman Don Carlo loves, is forced to marry his father. There is also a conflict on another level, between the King and his Grand Inquisitor over the respective powers of church and state: can Philip be forced to murder his own son? The chilling reply is that a rule which held good for Calvary should also apply here. Only Verdi could have woven these elements into such a seamless and gripping whole.
The opening scene between the young lovers plunges us straight into Carlo's dilemma, moving from his ecstatic joy on meeting his betrothed to shocked despair at the news of her forced marriage, but in this revival of Nicholas Hytner's staging the scene misfires. Bryan Hymel's Carlo lacks the subtly inflected vocal responsiveness which Jonas Kaufmann brought to this scene in the previous revival, while Kristin Lewis's Elisabetta has been induced, presumably by an unnamed revival director, to pout and flounce like a spoilt child. Another disappointment is Ildar Abdrazakov's King Philip, with neither the deep vocal heft nor the physical presence needed to create the dark authority of that role. Meanwhile the auto-da-fe has been tamed, and the ending robbed of its mystery. 
However, Hymel and Lewis become progressively more convincing, and there is much else to enjoy here, notably Christoph Pohl's nobly sung Rodrigo, Andrea Mastroni's sonorous Carlos V, Angela Simkin's bright-toned Page and Paata Burchuladze's Grand Inquisitor, a scarlet-robed puppet laying down the law with iron inflexibility. And I've never heard the orchestra play with more refinement than they do here under Bertrand de Billy.
But the evening's tours de force come from Ekaterina Semenchuk. Whether in her flamenco-tinged veil song, her shocked discovery that her love for Carlos has been spurned, or her agonised confession of guilt over her betrayal of Elisabetta, this great Russian mezzo's beauty of tone, restrained power, and brilliant characterisation effortlessly command the stage.
Reuse content
Comments