Le nozze di Figaro, Garsington Opera, review: I have never known a Figaro like Joshua Bloom's
Garsington's summer season continues with John Cox's re-creation of Mozart's 'Figaro'
5
Click to follow
The Independent Culture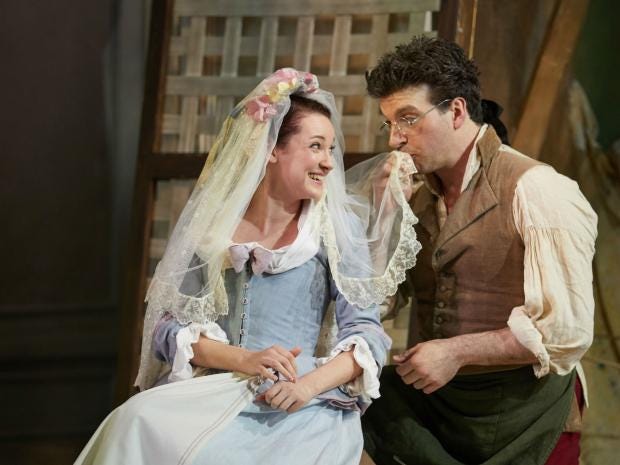 Garsington opened its summer season with a production of Handel's Semele, which was finely sung but got hopelessly lost in the coils of Annilese Miskimmon's labyrinthine directorial concept.
What a relief, the night after, to re-encounter John Cox's production of Figaro, 12 years old but still pristine. This show plays the drama absolutely straight, allowing da Ponte's witty libretto to shine as it should. The fact that the four young principals are all of an age strengthens the opera's blistering social message. 
I have never known a Figaro like Joshua Bloom's – a gale-force character with a thunderous sound: a formidable foil to Duncan Rock's Almaviva who starts off equally commanding, but gets progressively more defensive as the knowledge dawns that everyone is running rings round him.
This process is both comic and touching thanks to brilliant acting; the direction of this production, with its musically-sensitive choreography, is sure-footed every step of the way. 
Jennifer France took time to settle into her part as Susanna, but her comic timing is spot-on and her final big aria is ravishing, while Marta Fontanals-Simmons's entirely credible Cherubino straddles the genders by alternating rutting lust and delicate refinement.
Timothy Robinson's Don Basilio is a vivid commedia dell-arte creation, and Janis Kelly extracts laughter of the sort one more usually expects from an Orton comedy, as the frumpy housekeeper Marcellina.  
Everything about this production is felicitous, from the way the set-within-a-set is continually opening out, to the way the real country-house garden in which the auditorium is situated serves as Cherubino's escape route when he jumps out of the window of Countess Almaviva's apartment.
The nocturnal denouement, sparked by Alison Rose's dainty Barbarina, and presided over by Kirsten MacKinnon's regal Countess, has a sweet inevitability.   
Reuse content
Comments