Semele, Garsington, review: The whole thing becomes rather heavy going
Annilese Miskimmon directs Handel's 'Semele' which stars Christine Rice singing Juno
3
Click to follow
The Independent Culture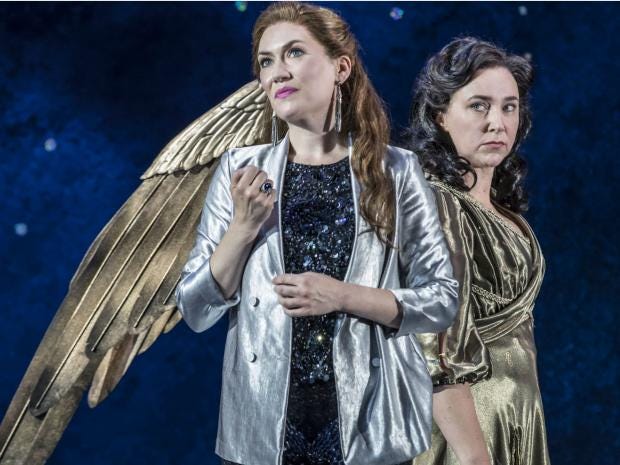 Garsington launched its 29th season with its first foray into Handel: Semele, which describes Jupiter's shenanigans with the nymph Semele, whose determination to become immortal ensures her own destruction. Director Annilese Miskimmon bodies forth William Congreve's racy libretto of hubris and marital infidelity into a snazzy world of pilots and high-stepping uniformed air-crew, dancing among interplanetary silver orbs. 
Semele cannot wait to be whisked from her sublunary betrothed Athamas and translated into this more glamorous realm. Juno, Jupiter's outraged wife – Christine Rice, in magnificently vengeful mode – determines to trick Semele into making her demand Jupiter appear to her in his true guise. To this end, and with the aid of a comically amorous duvet, she presses reluctant Somnus, God of sleep, (excellent bass David Soar) to help her. Much of the humour comes across well, and the singing overall is excellent – a really first-class chorus with Heidi Stober's imperious Semele glassily effective, and Robert Murray's Jupiter caressingly tender if a little imprecise in some of his coloratura. 
But initial patience with Miskimmon's conceits begins to wear thin as too many ideas crowd in, and the whole thing becomes rather heavy going. Done well, Semele is both a joyous romp and insightful commentary on human foibles. It's a pity to see it get bogged down.
Reuse content
Comments