St Luke Passion, Royal Festival Hall, London, review: Dietrich Henschel's attractive light baritone made for a pleasing Christ
Penderecki's 'St Luke Passion', conducted by Vladimir Jurowski, was performed by four Polish choirs and London Philharmonic Orchestra
4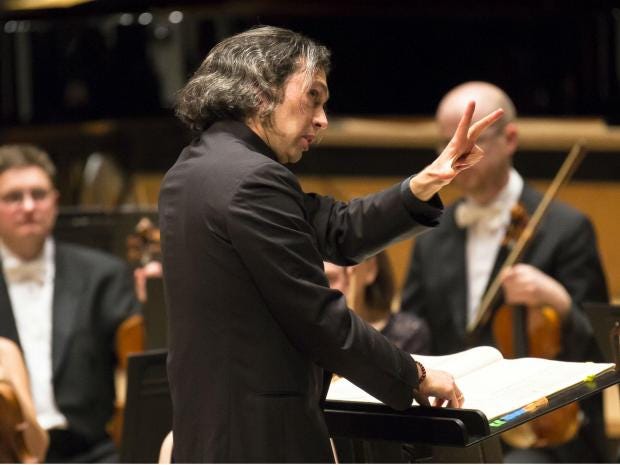 Penderecki's monumental St Luke Passion was the legendary composer's breakthrough work in his home country, Soviet bloc Poland. The piece premiered in 1966 with several repeat performances worldwide: '… one of those pieces of modern music for people who hate modern music?' enquired noted critic Harold C. Schoenberg. Certainly, it boasts all the bells and whistles of the modernist's vocabulary, at times as eerie as anything in Ligeti's contribution to the 2001: A Space Odyssey soundtrack, but there's also an unmistakable debt to Bach, with the great baroque composer's characteristic interplay between drama and meditation remaining prominent throughout the piece.
The South Bank did it proud here with four massed Polish choirs (including the Warsaw Boys Choir) and the versatile London Philharmonic Orchestra, all rigorously marshalled under Vladimir Jurowski's baton, leaving the 80-minute work sounding fresh but controlled. Dietrich Henschel's attractive light baritone made for a pleasing Christ, despite uncomfortable strain whenever required to reach into falsetto. While poised, liquid soprano Elizabeth Atherton beautifully underpinned the moments of quiet reflection.
It was a pity that Omar Ebrahim's spoken Latin narrative should have been over-amplified, but it still provided the weight and solemnity which feeds directly into centuries of sacred works, just as Penderecki intended it should. And when the octogenarian composer appeared to take his bow, the audience rose immediately in a standing ovation.
Reuse content
Comments