The Merchant of Venice, Wales Millennium Centre, Cardiff, review: 'Significant and deeply moving: a must see'
André Tchaikowsky's single opera, on Shakespeare's The Merchant of Venice, raises a powerful voice against the prejudice he suffered as an openly homosexual Jew
5
Click to follow
The Independent Culture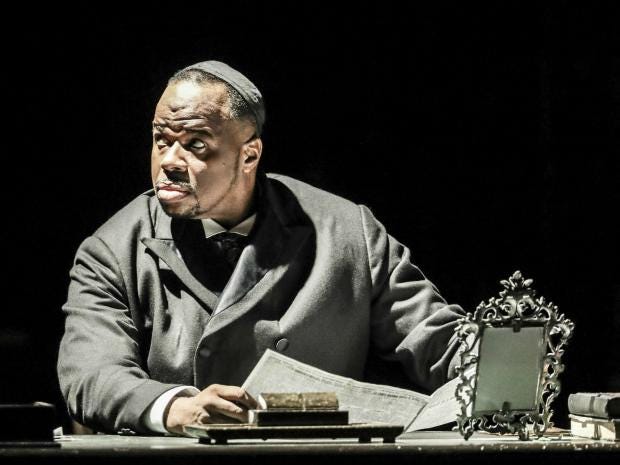 Escaping from the Warsaw Ghetto as a child hardly signalled an end to trauma for the brilliant but troubled pianist-composer André Tchaikowsky. His single opera, based on his beloved Shakespeare's The Merchant of Venice, raises a powerful voice against the prejudice he suffered as an openly homosexual Jew, yet shows an acute, subtle awareness of the play's moral ambivalence.
It's not the abused and vengeful Shylock through whom Tchaikowsky himself looms largest, but his anti-Semitic and – in Keith Warner's lucid and elegantly Edwardian UK premiere production for Welsh National Opera – gay and also tragic nemesis, Antonio. They're rendered with searing intensity by baritone, Lester Lynch and countertenor, Martin Wölfel, supported by a huge cast deftly handled by composer and director alike, and too uniformly superb to pick out some.
The score is lyrical and strikingly expressive in the hands of conductor Lionel Friend and the WNO orchestra. Distinctive, yet saturated with Britten, Berg, renaissance dance; switching in a moment between the dark cruelty of Venice – all pre-crash wheeler-dealing and safety deposit boxes - and a garden Belmont, where casket-bound riches lure their own kind of speculator.
Exploring justice, racism and love with ribald wit as well as wisdom, it's not a flawless work but significant and deeply moving: a must see.
Until 22 November, Wales Millennium Centre (029 2063 6464) then touring: www.wno.org.uk
Reuse content
Comments