By day, Mike does audio descriptions of television shows for blind people. By night, or on his days off, he is an internet comedy sensation. As one half of Cassetteboy, he has made arguably a bigger impact this party conference season than any politician, thanks to his viral video "Cameron's Conference Rap".
The two-minute mash-up splices snippets from five years of conference speeches by David Cameron into one seamless rap set to Eminem's "Lose Yourself." Thanks to split-second editing, the Prime Minister is manipulated to spit rhymes like, "We have the bravery/ To bring back slavery." Or "I'm hardcore and I know the score/ I am disgusted by the poor/ And my chums matter more."
It is masterfully done, very clever and hilarious in the way that only an Etonian saying "So let the beat drop" can be. Cassetteboy uploaded the video last Wednesday, just after Cameron stepped down from the podium. Since then it has been watched more than 3.5million times on YouTube. By contrast Cameron's real speech has had just 44,000 hits on the Conservative Party's channel. It is quite the upstaging.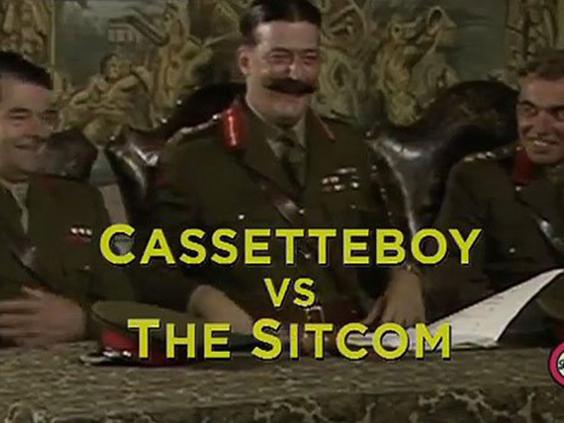 "I had a feeling that this one was quite good but we've been blown away by how quickly people have responded to it", says Mike from Cassetteboy, as he prefers to be known. Various sources name him as Michael Bollen or Mike Bolton; his "more musical" partner, Steve, works in a gallery and is sometimes named as Steve Warlin. "We're going to stay anonymous. It's more fun that way," says Mike. "We get to appear on BBC News wearing stupid masks. We've always done the stupidest thing possible with Cassetteboy and being anonymous and dressing up is just a continuation of that."
It was also something of a necessity, until last Wednesday when the law changed to allow the use of copyright material for parody. "Before that everything we did was basically theft", says Mike. In six years of cutting and pasting clips from the likes of The Apprentice, The One Show or the news, Cassetteboy have only been in hot water once. Their saucy mash-up of Nigella clips annoyed her television company so much, it had it removed from YouTube.
Cassetteboy began 20 years ago with the duo making mix-tapes for friends, which interspersed songs with funny clips from The Day Today or The Hitchhiker's Guide to the Galaxy. In 2002, they released their first album, The Parker Tapes and they stuck with audio until 2008 when they reluctantly joined the internet revolution. Initially, they did it to teach themselves video editing. "In the hope we might find jobs as video editors", says Mike.
As their name suggests, Cassetteboy are not exactly web wunderkinds. They don't keep up with other mash-ups - "Either it's not very good so we don't enjoy it or it's too good and we think we should have had that idea. We're big fans of Swede Mason who did the Masterchef 'Buttery Biscuit Bass' song. And there was a great one which laid clips of Wagner on X Factor over Stephen Fry's documentary about Wagner, the composer. That was one of those moments when you thought 'Of course. Why didn't we think of that?'"
It took them a while to get web savvy. "We resisted the internet for a long time. I don't know why. We finally got a MySpace just as MySpace was turning to dust. We faffed around not getting a Facebook page for too long so we lost the Cassetteboy address – someone in Korea has that. Someone else had got the Twitter handle @cassetteboy but we managed to persuade him to give it to us…"
Their first video featured a Gordon Brown speech. Since then, they've released as many as their day jobs allow. It's a labour-intensive process. They took a week off work in order to release the Cameron rap in time for the conference and the change in law. "Up until last Wednesday, every video we made was essentially illegal so we were never going to make a living doing it. Now that's changed. It's what we do best and it would be great if what we do best could be turned into our careers." They have already hosted Cassetteboy discos – splicing pop hits with sound clips - but now television shows and DVDs could be on the cards.
As for Nick Clegg, he has nothing to fear - for now. "We're having a break from party conference speeches", says Mike. "We're toying with the idea of doing another rap, maybe with all the party leaders, in time for the election."