Death. It comes to us all, the great leveller and the one great certainty. Yet when it comes to talking about it we Brits are often as silent as … well, the grave. We can be morbid, or squeamish, or embarrassed about discussing grief or contemplating our own mortality – and actually, such nervousness extends to anything to do with our frail human bodies. Sickness, mental health or disability also have a tendency to make us clam up; while modern society is making strides in destigmatising such things, a lot of us still find it hard to talk face-to-face about the wonky working of our brains or bodies.
But there are folk on the Edinburgh Fringe this year hoping to change that – not promising any answers to existential woes, but simply hoping to get us thinking and talking to each other about death, sickness and health. Two mini fests-within-a-fest, Death on the Fringe and the Sick of the Fringe, seek to inspire cross-pollination on these themes between artists, scientists and audiences.
Death on the Fringe ran last year; it was the idea of the Scottish Partnership for Palliative Care, which saw in the world's biggest arts event a golden opportunity to engage a wider audience with its Good Life, Good Death, Good Grief campaign, which encourages open dialogue about death. It was a success, and this year the festival returns, providing a thematic umbrella for 12 theatre and comedy shows that deal with death in some way. These include last year's breakthrough fringe hit So It Goes, this year's word-of-mouth success Ross & Rachel, Gary McNair's A Gambler's Guide to Dying, and a comedy show, Good Grief, about bereavement by Jack Rooke – who shares his stage with an actual coffin, and discusses losing his father as a teenager.
"There is a taboo in talking about death, and maybe arts are one of the ways of breaking that: if you've got a comedian allowing you to laugh at death, or a play that lets you think about bereavement, you might go to the pub afterwards and talk about it," says Robert Peacock, organiser of Death on the Fringe. "In British culture you've got that stiff-upper-lip thing. Even funerals are very morbid, very silent occasions; it's not very easy to talk about the issues death brings up."
Chris Thorpe, whose show Am I Dead Yet? is part of Death on the Fringe, has been mulling over similar concerns. "It's not an attempt to solve the ever-present conundrum of death," Thorpe tells me. "It's an attempt to say living might be better if we just relaxed and chatted about it more."
Death on the Fringe is introducing a lecture strand this year, with four academic guest speakers from the world of medicine and palliative care; "death cafés" will be open afterwards, to encourage a more informal dialogue on the issues raised. But many of the artistic shows also incorporate medical research – and Am I Dead Yet? is a prime example of theatrical types and scientists fruitfully banging their heads together.
Along with fellow performer Jon Spooner, Thorpe has been researching resuscitation – particularly the fact that, given the right conditions, medical science can now revive people up to six hours after they have apparently died. His show asks if death might, strangely, be becoming a process rather than being that sudden finality we always assumed it was. Such physical – and metaphysical – musings have been inspired by talking to Dr Andy Lockey of the Resuscitation Council, whose perspective and expertise have proved invaluable.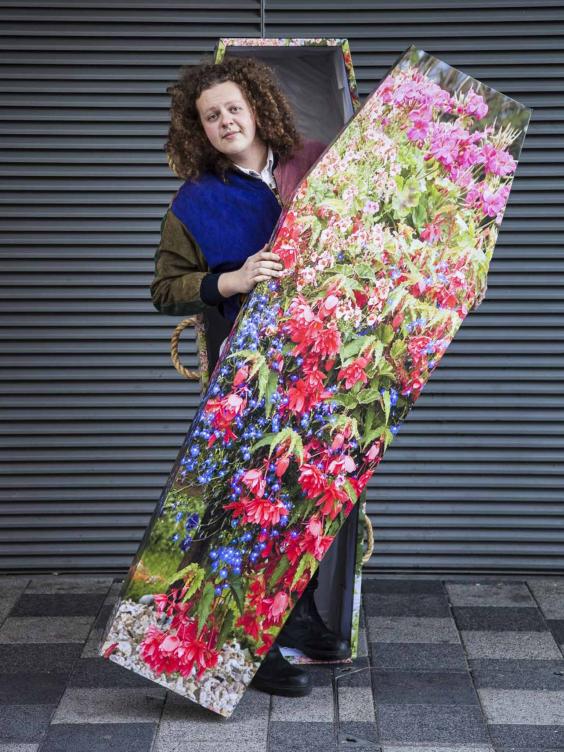 As anyone who has seen Thorpe's work will know, Am I Dead Yet? is unlikely to be just a spruced-up lecture (for starters, there are songs and the performers spend some of the time in their underpants – hardly lab conditions). But why use theatre as a medium for delivering scientific insights and information?
"I think there should be public lectures by experts on this and all topics, all the time – and there are!" says Thorpe. "But it's as important to feel you're able to have the conversation as to be able to find out information; the two things go hand in hand. It's good to find ways to talk about death in everyday life, and I don't know a better place for that than the theatre."
In a world of Ted (technology, entertainment, design) talks and popular-science bestsellers, it's no wonder that fringe events are bringing in experts from the worlds of science and medicine to join the thesps. For the Sick of the Fringe, this was very much the mission. Organised by performance artist Brian Lobel for the Wellcome Trust, a leading foundation interested in all things health, it features speeches by the disability campaigner, actress and comedian Liz Carr and the neuroscientist Sir Colin Blakemore, as well as talks by theatre-makers whose work relates to the body in some way, including Bryony Kimmings and Simon McBurney.
"We're just trying to connect all those dots and build a community of people thinking about science and medicine," explains Lobel, who has been performing shows about his own experience of having cancer for more than a decade.
To further map out how art intersects with science and medicine, the Sick of the Fringe has also welcomed submissions; a team will be watching over 75 fringe shows and offering "diagnoses" – not reviews, but descriptions of the themes the shows touch on, and even suggestions for further reading. The idea is to build a connected web of shows, allowing the worlds of fringe theatre and scientific institutions to more easily, and fruitfully, overlap.
"It's a kind of instant curation project that gets to reflect on what's happening right now in the world of science, and in the world of performance," explains Lobel. "This year we are being responsive, to see what's there. But we hope that in five years the Sick of the Fringe will actually be the force that emboldens someone to make a piece of work about health or about the body. They might feel vulnerable – and we can say, 'No, there's a community of people making this work, who want to have this conversation with you.'"
This network of support and visibility is what the Sick of the Fringe is all about for Carr. Her speech will be on why she campaigns against euthanasia, and how the language surrounding the debate debases and devalues the disabled body, implying that it's "better to be dead than be disabled". It's not a stand-up set, but it will, she promises, be funny. "Humour is one way I know I deal with it."
But hers is just one story among many, and she hopes that the Sick of the Fringe will raise the profile of all performers dealing with such issues. "We think we know what the story of death looks like, or disability, or assisted suicide, but I bet you we don't. If the Sick of the Fringe can lift the lid on that, and open up audiences to go 'there's so much more to it', then it's done a great job."
'The Sick of the Fringe' to 28 August; Carr delivers her address on 28 August (thesickofthefringe.com); 'Death on the Fringe' to 31 August (deathonthefringe.wordpress.com); 'Am I Dead Yet?' is at the Traverse Theatre until 30 August (traverse.co.uk)
Reuse content