"I always thought I'd end up at the RSC." Graham Fellows has certainly ended up in a different place from that. The creator of John Shuttleworth – versatile singer-songwriter from Sheffield, if you didn't know – and, as a 19-year-old, of Jilted John – responsible for the one-hit wonder "Jilted John" – is based in the Lincolnshire market town of Louth. As I sit with him over a sunny cup of tea in his garden and meander through his life, work and plans, he sounds almost disappointed at times, reviewing the three decades he has mainly spent in the fawn slacks, polo-neck jumper and leather jacket of his alter ego. Thoughtful, equable and soft spoken, he joyfully lapses in and out of character too often for me to believe that he is that cheesed-off. But regrets, he has a few.
"I'm not very interested in comedy. I stumbled into comedy as a way of progressing. I started doing a few gigs, and the big one was supporting Robert Plant for the launch of "Big Log". That's a funny name, isn't it? Do you think he was trying to get into comedy? John Shuttleworth and Robert Plant. They took pictures of us but they wouldn't let me have 'em".
"I don't like comedy." Oof, as John might interject. "I don't like the branding of comedy as the 'new rock'n'roll', as some journalist did, and it sounded the death knell for alternative comedy. Is John Bishop alternative? No. He's old time."
Who, then, does he rate or make time to see? No one much, "which is my loss. But I'd have to wade through a lot of shit to see stuff I've got to see. I'd rather weed the garden." Panel shows? "I've not really been asked. I was offered £500 to appear on Never Mind the Buzzcocks for the indignity of appearing in the line-up as Jilted John with a lot of old men. I said you could add a nought to that. It wouldn't cover the petrol". He offers this reflection: "Performing, or creativity, is a form of sickness. It's a statement that you're unhappy with the world as it is, and want to change it in some way, as if it wasn't complete to start with".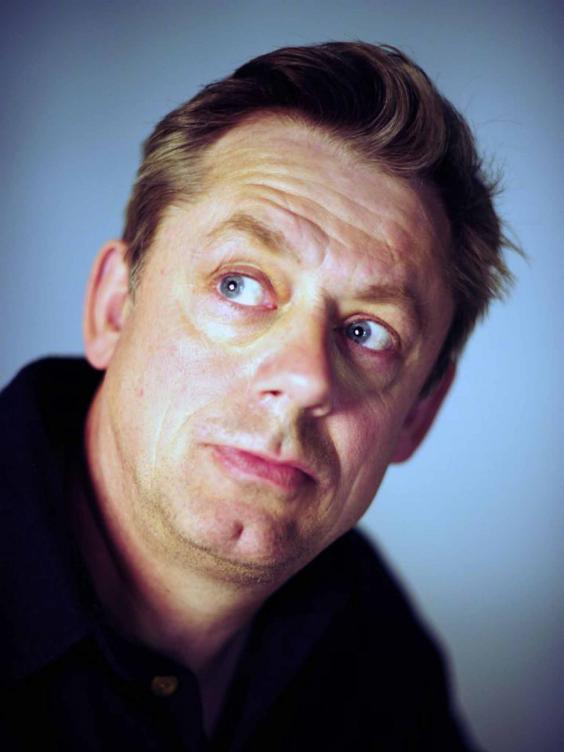 What Fellows does enjoy is frolicking about in the "wonderfully malleable" world of audio. He tells me about a "free website" of sound effects where you can choose from about 10,000 different front door noises – "that's too many, obviously" – and even 27 sliding patio door variants. Liking the "whoosh" from one, but preferring the "clunk" from another, Fellows went to the trouble of combining them for the conservatory door effects in his latest radio series, John Shuttleworth's Lounge Music (Sunday nights, Radio 4). He also spent three and a half hours with Heaven 17 to get about 10 minutes of material for the programme, including a cover version of Shuttleworth's "Dandelion and Burdock", complete with an intro in the style of Ultravox's "Vienna". He spent hours getting the sound of a hand hitting the wall of a shed just right (for a scene in which Toyah Willcox has a scuffle with Ken Worthington, Shuttleworth's neighbour, sole agent and "TV's Mr Clarinet"). If he wasn't doing what he does now, he suggests, he might be very happy as a Foley artist, dubbing films or radio shows.
Still, he tells me, "I love doing John. It's a real escape. I've got a good brand," he adds, not quite able to take the phrase, seriously. Other remarks belie that sentiment, as we shall see.
He loves playing with words too. At one point, he becomes so excited he starts singing "Relatives in Rotherham". This is one of his latest "numbers" and will feature in his autumn tour, titled A Wee Ken to Remember, which promises to be as good as the excellent A Man with More Rolls. (Ken always slightly messes things up over the phone to the printers).
It is maybe less of a "fun track", as Shuttleworth might say, than his other, catchy hits. We all have our favourite numbers and lyrics: "Austin Ambassador Y Reg" ("You may be utterly sold on your Peugeot/ Your Proton/ A Mitsubishi Shogun") "Pigeons in Flight" ("I wanna see you tonight"), "Two Margarines on the Go" ("It's a nightmare scenario") and "I Can't go Back to Savoury Now" ("I'm halfway through my pudding").
"Relatives in Rotherham/ We don't see a Lorra them/ Tend not to bother them/ Those relatives in Rotherham.
When they come to our house/ The hours we have to suffer them/ The biscuits we have to offer them..."
The last line, by the way was contributed by his driver, Ian Leese. Fellows tells me that he was torn between "giving the song to John or Graham Fellows". He has an unnerving way of talking about himself and his comic creations with equal third-person status. Despite the clear affection for "John", the long run of radio shows, the live tours, and an upcoming range of new Shuttleworth merchandise, including flasks in a choice of blue or "champagne" and, possibly, travel rugs, reveals an urge just to be himself. "This sounds terribly Mike Yarwood, but 'this is me'" is what he has in mind, a more poignant, wistful and even more nostalgic version of Shuttleworth, which is basically what Fellows himself is. "I have a side project of working up some Graham Fellows gigs, and an album, and there's a few gigs coming up in September." As a long-standing Shuttleworthian, I find this a troubling revelation. "I'm in a little bubble. It needs bursting. I've carved a little niche, haven't I? Cosy and comfortable. I can't do John for ever. I don't want to do John for ever".
He mentions, proudly, that he played the lead in Ibsen's Brand at college, but that sort of thing went awry in 1978 when he went on Top of the Pops, got kissed by Debbie Harry and, by the way, met Jimmy Savile. As fellows relates it, with a convincing impression of the disgraced figure: "He said, 'Jilted John, will you come with me to meet some friends?' And he took me to his dressing room, presumably. It was full, jam-packed with disabled children in wheelchairs, with no adults at all, no adults at all. I do remember that. I don't think that they then came and saw the show, actually. After that, he referred to me as one of the nice guys of pop. Like everybody, I found him charming and weird. Wacky, really".
I try to discover who is 'me', or Fellows anyway. It's not that difficult. A 55-year old performer and comic genius, he divides his time between Louth, where some of his children and his ex live, his current partner's place in north London, and his new eco-friendly recording studio in a converted church in Orkney (available for hire – thespaceorkney.com). He doesn't mind talking about his private life, "I don't really get on with either of my exes."
Lunchtime comes, and he suggests a sortie into town to get a pasty and some milk. Ensconced in the local Spar, he cannot resist the temptation to buy three packets of own-brand baking potatoes on special offer, at 25p for a pack of four, and some chocolate digestives on at £1. Partly this is down to an admirable carefulness with money – "I like a bargain" –and partly an environmental conscience that extends to the facilities: "I don't flush the toilet very often. You can print that." He thinks we all waste too much water flushing. He is not mobbed in Louth even when the two of us wander past the Christian Science reading room and the Cancer Research shop performing Imagination's 1981 hit "Body Talk" in semi-Shuttleworth (A little impromptu gig inspired by Leee John's upcoming guest appearance on Lounge Music).
So why didn't he wind up playing Titus Andronicus at Stratford? "'Jilted John' is what happened." He wrote the song almost casually when he was a first-year student at drama college in Manchester. It sent him off in a funny direction, writing songs when he ought to have been learning lines. His most high-profile role was playing a would-be suitor to Gail in Coronation Street for a couple of months. After that, he spent a few years songwriting, for the likes of Five Star, "for God's sake", constantly unable to resist the urge to inject parody into the lyrics. A proposed ballad entitled "Road to Love", for example, carried the line "if you need a hard shoulder to cry on". "I kept doing puns. I couldn't help myself." It got rejected; he found the whole experience "pitiful".
It was during his time as a songwriter that he came across the world of "turkey tapes", bad demos sent in by ambitious but rubbish would-be pop stars. And so John Shuttleworth was born, in 1985. It's been a long run, as comedy characters sometimes tend to be – think Dame Edna, only now retiring, or the cult of Alan Partridge, to which Steve Coogan seems to be reconciled – and there's nothing wrong with that. I get the impression that Fellows was rightly miffed when one of the powers-that-be at the BBC referred to Shuttleworth as an "archive character" when he approached them about his latest project, and this may have strengthened a nascent urge within him to escape from the shadow of Shuttleworth. If so, then whoever runs BBC Radio comedy is even worse than John's hopeless agent Ken. It's time John Shuttleworth composed a song about them.
'John Shuttleworth's Lounge Music' is on Sunday at 7.15pm on Radio 4; his new tour, A Wee Ken to Remember, starts on 30 October (shuttleworths.co.uk)
Reuse content