You may not recognise Freddy Syborn, but you will have heard his punchlines.
Syborn, 26, is Jack Whitehall's joke writer. He and Whitehall have been best friends for more than a decade, since they bonded over a shared love of The League of Gentlemen at Marlborough College.
At Cambridge University, Syborn was writing gags for Whitehall to crack in front of millions on Big Brother's Big Mouth and 8 Out of 10 Cats. Most recently they have written two series of the BBC3 sitcom Bad Education together.
While Whitehall was crowned King of Comedy at the British Comedy Awards last year, Syborn remains largely unknown. He is far happier, he says, "pontificating from the sidelines" than he is in the limelight. "I don't have the masochism in me." His writing credits include Psychobitches. Meanwhile, his one-liners have been co-opted by high-profile comedians on Buzzcocks. Earlier this year, Stewart Lee compared comedians who used joke-writers to "disgraced, drug-taking Tour de France cyclists". Is it cheating? "I know some people get very steamed up about writing for comedians," says Syborn. "As I see it, Jack and I write together. It's not really a big thing."
Now Syborn has written a book, in his own name. A Good Bullet is a study of the dark human impulse to laugh at terrible things. Its sources run the gamut from James Joyce to Jim Davidson, Simone de Beauvoir to Frankie Boyle. Among the topics are a comparison of comedy to torture and whether one can laugh at Auschwitz. It will not be to everyone's taste, but it is fascinating.
In December, he will shoot Cockroaches, his first pilot for Big Talk/ ITV, which explores the premise that if you knew the world was ending, "you'd just have sex with someone nearby". Its hero and heroine do just that and the sitcom opens eight years on, as they find themselves raising a child together in a post-apocalyptic wasteland. "It's like The Road, with bickering," says Syborn. "I constantly surprise myself at how unpleasant my imagination is. I suppose that began at school."
He continues to work with Whitehall, currently on Backchat, a comedy chatshow; a third series of Bad Education is on the cards. For his part, Whitehall has repaid Syborn's joke writing by providing the illustrations for his book, including a cartoon version of his old friend. "He made me look like a fat, disgusting, perverted schoolboy," sighs Syborn. "Nothing has changed. We've just stopped going to school."
A Good Bullet is published by Short Books (£9.99); Freddy Syborn will appear at the Chortle Comedy Book Festival, Ealing Town Hall, London  on 27 November at 9.30pm.
One to watch: Liam Williams
If, and it's a big if, Morrissey ever did stand-up, he might sound a bit like Liam Williams.
Both are intense, northern miserabilists with a tendency towards the lyrical and writing bad books. The difference is that Williams, 25, is sharply funny with it.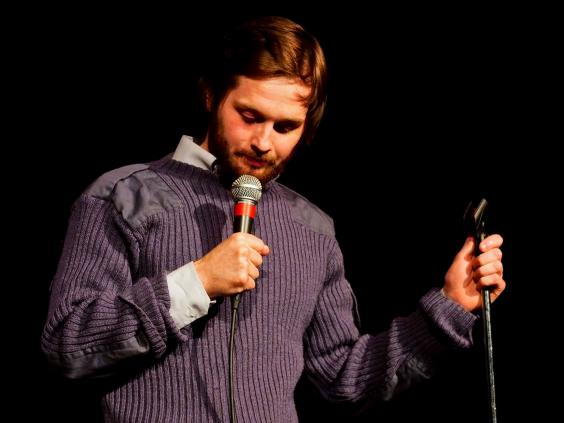 His deliberately bad book, a slice of sub-Salinger angst called The Stop Amongst the Wheat, is one of the highlights of a debut solo show which also includes a script for an anti-porn film, spoof dating tips, the ghost of his grandfather and a hefty helping of existential fretting.
It won him a Best Newcomer nomination at the Foster's Edinburgh Comedy Awards and he is now reprising the show in London for eight nights; further dates in Cardiff, Manchester and Cambridge follow. With a short story collection and radio series in the works, expect to see a lot more of the sulky stand-up in future.
Liam Williams performs at The Invisible Dot, London N1, 1 to 9 November and around the UK as part of The New Wave tour.
What I watched this week
Bo Burnham
In New York. The 22-year-old's sophomore show, What, a dazzlingly slick and cynical extravaganza of raps, songs, poems and one-liners, tours the UK from next week.
The Spoils of Babylon
Will Ferrell's epic mini-series, starring Tobey Maguire and Kristen Wiig as the rich, incestuous offspring of an oil tycoon, premieres on cable in January. The trailer is pure Paul Thomas Anderson does Dallas.
Drifters
On E4. Best known as Neil's holiday romance in The Inbetweeners movie, Jessica Knappett is the crude, lanky heroine of this new sitcom about life as a broke, directionless twentysomething. Watch out for Bob Mortimer playing  her dad.
Reuse content