For Robert B Weide, everything should be perfect. In his long and distinguished career, he has won three Emmy awards. He has made acclaimed documentaries about WC Fields, Lenny Bruce and the Marx Brothers. He has directed Hollywood movies and collaborated with Kurt Vonnegut. With his friend Larry David, he has produced and directed dozens of episodes of one of the most acclaimed American TV comedies of the past 20 years, Curb Your Enthusiasm.
And now, having already worked with Simon Pegg, he's signed up Nick Frost. When he asked Frost if he would star in his new sitcom, the reply came: "I'd give my left ball to work with you". As it turned out, that wasn't necessary. Frost, Olivia Colman, Peter Serafinowicz and a number of other British comedy grandees are now appearing in Mr Sloane, which is a radical departure from Curb, being as it is old-fashioned, beautifully shot, very plotty, and British.
Sitting in a London hotel room to carry out his promotional duties for Sky, Weide (rhymes with tidy) radiates satisfaction with the outcome – and he is a man who radiates satisfaction efficiently. Though he wears the laconically distracted manner of a librarian interrupted in the cataloguing of a new acquisition, he carries the authority of a guy who has Larry David on speed-dial. "It's really the first time I got to purely write and direct something of my own," he says.
With such star wattage attached, it's no surprise that Stuart Murphy, Sky's director of entertainment channels, gave it the green light without reading it. Written with Frost in mind, the story follows Jeremy Sloane, a likeable accountant in 1969 Watford, who has missed more or less everything that made the decade so heady. As Weide puts it: "this is the so-called swinging sixties, and this guy ain't swinging." Although the show opens with a failed suicide attempt, everything that follows is fairly sedate; instead, Weide focuses on character. And he's happy with how it turned out. "I had the luck to get the actors I wanted," he says. "It matches what I had in my head."
But there's a fly in the ointment. Google Robert Weide today, and you will find that the zenith of this storied career is in danger of being overshadowed. Where once a search provided not much more than a hagiography (with the notable exception, perhaps, of the poorly received How to Lose Friends & Alienate People, in which Pegg starred), a much more mixed set of results now stands. For Weide is no longer just a filmmaker. Earlier this year, he wrote a piece defending Woody Allen against allegations of child abuse. To his obvious irritation, it has, for the moment at least, become the most interesting question about him: is he a judicious observer of an outbreak of mass hysteria, loyal only to the established facts – or is he a victim-blaming apologist for a man facing long-standing accusations of paedophilia?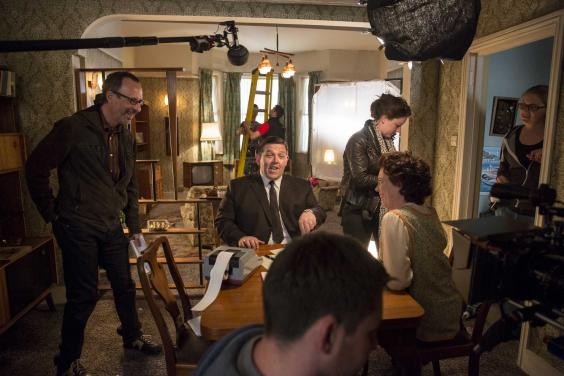 Contemplating this unexpected new frame for his life, Weide frowns and steeples his fingers. "It never occurred to me that I would enter the story by doing that piece," he says. "It was weird having my name evoked within that conversation. But I really feel very good about contributing what I contributed.
"Then there were these tweets from people who wanted me dead, which was kind of funny, but didn't affect me emotionally in any way."
A bit of context. In 2012, Weide added to his remarkable CV with an authorised documentary about the life of Woody Allen. (Slight, birdlike and droll, if he is not an Allen-ogue, he is certainly Allen-esque.) Although well received, some critics quibbled with the film's near-silence on the subject of Allen's affair with his then-wife Mia Farrow's adoptive daughter Soon-Yi. Then, towards the end of last year, Vanity Fair published a piece about Mia Farrow that revived 20-year-old allegations that Allen had molested the couple's adoptive daughter, Dylan.
Weide, who says Allen is a an acquaintance rather than a friend, is deeply suspicious of those allegations. And so he entered the fray, with a long, sceptical article on The Daily Beast entitled 'The Woody Allen Allegations: Not So Fast'.
That was incendiary enough. When Dylan Farrow then published her own piece, detailing with appalling specificity the nature of Allen's alleged abuse, all hell broke loose; Weide was suddenly at the centre of a storm. To those careless of the timeline, his article read like a merciless rebuke to a damaged woman. And they let him know they didn't like it – that they saw him as nothing more than his master's voice.
This seems to have wounded him more than anything else. "They say I'm a fanboy," he says archly. "Oh, I'm a 54-year-old fanboy. Well, he happens to be a professional associate of mine."
I've been talking with Weide for half an hour when I raise all this. I feel a shiver of trepidation about doing so; he hasn't discussed it since Dylan Farrow's piece appeared. Also, the door's blocked shut with a chair under the handle. "I'm not closing this for privacy," he had explained as he put it there, sounding awfully like Larry in Curb. "I'm closing it because it's weird to watch the door slowly open. If the room catches fire we're in trouble."
In all this entertaining business he has been charm personified, enthusiastically relating the origins of Mr Sloane in a sighting of Nick Frost's doppelgänger on a Californian freeway, among other stories; when I do mention Allen's name, though, something discernible changes, a drop of acid in the cream. But come on. In the piece, Weide insists that he is "merely floating scenarios for us to consider" – but it's a case for the defence, isn't it? "I can understand why you would say that," he says. "But that wasn't my intention. I just saw a lot of bad information out there."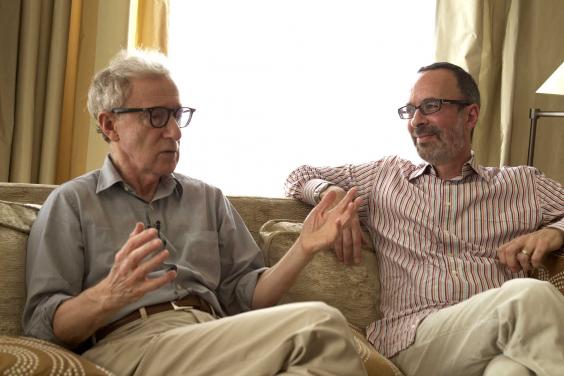 This seems a little disingenuous. Whatever your view of the whole affair, there can be little doubt that Weide is taking a side, and deploying his full rhetorical arsenal to advance its cause; indeed, some have accused him of bringing up Mia Farrow's past as a way of discrediting her daughter's claims. True or not, this is an ugly suggestion, and I don't blame him for dispensing with the charm. He goes quiet for a long moment. "I couldn't care less that people say that," he eventually says. "They're wrong."
Weide remains scrupulously polite, but he's had enough. "In the States I got asked to do every TV show," he says. "My stock response was, read the piece. So I don't want to delve too deeply into this, especially with this being about Sloane."
And so back to Sloane we go. Without pulling up any trees, it's a very watchable piece of work, and Frost is excellent throughout; unfortunately, though, there's one particular aspect of the plotting that bugged me, and now I fear I will sound as if I have an axe to grind. The programme suffers a little from what I think of as the Wheatus fallacy, named for the band behind the song "Teenage Dirtbag". Works afflicted with this blight feature an unattractive male sneering at the pretty girls who won't sleep with him despite his good character – as if his interest in them wasn't just as shallow.
So it is in Mr Sloane, where the ordinary-looking Nick Frost, aged 42 and newly abandoned by his wife, yearns for the gorgeous 28-year-old Ophelia Lovibond, presumably because of the depth of her soul. It isn't fair, Sloane tells us, that "girls talk about being with a nice man, but at the end of the day they will always choose the wanker". When I quote this back to Weide, he grins. "That was a very satisfying line to write," he says. "I wouldn't have said wanker, but when I was a young guy I would have a crush on these girls who would always go for the jerks, but say 'Oh I wish I could have someone like you, and I was like, 'Uh, hello!' So that was very cathartic.
"It's interesting," he says, "but I didn't think of it as an older man/younger woman thing so much. There are all kinds of couples." Did anyone disagree? Well, he says, "I did have one female friend who saw the pilot and said she didn't quite believe it. I wouldn't want people to be too conscious about an age gap. That was never the point."
That firm view speaks to Weide's desire that the series be a universal one; I was hoping that this Los Angeleno's surprising career move might have been prompted by some weird affection for Watford, but not so. "I only made one trip there," he says. "I wrote a human story, hopefully relatable, that just happened to take place in a certain place and time."
No permanent London move on the cards, then. Instead, he'll go back to work on his Kurt Vonnegut documentary – a project in the works since 1982. "He was my literary idol," says Weide. "But it took so long to make the film that we became very good friends. So now I'm bringing in another documentary maker to make a film about me finishing my film."
It sounds tricky. "Yeah, it is!" Weide smiles. "That's what interests me about it. How do you tell a story that you're a part of without it being a big ego trip?" As our meeting ends, it occurs to me that this isn't the only time he's faced that question. If only the answer weren't bound to be so complicated.
'Mr Sloane' starts on Friday at 9pm on Sky Atlantic
Reuse content