At last, I'll have something to talk about if I ever find myself seated at dinner next to David Beckham. The world's most famous footballer has joined a very exclusive club, of which I am proud to be a long-standing member. On 21 March, as part of the BBC's Sport Relief, he will appear in a special revival of Only Fools and Horses – complete with Sir David Jason as the Peckham wideboy Del, and Nicholas Lyndhurst as his hapless little brother Rodney (explain to the children that this sitcom, which ran through the entire Thatcher government and beyond, is one of the most popular of all time). David, love, I've been there, too.
In my early twenties, before I started writing so that I could work sitting down, I was a professional actor. And, in 1983, I went to see a delightful man named Ray Butt, in his office at Television Centre. He was directing the second series of OFAH, and looking for someone to play a policewoman, in an episode called "The Long Legs of the Law". At the time I was always being cast as sturdy young policewomen and I never knew why; thanks to OFAH, I now have eternal proof that it was because I looked like Vita Sackville-West on steroids.
Unfortunately, a combination of middle-class background and the theatre had planted a plum the size of a doorknob in my mouth. I knew my own natural accent would be completely wrong, so I read the script doing an imitation of Jill Gascoine as DI Maggie Forbes in ITV's The Gentle Touch. It worked – I owe her lunch for that. My entire performance was such pure Gascoine, I really ought to cut her in on the repeat fees.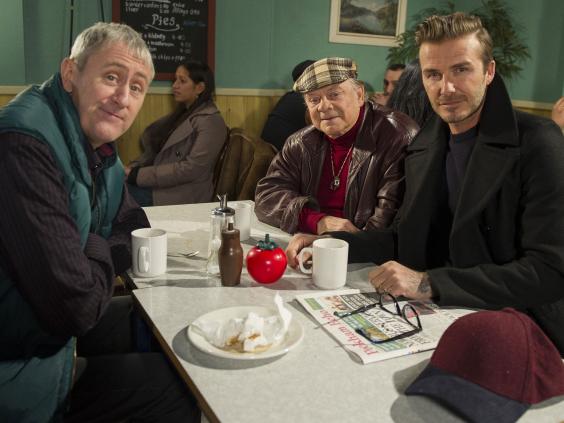 It's one of those old-luvvie maxims that comedy is deadly serious, and you don't laugh during rehearsals. Well, in this case, they were wrong. It was the most enjoyable week's work I've ever had, and I spent most of it helpless with laughter. Sir David Jason, now 73, may actually be the funniest actor in the world; 90 per cent of the job was keeping a straight face while he added touches of comic genius. And Lyndhurst's long-suffering Rodders, with his Puddleglum demeanour, is one of the all-time great television performances.
The plot of my episode is simple: Rodney has picked up a policewoman named Sandra and invited her home to the famous flat in Peckham, failing to appreciate that it is crammed with stolen goods. I was Sandra, in a revolting pale blue blouse, and I snogged Nicholas Lyndhurst!
It was the pinnacle of my acting career, and will probably be the only thing I'm remembered for when I die – if you want immortality, all you need is one appearance in a classic sitcom. Thirty years later, I still get recognised; the series has built up a huge fan base of list-making nerds who occasionally send me hideous photos of myself to sign. It was the golden age of actors' contracts, and that means my single week's work has brought in some very useful repeat fees down the years.
One pinnacle of my subsequent career as a journalist happened about a decade after my episode of OFAH, when I dropped into rehearsals of the umpteenth series to interview David Jason, and found the cast and crew beautifully unchanged. It hit me then just how lucky I was to have been part of it. Whatever I did before, or have done since – once, I supped with the immortals. David Beckham, this is where your real fame begins.
Reuse content