Many thought that Daniel O'Reilly had killed off Dapper Laughs when he made a sombre appearance in a poloneck on Newsnight.
But it appears as though the controversial 'lad' comedian, criticised for promoting rape culture, is preparing to make a comeback.
After releasing a video on Christmas day heralding his return, he is reportedly scheduled to appear at the Casino Rooms in Rochester, Kent, on Saturday 28 February.
The following advertisement currently appears on the venue's website: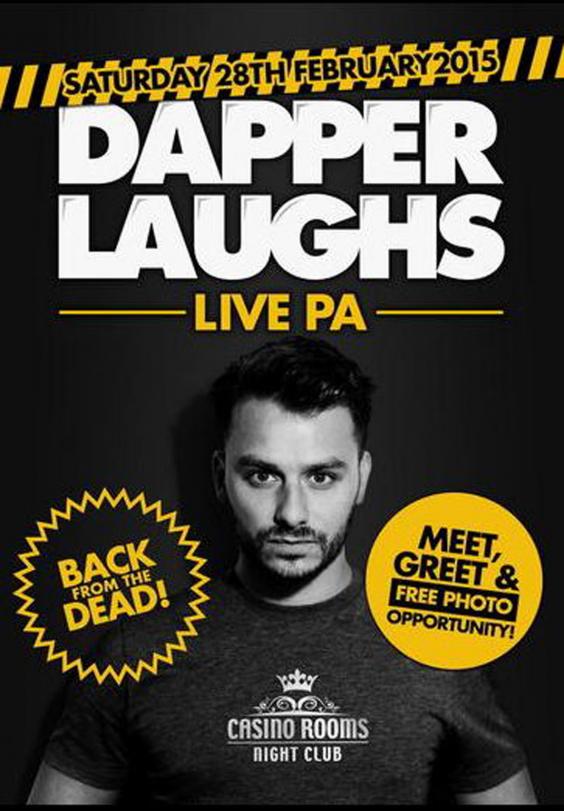 The Casino Rooms would be an apt fit for a Dapper Laughs resurrection. It similarly came under fire in 2013 for promoting a 'National Cleavage Weekender' event, at which women who flashed their breasts at the door were allowed to gain free entry.
O'Reilly had been set to take his character out on his "Full Length" tour of the UK next month. However, the dates were cancelled following a student protest in Cardiff over the poor taste of his appearance at a university venue. 
Dapper Laughs
Dapper Laughs
1/5 Dapper Laughs

Dapper Laughs found success through the video app Vine

ITV

2/5 Dapper Laughs

Dapper Laughs had his own ITV dating show up until earlier this week when it was axed by the channel

3/5 Dapper Laughs

Dapper Laughs' brand of 'lad comedy' has causes widespread offence and anger

ITV

4/5 Dapper Laughs

'Clapham lad' Daniel O'Reilly aka Dapper Laughs

Stephen Barber

5/5 Dapper Laughs

The comedian Daniel O'Reilly appeared contrite on BBC Newsnight last night

BBC Newsnight
He remained silent on Twitter until last week, when he posted the following:
Hello Twitter.... It's been a while.... Be gentle!

Dapper Laughs (@dapperlaughs) January 14, 2015
A tweet appeared to suggest that he was also planning to bring back the six-second Vines that made his name:
Freezing filming today! Lots of new stuff coming! Keep up to date on Snapchat: Dapper 29 Facebook. #ChickenSoupWeather

Dapper Laughs (@dapperlaughs) January 20, 2015
He also passed comment on the illusionary axing of Page 3:
R.I.P page 3! Building sites 'Cafe's will never be the same again!

Dapper Laughs (@dapperlaughs) January 20, 2015
And then this this morning:
Morning! It's a good day! Try making people happy today instead of upset, you'll look less of a twat.

Dapper Laughs (@dapperlaughs) January 22, 2015
O'Reilly's management are yet to confirm whether Dapper Laughs is officially back.
But here's a reminder of the sort of banter audiences can expect:
"If it was a guide to rape, I would have done one five-minute episode, come on and go 'Oi oi, I'm Dapper Laughs, go down the shops, get some rope, bit of duct tape, rape the b**ch, well done, see you later," he told a sold-out London Scala on 16 October.
"You can't rape women," he added, only for a male crowd member to reply with "yes you can!" as the audience laughed.
"She's gagging for a rape," he said, to more laughs. "We'll have a chat afterwards. Do you want to come backstage after? Bring two of your mates, you'll need them."