25 Years of Reeves & Mortimer: The Poignant Moments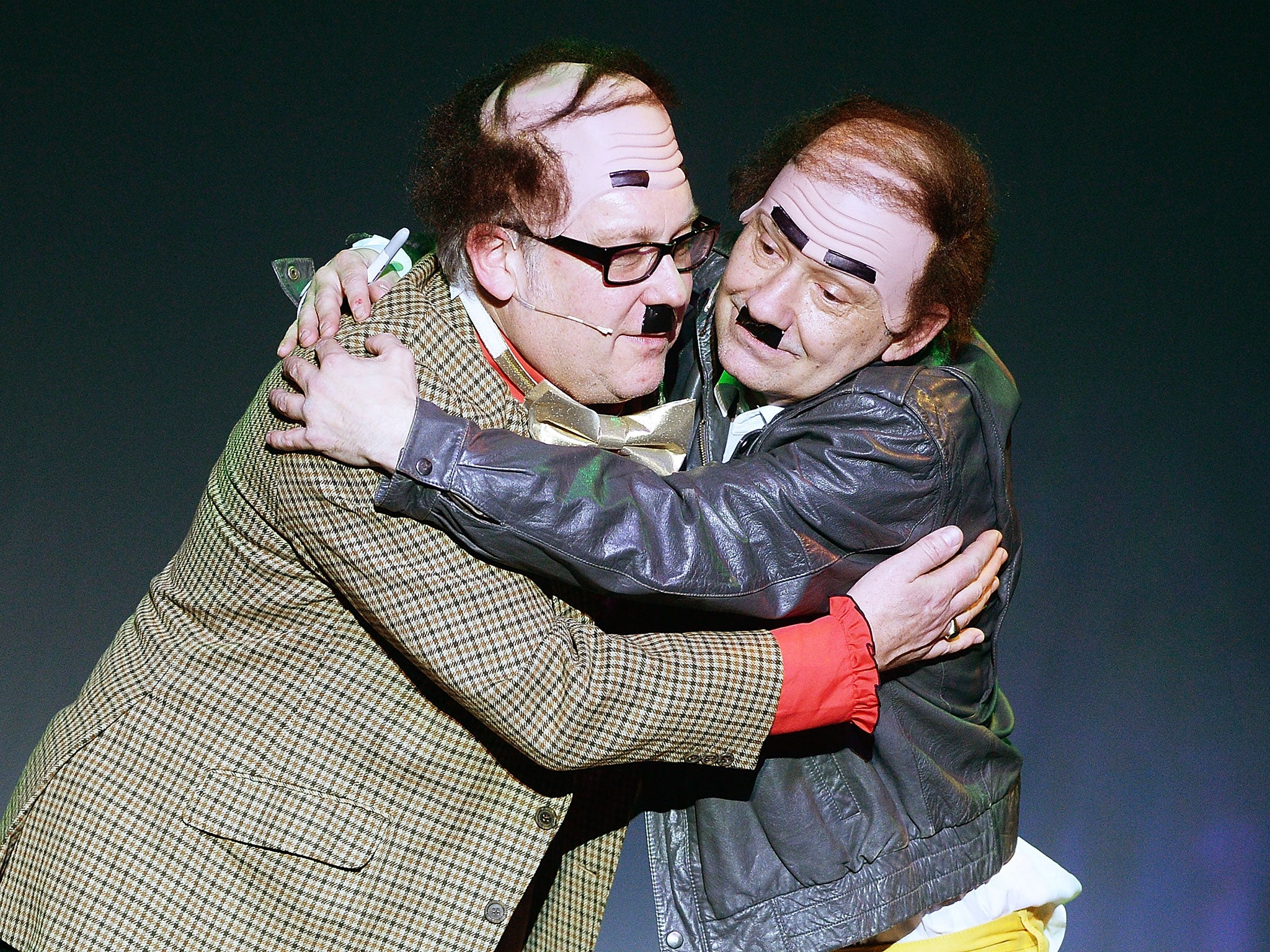 25 Years of Reeves & Mortimer, The Poignant Moments: Vic and Bob still provide a great big night out
Even those who are unfamiliar with Reeves and Mortimer's sketch shows can get a kick out of watching them live
Click to follow
The Independent Culture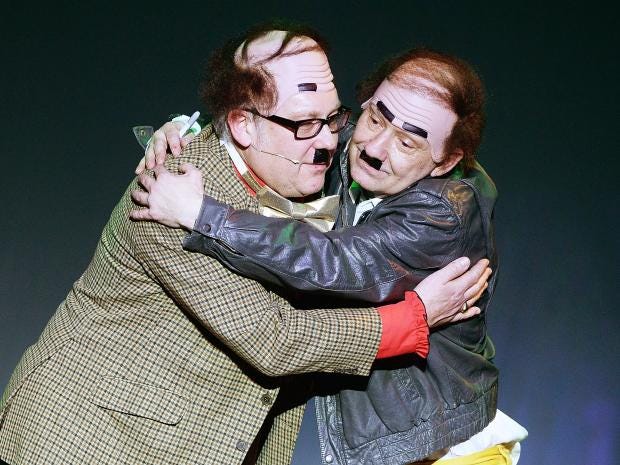 The danger with retrospective comedy shows is that once-loved characters and trademark gags can suddenly seem dated and fail to entertain. But from the moment that Vic Reeves and Bob Mortimer bounded onto the stage in Edinburgh last night holding hands, it was clear that their unique brand of absurdist improv still has a lot to give.
The tour is all the more poignant because it almost didn't happen. During a health check-up last summer, Mortimer was told he had serious heart problems and, fearing the worst, married his long time partner Lisa Matthews at short notice and by special dispensation. The pair's first run of dates was delayed as he recovered from a triple heart bypass.
It was worth the wait. Last night's show, the second date of their first live tour in almost 20 years, proved to be a wonderfully absurd mash-up of the duo's most popular comic creations from their hit 90s shows Big Night Out, Smell of Reeves & Mortimer and Bang, Bang It's Reeves & Mortimer through to Shooting Stars, which concluded in 2011.
Minutes into the performance, after a grainy black and white film of some of their best moments drew cheers from the crowd, Mortimer referenced his health problems by stopping to check his heart rate. Then it was on with the show, a heady blend of musical numbers, character sketches and the thing that they are best at – straight up improv.
Even those who are unfamiliar with Reeves and Mortimer's sketch shows – and fans hoping to catch a glimpse of much loved characters such as the Man With The Stick, the high-voiced Stotts, and folk singers Mulligan and O'Hare were not left disappointed – can get a kick out of watching them live. The comedy double act may be a dying genre, but it doesn't get much better than this.
From adverts for Geordie Jeans ("So tight you can almost see your bowel movements") to the spectacle of Reeves crooning along to Wet Wet Wet while Mortimer dances like Bez from the Happy Mondays, the pair make full use of the big screens and sound effects that are now part of every modern theatre. But the show is anchored by the warmth of the relationship at its heart – two men who are still making each other laugh after 30 years.
Even when their improvised banter leads them down a comic cul-de-sac ("Thank you very much for that question", Mortimer sarcastically told his co-star after his brain finally failed him at one point in the show) the recovery is so good that all is immediately forgiven. At every turn, you can feel the audience willing them to succeed.
The London dates for Vic and Bob's anniversary tour sold out in less than 15 minutes, a sure sign that their stars have yet to wane. If they can keep up this level of commitment to their live show for the next few months, they will not only have rewarded the patience of their existing fans may even have won a few more. 
Reuse content
Comments