Mel Brooks did not have to say a word to get the crowd on its feet. The applause as he walked on went on for minutes; there was an ovation in the stalls before the visiting American comedian – in London's West End for one night only – had even cleared his throat.
But then, if anyone alive can claim the title comedy legend with a straight face, Mel Brooks is the man. The US comedian/ actor/ writer/ director/ producer/ songwriter is one of only 12 people in entertainment history to have done the quadruple whammy – of winning the Tony, the Emmy, the Grammy and the Oscar.
So Brooks's solo debut in the UK, aged 88, with an "introspective retrospective" of his life and career is a major event. As such, it has been trailed with all the usual showbiz fanfare – a back-slapping banter match with Alan Yentob on BBC Radio 4's Today programme, broadsheet profiles and, on Friday night, a glittering evening marking his fellowship of the British Film Institute (BFI).
Last night, the foyer of the Prince of Wales Theatre – home usually to another wildly successful American comedy import, The Book of Mormon – was crammed with comedy stars: Terry Gilliam, Catherine Tate, Jennifer Saunders, David Walliams, Frank Skinner, Rob Brydon and Stephen Mangan, to name a few.
Perhaps they were the only ones able to afford the £502.25 to sit in the front few rows of the stalls. For as well as being one of the most anticipated shows in West End memory, this was also the most expensive; even the cheapest seats cost £74.50.
So did Brooks live up to his box office price? Well that depends. There was no high-kicking Nazi chorus line or anything like that. It was just Mel and a mic – "Good evening ladies and Jews …" – and for this most affectionate of audiences, that was enough.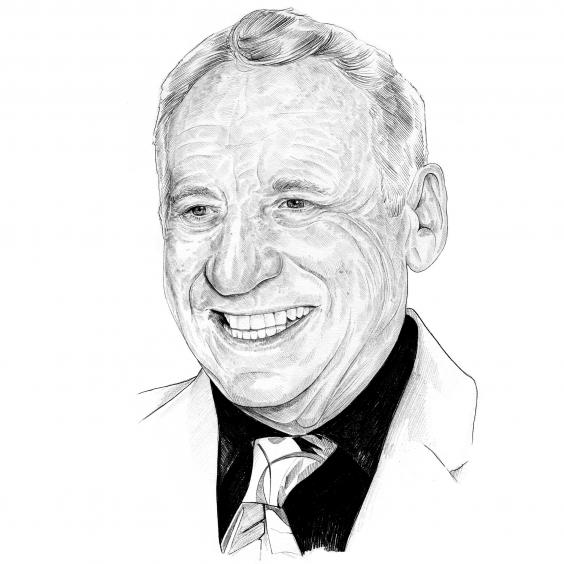 For two hours Brooks talked and talked and occasionally sang, all in that distinctive Brooklyn burr, and for two hours he held the room in the palm of his expressive, spade-like hands, using a teleprompter for help.
Dressed smartly in black tie, with sensible shoes, he could have passed for 20 years younger. There were a few stumbles here and there, a few pauses as he searched for his words, but if anyone is going to ad-lib their way out of a pause, who better than Brooks?
There was a lovely moment early on when he had to stop to blow his nose. "Oh my gaaad!" he yelped, peering into his handkerchief. He might be old, he seemed to say, but he is still as sharp as any man. 
The show is not stand-up, more a reflection on an extraordinary life, starting with his childhood in Brooklyn (his mother was so short "she could walk under a coffee table with a high hat on" being one of many throwaway, evocative lines).
As one might expect from the man who created The Producers and Blazing Saddles, not to mention The Elephant Man and The 2000 Year Old Man, there were showbiz anecdotes aplenty. He talked of meetings with "Hitch" [Alfred Hitchcock] and lunches with Cary Grant. Two poached eggs for Grant; tuna fish sandwich on rye for Brooks. "And I pay. He wasn't the loosest guy…"
There were brilliant, if not all previously unheard, stories of him getting The Producers off the ground. The first pitch went swimmingly until the company asked for "one little change. Instead of Hitler, could you make it Mussolini?".
The second half began with Brooks crooning "High Anxiety" to general delight before a deconstruction of "Blazing Saddles" and, a high point, an unknown song about a cowardly French soldier which rhymed "retreat", "quitte" and "vite" to lovely comic effect. Brooks sat back on his stool and looked like he was having a ball. It wasn't his funniest production but it would be hard to begrudge this class act a couple of hours of indulgence.
Reuse content