Bojana Stamenov may not be svelte, and she definitely hasn't got a beard, but Serbia's 2015 Eurovision entry could become this year's Conchita Wurst.
Both Stamenov and Wurst have songs written by the same writer, and both enter the final not as the favourite but as an emerging star look set to surprise those already confident of winning the contest.
When 28-year-old Stamenov took to the stage in the first 2015 semi-final, everyone was talking about the dazzling Russian, the cute Estonians or the PVC-clad Moldovans.
As she began singing the line, "In a shadowy world lived a dazzling girl," clad in a Disney princess outfit and sporting an Amy Winehouse beehive, it seemed like the Serbian entry was going for the usual middle of the road ballad.
And then the climax: the dancers threw off their white capes and revealed some sort of Saturday-night-in-Serbia outfit, the perfect garb for a Eurovision dance. Stamenov then roared through the rest of the song, chanting her way through the words, "Finally I can say, yes, I'm different, and it's okay! Here I am! Here I am!" The Viennese crowd threw their flags into the air in delight, and the juries at home phoned in to make sure Serbia had plans for Saturday.

And then, having never even troubled the top ten favourites with the bookies, Serbia shot up to sixth favourite, nipping at the heals of the likes of Estonia, Russia, Australia, Sweden and Italy. Has Stamenov got a chance of glitter glory?
Similarities to Conchita Wurst:
Outside bet
Last year, Austria's Conchita was not the favourite on the day of the final. Before rehearsals for the final, Austria was 40/1 to win and sometimes it can take the semi-finals and the final rehearsals to realise who is going to do well. Thus, with Stamenov steadily rising up the list of favourites, she currently stands at 33/1 to win on Saturday. If she performs well in the final rehearsals, she might have a chance.
Same songwriter
Hardly anyone had noted before the semi-finals that Stamenov's song, "Beauty Never Lies", was the work of Charlie Mason, an American lyricist who has written for Miley Cyrus and who penned "Rise Like A Phoenix", the song made famous by Conchita Wurst last year. Could his penmanship win once more?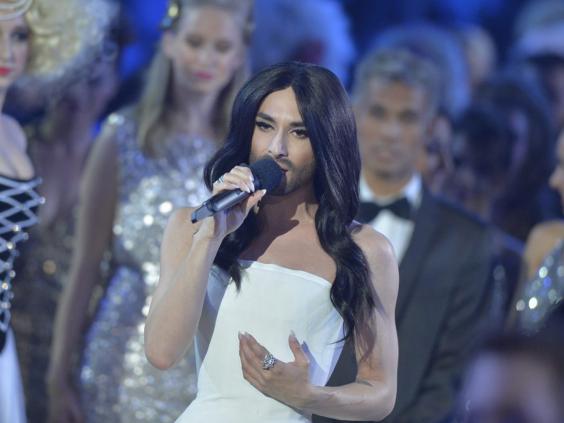 LGBT following
Eurovision expert Daniel Gould of sofabet.com notes, "In semi-final press conference, Stamenov paid homage to last year's winner, and called Conchita remarkable, with fan clutched in hand. Her song, 'Beauty Never Lies', starts quietly with a worthy message about loving oneself no matter how different you are, before a disco beat kicks in halfway through. Unsurprisingly perhaps, it has become a firm favourite among Eurovision's many LGBT followers."
Stamenov is fast becoming a LGBT favourite, just as with Conchita, who since her win as headlined dozens of Pride events across the globe.
Eurovision fashion disasters
Eurovision fashion disasters
1/23 Krista Siegfrids in 2013

No, it's not a runaway bride. It's Finland's Krista Siegfrids performing 'Marry Me' in 2013.

2/23 Bucks Fizz in 1981

In 1981, Bucks Fizz won Eurovision with 'Making Your Mind Up' but their patriotic attire didn't win the fashion game.

Getty Images

3/23 Heddy Lester in 1977

Heddy Lester performing 'De Mallemolen' in 1977 sporting a rather creepy gown. We would cry of terror if we have an encounter with this in the middle of the night.

Rex Features

4/23 Lill Lindfors in 1985

Swedish host Lill Lindfors has a wardrobe malfunction in 1985. Her skirt caught as she walked on stage, leaving her standing in just her top and tight whities.

YouTube

5/23 Celine Dion in 1988

Celine Dion performs in 1988, sporting an uncoordinated white outfit and a perm.

YouTube

6/23 Barbara Dex in 1993

Barbara Dex perfoms in 1993 in a homemade dress, which for years has been voted the worst dress of Eurovision's history.

YouTube

7/23 Ruslana in 2004

Ruslana performs 'Wild Dances' in 2004 while channeling a warrior princess in leather and loincloths.

Rex Features

8/23 Lordi in 2006

Lordi perform 'Hard Rock Hallelujah' in 2006. Nevermind the outfits, for the Finnish hard rock band it's Halloween all year round.

Rex Features

9/23 Nonstop in 2006

Portuguese band Nonstop perform in 2006 in rather risque outfits. Were they trying a Playboy version of Britain's Girls Aloud? Fail.

Rex Features

10/23 Verka Serduchka in 2007

Verka Serduchka performs Dancing Lasha Tumbai in 2007 and made fashion history in a metallic trench coat, teamed up with a matching star-shaped skull cap.

Rex Features

11/23 Eric Papilaya in 2007

Austria's Eric Papilaya perform in 2007 in a silver mirror ball hoody and combats while surrounded by dancers in red costumes.

Rex Features

12/23 Elnur and Samir in 2008

Elnur and Samir perform in 2008 in an elaborate angelical costume of matching crisp white outfits and a pair of wings. No comment.

Rex Features

13/23 Alex Swings Oscar in 2009

Alex Swings Oscar Sings performs 'Miss Kiss Kiss# in 2009 in shiny silver leggings combined with a black opened shirt - all to to show off he's been working out, of course.

Rex Features

14/23 Gipsy.cz in 2009

The Czech Republic's Gipsy.cz perform in 2009. The group's lead singer who went by the name of Super Gypsy donned a bright red and yellow superhero combo of suit, cape and gold boots.

EPA

15/23 Svetlana Loboda in 2009

Svetlana Loboda performs in 2009 in a gladiator-inspired outfit, channeling a glam version (well, sort of).

Getty Images

16/23 InCulto in 2010

During their performance in 2010, Lithuanian group InCulto whipped off their trousers mid-show to reveal these silver glittery hot pants. Jesus.

Rex Features

17/23 Zdob si Zdub in 2011

The band Zdob si Zdub of Moldova performs the song 'So Lucky' in 2011. No, we don't understand the elf-inspired headgear either.

AP

18/23 Jedward in 2011

Jedward perform 'Lipstick' in 2011 in Ireland wearing matching red crystal-embellished jackets.

AP

19/23 Jedward in 2012

And again John and Edward, perform 'Waterline' in 2012 wearing a whole new set of costumes and some super strength hair gel (as usual).

20/23 Buranovskiye Babushki in 2012

The groovy grannies of Buranovskiye Babushki perform in 2012, channeling a style they described as "ethno-pop".

21/23 Aliona Moon in 2013

Aliona Moon performing O Mie in a dramatic flame-motif dress.

Getty Images

22/23 Scooch in 2014

PanAm at its best. British group Scooch perform 'Flying the Flag' in 2007 in matching air flight attendant outfits.

Getty Images

23/23 Cleo of Donatan and Cleo in 2014

Polish duo Cleo of Donatan and Cleo perform in 2014 embracing their inner patriotic pride.

Getty Images
Message of tolerance
The message of acceptance and tolerance, themes for both Stamenov and Conchita, is a winner for Serbia historically. Gould writes that, "It's not the first time that progressive views have been advanced by Serbia's Eurovision act. Their 2007 winner Marija Serifovic, who won with 'Molitva' (which means 'prayer'), used her victory to promote greater tolerance in the country."
Uplifting song
Stamenov had lights, an uplifting sentiment and a crescendo: talk about ticking Eurovision boxes. Conchita's performance was simple, just herself, some powerful camera movements and soaring music. While Stamenov has dancers and a lot more going on stage, her voice and her presence are what stays in the viewer's mind. Both Conchita and Stamenov put their soaring vocals at the centre of their performance.
On the Eurovision website, Stamenov writes, "I know how to knit and cook... But, watch out, my voice will blow up your mind".
Bring on Saturday.
Reuse content