"Half the reason I made this film was that I'm a natural roamer," Andrea Arnold confesses. "I've always been a roamer since I was a kid. I'd go out in the morning and stay out all day, I'd go where my nose took me. I'd come back filthy dirty at night, not having eaten or having eaten blackberries or strawberries. I've always been like that. And, I think, doing this film is an extension of that."
With her latest American Honey, the Academy Award-winning director has rambled far, far away from her UK homestead: across an ocean, and into the deepest bowels of the American landscape. Yet, as the blackberry-smeared mouth of her youth will attest to, Arnold's adaptive instincts have never failed to blossom, resulting in a film which unwaveringly captures the spirit of American youth; of its heady idealism and earnest search for connection amongst desolate landscapes. 
The film journeys beside Texas teen Star (Sasha Lane), as she joins a travelling magazine crew in search of a place within placelessness, a new horizon along endless plains. Arnold was first inspired to make the film on learning of these real-life travelling crews; often composed of teenagers from limited socio-economic backgrounds who bond together in a sort of pseudo-family unit. 
"The first article I read was from the New York Times," Arnold mentions. "And it talked about the kinds of places a lot of the kids came from. The thing that always touched me was a lot of these kids were coming from quite difficult backgrounds. A lot of broken families. They were joining this crew and forming a sort of surrogate family in the crew. And that was always the thing that touched me in the very beginning, that was the thing that made me want to make the film."
True to her explorative ways, Arnold underwent total submersion in researching the project. "I can't make things if I don't feel it," she reflects. "I created an emotional connection by doing all these trips, and then I felt like I could write about it. I did a whole load of trips where I just travelled by myself. I would just travel, stay in motels, go to diners, meet people. I did six, seven road trips." 
It's a research period which also involved time spent alongside real magazine crews, seeing the world through their eyes; where they go, what they do, what they listen to. A perspective that, once understood, she endeavoured to find in her cast; Arnold regularly employs street-casting for her work, and American Honey was no different. The film's magnetic star, Sasha Lane, was discovered while she was on spring break with friends. 
"It's something I do on all my films," Arnold explains. "I'm always trying to make things as authentically as I can, so I'm always - I don't know quite where I got this idea from - trying to find real people. When I spoke to people who had been on mag crews, they told me that with a lot of the crews, people would come from all over America and I wanted to reflect that."
"So we looked down in Panama City because a lot of teenagers go down there looking for work; it's hot, and they can sleep on the beach when they first get there. We met a lot of people who were sleeping on the beach." Casting took place over the course of an entire year; intermixing both intense sessions, expeditions across the country, and even online talent searches. 
A process Arnold herself was intimately involved with. "I quite like getting involved in a lot of that, so I would go also and help," she says. "You know, hanging out in Walmart and state fairs, chasing after people and saying, 'Do you want to be in a film?' Kind of dodgy, really."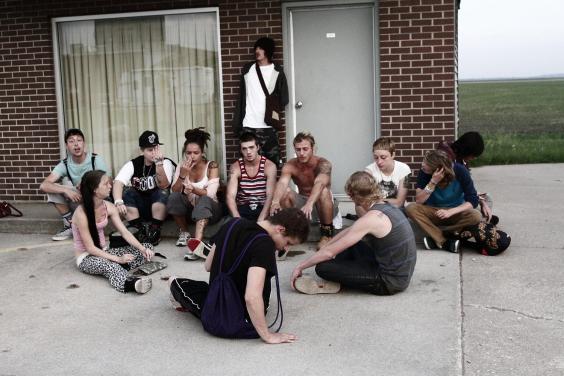 Her time spent amongst the magazine crews also helped Arnold understand the musical landscape these teenagers exist in, consisting mainly of hip-hop and trap artists like Kevin Gates, E-40, and Rae Sremmurd. 
"When I was out with the mag crew they were playing music all the time," she explains. "It's a huge part of their lives; I would ask them for their choices because I always want to try and use the music in a way that works with the score; so it emotionally works as well as being true to them. So, they would give me some suggestions and I would then pick something that we could then use or that I felt like worked emotionally."
Music invariably becomes a huge part of the crew's identity in the film; it captures the hope, the fire that burns within them, but also that streak of self-destructive recklessness that comes in our immortal beliefs of youth. In American Honey, its songs become as much a part of the narrative as its dialogue; which is revealing, considering how largely veiled and guarded the communication between these kids tends to be.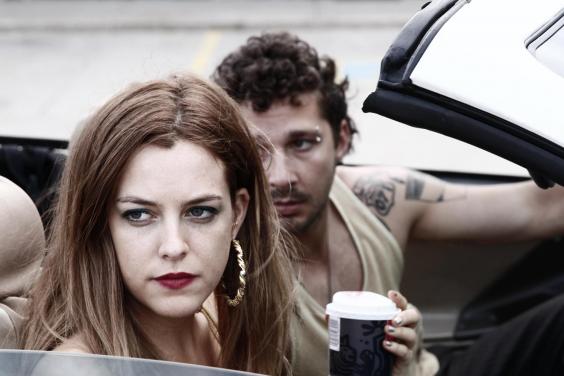 "Music is a hugely important part of my life," Arnold enthuses. "There's not a day goes by where I don't start by playing music, or have it as some part of my day. Emotionally, it can completely change the way I feel or it can accentuate the way I feel; I dance a lot, for real. So anything I write is always going to have music and dancing because it's just part of my life. I can't really imagine making a film that doesn't have dancing in it, actually. As I'm going on, there's more dancing – maybe I'm getting happier."
In fact, one of American Honey's more memorable scenes is vaguely reminiscent of her 2009 film Fish Tank, already sharing similarities in their tales of young women searching to break out of their sense of isolation. The latter sees Mia Williams (Katie Jarvis) escape to a deserted flat to practice hip-hop routines as a kind of meditative practice; this film sees a dancing scene mark Star's first encounter with the magazine crew.

Specifically, it's one of the first times she encounters Jake (Shia LaBeouf); whose impulsive kind of romanticism sees him jump up on a supermarket counter and dance to Rihanna's "We Found Love". A song that bears the same intoxicating, hopeful air that fills the hearts of American Honey's characters. It's a perfect anthem for the film. 
"When I was doing my road trips, it was very much the song that was around at the time, and I love that song," Arnold says of the track. "I really wanted the film to feel like now, and it's just one of those songs that really feels like a moment in time. And it's also a fantastic kind of love song, it just felt right in spirit for the film."
"It had a huge emotional thing for me as well because I played it a lot when I was driving around on my own," she continues. "I was always hitting that drop as I was driving. I had to be careful not to crash. We had a thing when we were going around casting: if that song came on, we would all have to hit the drop. Sometimes we would be in the car with people who didn't know us and we would just go mental when the drop hit and I think they thought, 'oh my god, who have I gotten in the car with?'"
Did the cast feel the same? "We had a Rihanna dance lesson at the beginning," Arnold jokes. "But I think that ended up being a twerking competition by the end of it; no one really took the Rihanna dance lesson very seriously. They rebelled against me on that one – I had to listen to them." 
American Honey hits UK cinemas 14 October. 
Reuse content