TV adverts based on stolen ideas are so commonplace that Private Eye has a regular item devoted to the phenomenon. This endless recycling of ideas reached a peak of blatancy when artist Gillian Wearing complained that a Saatchi TV advert for VW was based on one of her artworks that she had sold to Charles Saatchi. This habit is perhaps not too surprising in such an ephemeral and profuse medium. Blatant idea theft is, however, more startling when you see it in a feature film that has won four Oscars, including best picture, best director and best screenplay.
Inspired by a Raymond Carver short story, Birdman, directed by Alejandro González Iñárritu, who also had a hand in the script, is an intense backstage drama concerning an actor/director played by Michael Keaton, who once was famous for his film role as a high-flying superhero called Birdman. It was a clever move to cast Keaton, who played Batman in Tim Burton's stylish 1989 film and the even better Batman Returns of 1992, but that isn't the curious similarity that leaps from the screen.
Oscars 2015 winners
Oscars 2015 winners
1/15 Best Actor

Eddie Redmayne picks up his award for Best Actor (Robyn Beck AFP)

2/15 Best Actress

Julianne Moore picks up her award for Best Actress for her role in Still Alice (Robyn Beck AFP)

Getty Images

3/15 Best Picture

The cast and crew of Birdman accept their Best Picture Oscar on stage

Getty Images

4/15 Best Supporting Actress

JK Simmons

Getty Images

5/15 Best Supporting Actress

Patricia Arquette

Getty Images

6/15 Best Director

'Birdman': Director Alejandro Gonzalez Inarritu accepts the Best Director Award for Kevin Winter/Getty Images)

7/15 Best Screenplay

Birdman: Director Alejandro G. Irritu, Nicolas Giacobone, Alexander Dinelaris, Jr. & Armando Bo (ROBYN BECK/AFP/Getty Images)

8/15 Best Documentary Feature

CitizenFour: Laura Poitras (2nd L) embraces The Guardian journalist Glenn Greenwald (C), as Mathilde Bonnefoy (R) and Dirk Wilutzky (L) (ROBYN BECK/AFP/Getty Images)

9/15 Best Adapted Screenplay

The Imitation Game: Graham Moore (ROBYN BECK/AFP/Getty Images)

10/15 Best Production Design

The Grand Budapest Hotel: Adam Stockhausen (Production Design) and Anna Pinnock (Set Decoration) (ROBYN BECK/AFP/Getty Images)

ROBYN BECK/AFP/Getty Images

11/15 Best Visual Effects

Interstellar: Paul Franklin (2ndL) , Andrew Lockley (R) , Ian Hunter (L) and Scott Fisher (ROBYN BECK/AFP/Getty Images)

12/15 Best Animated Feature

Big Hero 6: Don Hall (C), Chris Williams (R) and Roy Conli (ROBYN BECK/AFP/Getty Images)

13/15 Best Cinematography

Birdman: Emmanuel Lubezki AFP PHOTO / Robyn BECK (ROBYN BECK/AFP/Getty Images)

14/15 Best Sound Editing

American Sniper: Alan Robert Murray (R) and Bub Asman (ROBYN BECK/AFP/Getty Images)

15/15 Best Foreign Language Film

Ida (Poland): Pawel Pawlikowski (ROBYN BECK/AFP/Getty Images)
The superhero whose work has a strange resonance in Birdman is the mighty Woody Allen. His 1994 masterpiece Bullets Over Broadway, arguably the best comedy of his oeuvre, also concerns various traumas experienced by the cast prior to the staging of a highly emotional drama. Maybe the use of the same plot structure could be excused as coincidence. After all, two movies appeared more or less simultaneously about Truman Capote's involvement with the killers who were the subjects of In Cold Blood.
BUt I felt my first powerful sense of déjà vu in Birdman when an "actor" played by Edward Norton is brought into the production and histrionically announces a list of the great actors who have previously appeared on the same stage: "Do you have any idea who walked these boards before you? Geraldine Page, Marlon Brando, Helen Hayes, Jason Robards... And now you." This bears a strong resemblance to a speech in Bullets Over Broadway by Dianne Wiest, who coincidentally won a "best supporting" Oscar for her wonderfully over-the-top performance as a faded star: "Oh, this old theatre. This church. So replete with memories. So full of ghosts. Mrs Alving. Uncle Vanya. There's Cordelia. Here's Ophelia. Clytemnenstra!"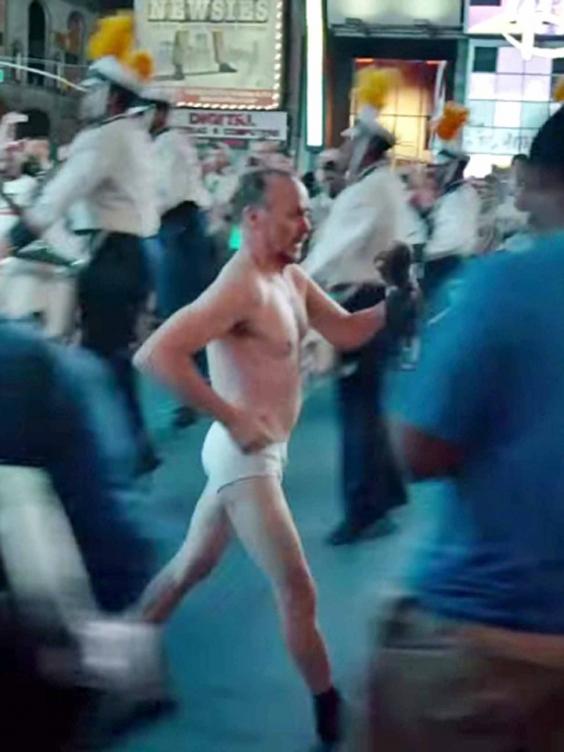 Wonderful stuff and possibly worthy of adoption in another Broadway-based feature, but towards the end of Birdman, there's a more substantial borrowing that amounts to a carbon copy. The funniest moment in Birdman – it's exactly the kind of overwrought work, desperately in need of a spot of levity, that often scoops Oscars – occurs when Michael Keaton manages to lock himself out of the theatre's back door in his underpants. While scuttling round to the main entrance, he is obliged to provide a fan with an autograph.
In Bullets Over Broadway, it is the great Jim Broadbent who, after a performance, finds himself unexpectedly outside the theatre wearing only a gent's corset. And – surprise, surprise – he too scribbles a signature while in this embarrassing state of undress. "Could you possibly give me an autograph?" "l'd love to. I don't have a pen on me." "Oh, you don't?"
One website has described the locked-out-of-theatre joke as "borrowing a hilarious gag" but I think it goes quite a bit further. Homage or plagiarism? I'd say that this film freighted with borrowings (Richard Brody of the New Yorker even says that the "biggest surprise" of the film occurs with the opening credits "borrowed" from Jean-Luc Godard) oversteps the mark with the locked-out-of-theatre joke. Birdman obviously appealed to the Oscar voters, but should you go and see it? Maybe, if you fancy a couple of hours in the company of overexcited thespians. Personally, I found myself glancing at my watch. Far better to get a DVD of Bullets Over Broadway if you want some original humour. 
Reuse content