Accusations of institutional racism have long plagued the film industry. And despite steps to increase diversity in recent years, those charges aren't about to stop. This month, they have reared their head again following the failure of two acclaimed US films featuring black leads to get proper distribution in UK cinemas.
Dear White People, a satire about race in an American university, won prizes at Sundance and the Independent Spirit Awards and earned director Justin Simien a place in Variety magazine's "10 Directors to Watch" list.
Telling the story of four black students at a predominantly white university and their reaction to a "blackface" Halloween party, it's also incredibly timely, dealing head-on with US racial politics in a period when the subject is right at the top of the news agenda. Its UK premiere comes weeks after both the racist killings in Charleston and the outing of "black" activist Rachel Dolezal as white by her parents.
And yet, despite both its acclaim and relevance, it was not snapped up by a major distributor for cinema release in the UK. Instead, it took The New Black Film Collective, a network of film exhibitors which usually organises one-off screenings, to champion the film. Since acquiring the theatrical rights to Simien's film, the collective have battled to get the film into mainstream cinemas, but without much luck: after premiering at London's Prince Charles Cinema on Wednesday, it will have seven-day runs at that and one other London cinema, as well as in Nottingham, Manchester, Derby and Wales.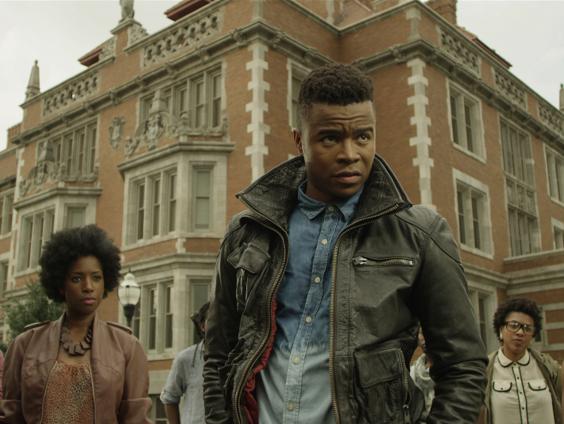 Priscilla Igwe, who runs The New Black Film Collective, says it was "disappointing" that two major independent chains turned the film down claiming it would not have a wide enough audience. Cinema owners are "taking white people for granted" and "making assumptions" that the film would not be of interest to them, she says, despite it addressing issues clearly relevant to people of all races. "There is a constant interest in black culture and an appropriation. It took white people to vote in Obama."
In many ways, the second film Beyond the Lights couldn't be more different from Dear White People – a big romantic melodrama, it focuses on the relationship between a British pop star (Gugu Mbatha- Raw) and the Los Angeles police officer (Nate Parker) who saves her from suicide. But rave reviews and the fact it has two British stars – Mbatha-Raw and Minnie Driver – has not saved it from going straight to DVD in the UK.
The New Black Collective is again hoping to help – it is currently in discussions with Universal over getting it shown in some cinemas. However the director Gina Prince-Bythewood told The Independent on Sunday that she was "tremendously disappointed the film is not getting even a small theatrical release in the UK". The cast is very disappointed as well, she said. "Gugu's performance is phenomenal and deserves to be seen at home. It deserves to be championed."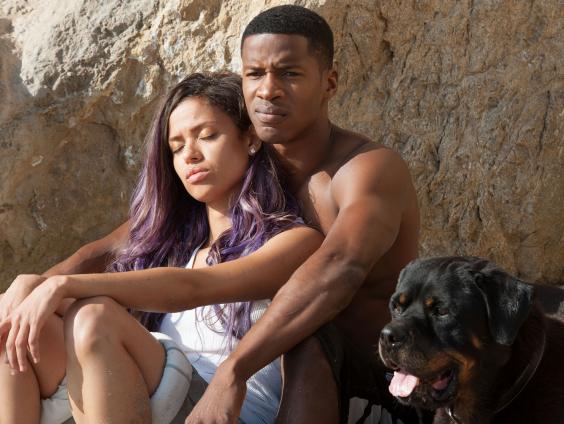 In a statement, Universal said: "We are very passionate about Beyond the Lights and wanted to give it the very best chance to reach the widest audience possible. In assessing the best release strategy for the film, we have had to take into account some key aspects, such as the US theatrical under-performance, the highly competitive and crowded UK theatrical market and limited talent availability in the UK to help promote the film."
But Ms Prince-Bythewood said she did not agree that the box office success in the US was not enough to warrant a theatrical release in the UK. She also pointed out that the cast and crew were available to appear in interviews to promote the film. "We were willing," she said. "They were unwilling to pay for any promotional travel for me and the cast."
She also expressed frustration at the assumption she perceived on both sides of the Atlantic that its leads' race somehow made it a niche production. "The film is 'a love story with two people of colour in the leads'. It is not a 'black film'. Black film is not a genre. I make films with people of colour that explore universal themes. I want people of all races to fall in love with my characters in the same way that I, as a black woman, fell in love with the characters of The Notebook, and Avatar and Bridget Jones Diary. And it has happened with Beyond the Lights. It received a standing ovation at the Toronto International Film Festival and UrbanWorld film festival in New York. Two distinct audiences. Unfortunately the film was not marketed to both."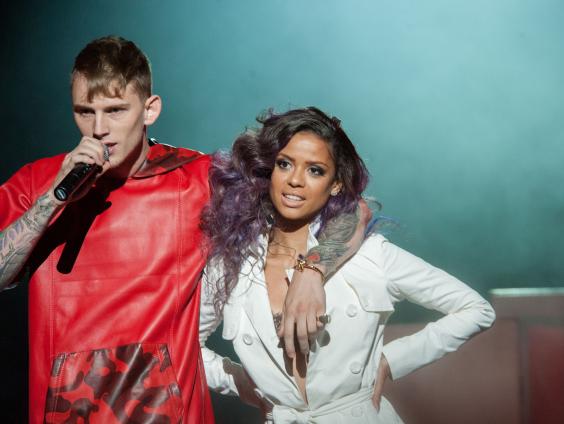 Over here, the problem has seemed even more pronounced, with many actors of colour travelling across the Atlantic because of the lack of opportunities in their home country. It is a point of despair for black cinema historian Stephen Bourne. "Why aren't we embracing Gugu and supporting her and giving her the attention that we would a white equivalent?" he says of the Beyond the Lights situation. "It's always been the same – when a black British actor or actress makes a film and has a lead role they are marginalised. It is heart-breaking. This actress has gone to America to make this important film and then it can't get distributed here? Why?"
Mr Bourne says part of the problem is that the people making the decisions are still "predominantly white middle class coming from an educational background and cultural background that is anxious and nervous about embracing black culture – so they will argue there is no audience. So these films will get shunted off to art house cinemas, which are doing a grand job, but they should be seen more widely."
Those people making the decisions include the British Film Institute, who use lottery funding to aid the distribution of independent and specialised films. Ms Igwe claims the BFI refused Dear White People such a grant with "no justifiable reasons"
The most controversial films
The most controversial films
1/20 A Clockwork Orange, 1971

Adapted from Anthony Burgess's best-selling novel, A Clockwork Orange tells the story of Alex and his gang of violent 'droogs' who kill tramps and rape women.

The film is infamous for the copycat behaviour it inspired - which many thought to be the reason that director Stanley Kubrick withdrew the film in the UK. After his death, his wife Christiane revealed that the actual reason he had the film banned was on the advice of the police after severe threats were made to him and his family.

2/20 The Texas Chainsaw Massacre, 1974

Five friends go to visit their Grandfather's grave after hearing it was vandalised, and pick up a hitchhiker on the way. After the hitchhiker takes a knife and slashes himself and one of the boys, they promptly get rid of him but have to stop for gas at a small sinister looking place which unbeknown to them, is the home of the chainsaw wielding Leatherface.

The film was loosely inspired by real-life murderer Ed Gein who wore human skin, but didn't use a chainsaw.

It was banned in several countries, including in the UK on the advice of the British Board of Film Classification. However, the BBFC passed it for release in 1999 with an 18 certificate.

3/20 The Exorcist, 1973

One of the most controversial horror films of all time, this tells the story of a 12 year-old girl possessed by a demonic force and the two priests who try and save her soul.

The film received critical acclaim when it was nominated for 10 Oscars, and won two for Best Sound and Best Writing. But filming was plagued by disaster and William Friedkin's movie has legendary status as one of the most cursed films to have been made.

4/20 Life of Brian, 1979

This Monty Python film was banned in Norway (1979-1980), Singapore and Ireland (1979-1987)

Brian was born in a stable next to Jesus and as a result is deemed a messiah, but he can't seem to convince his followers otherwise.

Due to its heavy religious satire, the film was not well-received by many religious activists. In 2009, the thirty-year old ban of the film in the Welsh town of Aberystwyth was finally lifted. Sweden, on the other hand, used the controversy to its advantage, marketing the film as 'the film so funny that it was banned in Norway'.

5/20 The Last Tango in Paris, 1973

A young Parisian woman (Maria Schneider) begins a sordid affair with a middle-aged American businessman (Marlon Brando) who wants their relationship to be based only on sex.

The film became notorious for its butter-lubricated sex scene, which still haunts Schneider, as it wasn't part of the original script. In the New York Post, 2007, she said 'I felt humiliated and, to be honest, I felt a little raped... Thankfully, there was just one take... I never use butter to cook anymore - only olive oil.'

It was banned in Italy (1972-1986), Singapore, New Zealand, Portugal (1973-1974) and South Korea.

6/20 All Quiet on the Western Front, 1930

Banned in Austria (1931-1945) and Germany (1931-1945), this film follows a group of young German soldiers who come to understand the tragedy of war and misconceptions of their enemies when they fight in World War One.

Due to its anti-war and perceived anti-German messages, Adolf Hitler and the Nazi Party banned the film from Germany until the end of World War Two. During its brief run in German cinemas in 1930, the Nazis disrupted the viewings by releasing rats in the theatres.

7/20 Caligula, 1979

The story of Roman Emperor Caligula who used violent means to get to the throne, his shocking actions during his tyrannical reign and his subsequent descent into insanity.

Banned in Canada and Iceland, the film was considered controversial not only for its depiction of violence, but also for the gratuitous nudity and Caligula's sexual passion for his sister.

8/20 The Last House on the Left, 1972

A pair of teenage girls go to a rock concert to celebrate one of their birthdays and afterwards try to get some marijuana in the city. They are then kidnapped by a gang of psychopaths who have just escaped from prison.

The Last House on the Left was directed by Wes Craven who also directed The Hills have Eyes (1977) which was banned in Finland, A Nightmare on Elm Street (1984), and the Scream films - where he appeared in all three.

It was censored in many countries and particularly controversial in the UK. It was given an 18 certificate - with cuts - by the BBFC in 2002 and finally classified uncut for video release in 2008.

9/20 Freaks, 1932

A beautiful trapeze artist agrees to marry the leader of the circus performers who is also a dwarf, but his friends discover she is only marrying him for his inheritance.

Director Tod Browning took the exceptional step of casting real people with deformities, rather than using costumes and makeup. His choice shocked audiences of the time and despite the film having since achieved cult classic status, its release resulted in Browning struggling to find work.

A beautiful trapeze artist agrees to marry the leader of the circus performers who is also a dwarf, but his friends discover she is only marrying him for his inheritance.

Director Tod Browning took the exceptional step of casting real people with d

10/20 The Evil Dead, 1983

This film was banned in Malaysia, UK (1983-1990), West Germany (1984), Sweden, Iceland, Ireland and Singapore

Five friends take a trip to a cabin in the woods where they find the Book Of The Dead, which awakens a demonic force turning them into zombies.

The Evil Dead was one of the first films deemed a 'Video Nasty' - the term for films criticized for their violent content by various religious organizations, in the press and by commentators.

11/20 120 Days of Sodom, 1975

Also known as Salò, this film is based on the book by Marquis de Sade which he wrote while imprisoned in the Bastille in 1785. Sade was incarcerated in prison and in an insane asylum for nearly half his life.

In Pasolini's film, four men of power in Italy: the Duke, the Bishop, the Magistrate and the President, collect a group of teenagers, and subject them to 120 days of torture. Graphically violent, the film was, and is still, banned in several countries for its depiction of sexual torture - particularly to children, as they are raped, mutilated and forced to eat faeces. Despite all of this - the film still excludes some of the horrors of the book - it's no wonder why the word Sadism was derived from Marquis de Sade's name.

12/20 Mikey, 1992

Opening with a boy killing his parents, this film follows Mikey, a disturbed little boy who murders his family, and moves on to his adoptive parents. Mikey had, in fact, been passed '18' uncut by the BBFC in November 1992. This film - unlike, say, Reservoir Dogs and other banned titles - had officially been 'passed out' of the BBFC: in other words, Mikey's distributor had the certificate in his hand and now all he had to do was find a theatre to screen his film.

In February 1993, however, James Bulger was killed by two 11-year-old boys and the Daily Mail immediately pointed out that the upcoming Mikey also featured a child killer. Head Censor of the BBFC James Ferman was already scared from the effects of the Bulger case as other films has been blamed for the horrific attack, and so he demanded the return of Mikey's certificate, making it banned in the UK.

Mikey

Opening with a boy killing his parents, the film follows Mikey, a disturbed little boy who murders his family, and moves onto his adoptive parents. Mikey had, in fact, been passed '18' uncut by the BBFC in November 1992. This fi

13/20 I Spit on Your Grave, 1978

Also known as Day of the Woman, this is the story of a woman who retreats out of New York to write her first novel, and is captured by a group of local men, in order for one of them to lose their virginity. The four men gang-rape her, destroy her novel and leave one to murder her - but he cannot go through with it. After her recovery, she then plots to take her revenge each of them, violently murdering each them all.

The controversy is linked to the lengthy and graphic gang-rape scene which has been described as glorifying violence against women. The writer and director, Meir Zarchi, responded to such criticisms by explaining how he was inspired to make the film after he helped a young woman after finding her bloodied and naked in New York after she had been raped - denying that the film was too exploitative.

14/20 Cannibal Holocaust, 1980

This film was banned in several countries, including Singapore, Australia, Norway (1984-2005), Finland (1984-2001), Malaysia, Philippines, New Zealand (2006), Ireland, Iceland (1984-2006), West Germany, Italy (1980-1984) and the UK (1984-2001)

A director and his crew head to the Amazon rainforest to shoot a documentary about the tribes there, but vanish while there. An anthropologist then heads there to attempt to find them and discovers the film reel, revealing exactly what happened to the crew.

Apart from the genuine cruelty to animals which finds Cannibal Holocaust in the midst of controversy to this day, the film originally went to court as there was a belief that it was actually a snuff film. As the actors who had been murdered in the film had signed contracts to agree not to be used in any form of publicity for the film for a year afterwards, the director Ruggero Deodato struggled to prove that the deaths in the film were not real, and eventually had to break their contracts in order to avoid life imprisonment.

15/20 Visions of Ecstasy, 1989

>

This 18 minute film includes scenes featuring a sexualised representation of Saint Teresa of Ávila caressing the body of Jesus on the cross. As a result of this the film was rejected for a UK certificate by the BBFC on the grounds of possible blasphemous libel.

The distributor took the case to the European Court of Human Rights in 1996 to consider whether the existence of a law of blasphemy was consistent with Freedom of Expression rights. Although blasphemy laws in the UK were only repealed in 2008, the film is still not classified and so it remains the only film banned in the UK on the grounds of blasphemy.

16/20 Das Testament des Dr. Mabuse, 1933

The Testament of Dr. Mabuse follows Berlin police inspector Lohmann investigating a case in which all clues lead to a man, Dr Mabuse, who has been in an insane asylum for years.

With the rise of Hitler, Goebbels became head of the Ministry of Propaganda and banned the film in Germany, suggesting that the film would undercut the audience's confidence in its political leaders. Goebbels called the film a menace to public health and safety and stated that he would not accept the film as it 'showed that an extremely dedicated group of people are perfectly capable of overthrowing any state with violence'.

Despite Goebbels saying he was 'struck by the dullness of its portrayal, the coarseness of its construction, and the inadequacy of its acting' he still organised private viewings for his friends, and the director, Fritz Lang, later claimed that Goebbels asked him to work for him in order to create films for the Nazis (although there is no evidence to support this).

17/20 Faces of Death, 1978

Banned in New Zealand, Australia, Finland, Norway and the UK (1984-2003), this film includes faked scenes of people getting killed intermixed with footage of real accidents, all to show audiences the different 'faces' of people while dying.

It features executions by decapitation and the electric chair, animals eating people, suicides and major accidents. Whille some of the footage (Allan A. Apone, make-up and special effects artists for the film said it was 40 per cent) is obviously fake, there is also stock footage of a napalm bombing in Vietnam, various newsreel footage, and wartime footage of Hitler.

18/20 Aftermath, 1994

This short horror film is directed by Nacho Cerdà and doesn't actually feature any dialogue. The audience sees a mortician after hours in the morgue, as he mutilates the corpse of a young woman who died in a car crash. Shortly after, he has sex with the dead body, taking pictures in the process. He then brings her heart home to feed his dog.

Unsurprisingly, the necrophilia is the controversial topic in the film which shocked audiences, but it has also been praised for its attention to detail and cinematography.

19/20 The Devils, 1971

Based on The Devils of Loudun by Aldous Huxley, this film is a dramatised historical account of the rise and fall of Urbain Grandier, a 17th century French priest executed for witchcraft following the supposed possessions of Loudun.

Father Grandier's sexual appeal makes the clergy jealous and the nuns outraged, accusing him of sorcery and evil spells, not content until he is burned at the stake.

Ken Russell's film was banned from Italy and its stars Vanessa Redgrave and Oliver Reed were threatened with three years' jail time if they set foot in the country.

20/20 Straw Dogs, 1971

Dustin Hoffman stars as a Mathematician who experiences some harassment from local men, who go on to rape his wife Amy, leading him to respond with a violent attack.

The initial rape scene was criticised, as Amy begins to find it pleasurable due to a sexual history with the rapist. Feminist cinema critics accused director Peckinpah of glamorizing rape and the BBFC asked for cuts to the scene, but the film was finally passed fully uncut for DVD in September 2002.

Released in the same year as A Clockwork Orange, The French Connection, and Dirty Harry, the film sparked heated controversy over the increase of violence in cinema.
The BFI says it has been supportive of the film showing it at the BFI London Film Festival last year and bringing it back for the BFI Flare LGBT Film Festival in March this year – both were sold out. Ben Roberts, Director of the BFI Film Fund, says he can't comment on the specifics of the BFI's funding decisions, but does think that there are quite tangible reasons for its struggle to gain a decent theatrical release.
He believes the biggest issue for distributors was that the rights had already been carved up with a DVD release scheduled for August and a Netflix release in October, not giving cinemas enough breathing space. This is known as "breaking the window". Furthermore, the types of films that people watch at the cinema do not necessarily tally with those we choose to watch at home, he says – and "cinema bookers and distributors are very risk averse."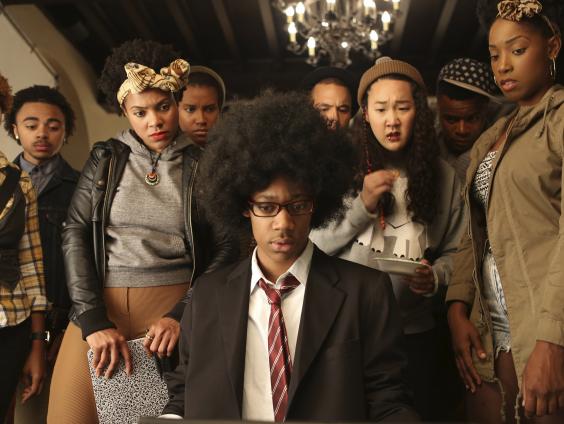 He also thinks that Dear White People's style of humour might have further made it a hard sell for distributors. "An American satire may have led distributors to think 'I don't think this is going to connect with my audience because it is an American experience,'" he said.
But Ms Igwe disagrees and believes that Dear White People "couldn't be more relevant or timely". "There are so many incidents of life imitating art imitating life in the film," she said. "This is starting all kinds of discussions, about race and homophobia. It is an important film and deserves to be seen widely."
'Dear White People' is in selected cinemas from Friday. 'Beyond the Lights' is available on DVD now
Reuse content