When a film starts with a fine wedding scene it's usually means that something is about to go horribly wrong.
And so it proves in Dam Mazar's upcoming film I Give It a Year, at which everyone at the wedding, even the minister, believes that magazine editor Nat (Rose Byrne) and struggling author Josh (Rafe Spall) are destined to break up before they reach their paper anniversary.
The wedding is notable for its doubting in-laws, fraught guests and an awkward best man's speech. What director Mazar has realised like many a director before that more often than not it's not the romance that makes the best movie wedding scenes.
Click here or on "View Images" to launch in pictures
Here are some of the best:
The Graduate (1967)
Ben Braddock (Dustin Hoffman) destroys Elaine Robinson's (Katharine Ross) big day by bursting into church, fighting several guests, stealing the bride and barring the church doors with a giant cross as they run out of church, her wedding dress flying behind her. No actual marriage takes place, but it keeps to the golden rule of movie weddings, no matter what else happens, love must conquer all.
The Godfather (1972)
"No Sicilian can refuse any request on his daughter's wedding day!"  At the start of Francis Ford Coppola's sprawling epic, Constanzia 'Connie' Corleone (Talia Shire) is marrying Carlo Rizzi (Gianni Russo) but this scene is all about the father of the bride, Vito (Marlon Brando). Dad uses the occasion to conduct family business as a big Italian wedding takes place in the sunshine.
Marie Antoinette (2006)
Kristen Dunst could have got onto this list twice. She may have won the best actress prize at Cannes for her turn in Lars von Trier's doomsday drama Melancholia, which starts with a multi-faceted and at times hilarious wedding scene, but it's her other loveless movie marriage that really strikes a chord. Playing the titular character, her wedding to Louis XVI (Jason Schwartzman) is a montage of frivolity scored by New Order song Ceremony, in which Dunst gambles while the King goes to bed. Director Sofia Coppola demonstrates that great wedding scenes are a family tradition.
The Wedding Singer (1988)
What is great about The Wedding Singer is that it shows the business side of wedding. These are the people, from the caterers to the dressmakers and of course the wedding band who see nuptials as an opportunity to make a fast buck.  Pretty soon one wedding merges into another. As such my favourite wedding scene out of the many choices sees the heart broken wedding singer (Adam Sandler) screeches Love Stinks at Cindy and Scott's wedding.
The Princess Bride (1987)
The hilarious scene in which Buttercup (Robin Wright) appears to go through with her arranged marriage to Prince Humperdinck (Chris Sarandon) shows the importance of following marriage protocol. Humperdinck worried about the impending arrival of Buttercup's true love Westley (Cary Elwes) tells the clergyman (a brilliant Peter Cook) to get on with the ceremony. Sadly in his rush to get to the end, he omits to get Buttercup to say 'I do'. Perfect.
Monsoon Wedding (2001)
The whole of Mira Nair's Golden Lion winning film takes place during a four day Indian wedding. Bollywood has often been a source of great wedding scenes, indeed many of the plot twists of classic Indian cinema revolve around the fallout of marriages.  Mira Nair brought the Indian wedding into the 21st century in this tale of a modern arranged marriage. The scene in which the bride comes clean about her romantic past is as good and more touching than as all the great dancing and singing that surrounds it.
Arthur (1981)
Dudley Moore is drunk in all the pivotal moments playing the eponymous anti-hero in this classic comedy. On his wedding day he realises that getting married to upper crust Susan (Jill Eikenberry) is too big a price to pay to abandon his true love sassy waitress Linda. (Liza Minnelli). Arthur is so drunk that he collapses on the aisle.
The Deer Hunter (1978)
There is just the barest hint of the trauma that is about to follow as a group of Pennsylvania steelworkers (including Robert De Niro and Christopher Walken at the top of their game) attend the wedding of Steven (John Savage). It's a touching and passionate affair, a rite-of-passage before the guys take up military service and head to Vietnam. The pivotal moment comes when the happy couple have to drink wine from a goblet without spilling any, unbeknown to everyone a drop of wine spills on Angela's wedding dress, foreshadowing the blood that is about to be spilled and the passing into adulthood. 
Wedding Crashers (2005)
Wedding Crashers could be described as the first wedding movie aimed squarely at men. What's so great about this film is that it doesn't forget that weddings are a great opportunity to party and have fun. They are joyous occasions.  John (Owen Wilson) and Jeremy (Vince Vaughn) are divorce mediators who pick up girls at weddings. It's a series of dancing, drinking and delirium until Jeremy makes the mistake of sleeping with Gloria (Isla Fisher) the daughter of the US Secretary of the Treasury (Christopher Walken, again!) The reaction when Gloria tells Jeremy that she's a virgin is priceless.
The African Queen (1951)
This has to be the most romantic and saddest wedding ceremony ever committed to celluloid. The wedding between Charile (Humphrey Bogart) and Rose (Katharine Hepburn) takes place at sea on a boat. It's the most romantic setting. However they've both just been sentenced to death by hanging and the wedding is the last thing they will do before they die. It's a symbolic, tear inducing moment that is unbelievably romantic.
Fidler on the Roof (!971)
There are many great weddings in musicals. The Sound of Music, Seven Brides for Seven Brothers but the stand out is the singing of Sunrise and Sunset in Fidler on the Roof. What's so amazing is that the focus is as much on how the wedding brings the community and families together as it is about the happy couple, Motel and Tzeitel.
Four Weddings and A Funeral (1994)
Working Title are the masters of the wedding scene. As the title suggests there are four weddings to choose from, but the stand out wedding is the third between American Carrie (Andie Macdowell) and Hamish (Corin Redgrave) as our floppy-haired hero Charles (Hugh Grant) is watching the one that got away. His day does not get better.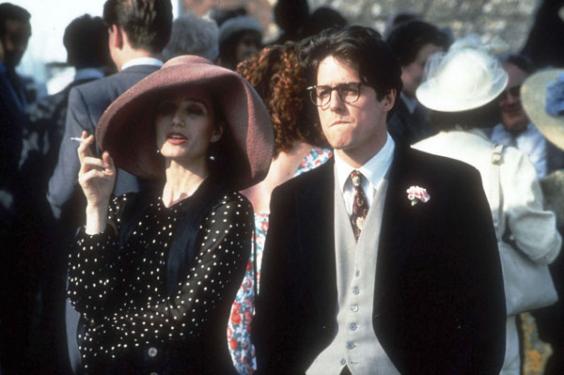 I Give It a Year is out February 8
This article appears in tomorrow's print edition of Radar Magazine
Reuse content