In his new film San Andreas, Dwayne "The Rock" Johnson plays a helicopter rescue pilot leading the evacuation of Los Angeles following an earthquake along the notorious fault. And natural disaster aside, life recently imitated art for the 6ft 4in, 252lb wrestler turned action hero; California-born Johnson, 43, has fled La La Land, relocating to South Florida.
"I sold my home because I was in LA for 10 years and I got to a point where business cannot only continue to run but can grow being down here," he says, referring to film and TV projects that he is developing in Miami. "Every meeting I take, everybody flies in. I've gotten to that place now."
The business operates underneath the umbrella of Johnson's production company Seven Bucks. Currently it is co-producing new HBO American football comedy Ballers, in which Johnson also stars (of which more later) and which has been filming in Miami. In the grand, self-starting American tradition, the company name refers to the sum total of Johnson's life savings when he was a struggling sportsman two decades ago.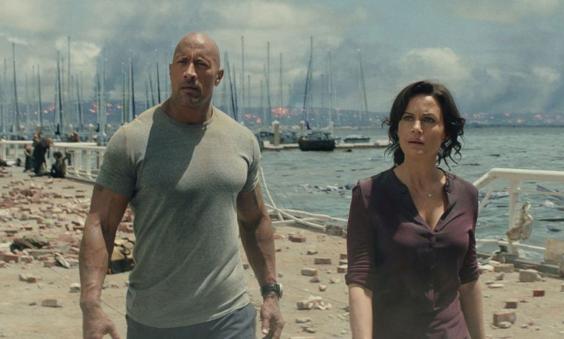 By contrast, in 2013, Johnson's films earned $1.3bn, making him the year's highest-grossing actor, a feat he's on course to repeat in 2015, having already starred in last month's Furious 7 which has grossed over $1.5bn globally. Yet for all his physical and commercial clout, Johnson's ascent to Hollywood's top ranks has gone remarkably unheralded since he made his acting debut in 2001 in The Mummy Returns, following five years on the World Wrestling Entertainment circuit.
Perhaps it's because his films are not the kind that tend to play well with critics. But Johnson's cheerful admission of why he got out of Hollywood indicates that he is more nuanced and complicated than he is often given credit for. In the last decade-and-a-half he has revealed unexpected depths: he hosted NBC's Saturday Night Live four times, doing an acclaimed impersonation of President Obama, and sent himself up in Richard Kelly's Southland Tales and the Elmore Leonard adaptation Be Cool.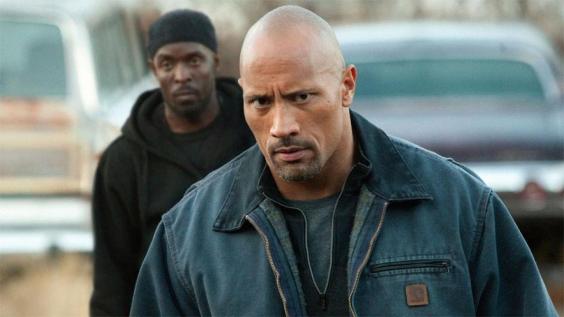 San Andreas also stars Carla Gugino, Paul Giamatti, Ioan Gruffudd and The Good Wife's Archie Panjabi. Among the illustrious cast, however, it's a cameo-ing Kylie Minogue who most excites him.  "She's petite and beautiful and has an amazing voice," he says. "I've been a fan of hers for such a long time and I finally got to know how cool and empathetic she was on TV when she was part of The Voice. "The Loco-Motion"? The parties I have had to that song!"
We met in Miami before the recent earthquake that devastated Nepal; since then Warner Bros has revamped San Andreas' marketing campaign to include public safety information and details on how people can contribute to the relief effort.  Johnson experienced hurricanes in Florida – he was living there when the category-five Hurricane Andrew hit the state in 1992 – and an earthquake in Los Angeles during the late nineties. "It was a small one," he recalls. "[It] was strong at first and then it subsided. I was by a big glass wall at the time and everything gets heightened. You spend three to four seconds thinking, 'Where's my family? Where do I go? What's happening?'"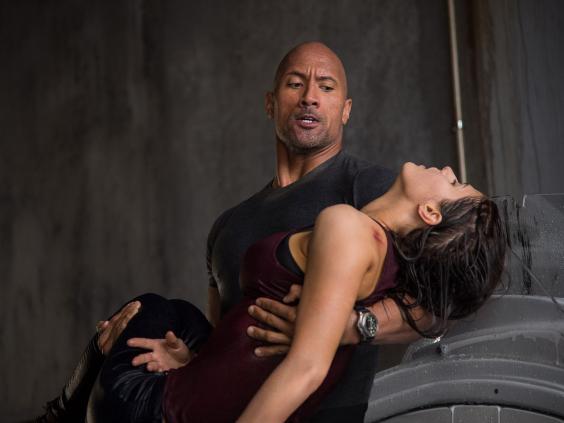 Johnson fears a major earthquake in America is on the horizon. "The scientists we worked with said everything in the script could really happen," he says. "This sounds like a movie line but it's not a matter of if but a matter of when. We're 100 years overdue."
Johnson's trademark concentrated frown, which he calls "the stern look", has earned him a cult following. However, San Andreas sees him extend his facial repertoire.  "It's not an alien, it's not a bad guy shooting a gun and it's not a tank – it's an earthquake and downtown LA is coming down so it's a different face I have," he notes. "The scary face. The 'Holy Shit!' face. It's much like when I get in trouble with my girlfriend."
He could show yet more range still with Ballers. Premiering just after the new series of True Detective in the US next month, it sees him play a sports agent operating within the NFL and focuses on the relationships between him and the players he mentors. There's an element of unfinished business to the show; as a teenager, Johnson dreamed of playing in the NFL and won an American football scholarship to the University of Miami, becoming the only freshman of his year to make the college team. But he sustained shoulder injuries and ended up floundering in the Canadian football league before turning to wrestling.
Best films to watch in 2015
Best films to watch in 2015
1/9 Suffragette - 11 September

Meryl Streep is bound to make a formidable Emmeline Pankhurst in Sarah Gavron's new film about the British women's suffragette movement of the early 20th century. Streep is again working from a screenplay by Abi Morgan who also wrote The Iron Lady.

Getty Images

2/9 Far From The Madding Crowd - 1 May

Thomas Vinterberg turns his hand to Thomas Hardy and British costume drama. Memories of the John Schlesinger version with Alan Bates and Julie Christie will be hard to exorcise. Carey Mulligan and the mercurial Flemish actor Matthias Schoenaerts star as Bathsheba Everdene and Gabriel Oak.

3/9 Jurassic World - 12 June

The third Jurassic Park sequel is finally here starring Chris Pratt. The storyline goes something like this - theme park gets dinosaur to attrack visitors and it all goes horribly wrong. Should prove a fun one among cinema-goers.

Colin Trevorrow

4/9 Terminator: Genisys - 3 July

Arnold Schwarzenegger kept his promise - he's back and he's trying to stop Judgement Day.

5/9 Spectre - 6 November

Bond is back for the 24th time. So is arch-villain Blofeld. Director Sam Mendes did a sterling job with Skyfall but the last movie ended on a very downbeat note with poor old Judi Dench signing out of the series. The challenge now is to reinvigorate a franchise that is already well into its 50s.

Rex Features

6/9 Cake - 20 February

It's Rachel from Friends as you've never seen her before as Jennifer Aniston plays Claire Bennett - a woman who initiates a relationship with a widower while battling hallucinations of his dead wife.

7/9 Suite Francaise - 13 March

It will be intriguing to see how Saul Dibb's long-awaited adaptation of Irène Némirovsky's novel deals with a problem that has often confounded British film-makers: how to portray French characters played by English-speaking actors in Nazi-occupied, wartime Paris without slipping into 'Allo 'Allo!-style caricature. Michelle Williams and Kristin Scott Thomas lead Dibb's promising cast.

8/9 In The Heart Of The Sea - 13 March

Chris Hemsworth plays tough seafarer Owen Chase in this dramatic Moby Dick movie.

Warner Bros

9/9 Cinderella - 27 March

Kenneth Branagh's live action remake of Disney's classic tale stars Downton Abbey's Lily James. Helena Bonham-Carter and Cate Blanchett also star as the Fairy Godmother and evil stepmother.

Disney
Johnson recalls he discussed the concept of Ballers with Mark Wahlberg, also a producer of HBO's Hollywood comedy-drama Entourage, when they filmed 2013 crime film Pain and Gain. It's no coincidence that in addition to Wahlberg, he's recruited Stephen Levinson and Rob Weiss from Entourage to produce and write Ballers. "The idea was to take Entourage and set it in the sports world," he says. The cast will feature Denzel Washington's son John David Washington and Johnson says the show will feature cameos from American football players: "It's a very well-written cool show that I think audiences will like a lot." Filming Ballers in Miami has meant punishingly early wake-up calls for Johnson. "When I'm shooting Ballers, I have to be in the make-up chair by 7 [am]," he says, "so I work backwards. I get up at 4am, do my cardio and send out a silly Instagram video where I'm cussing at the machine."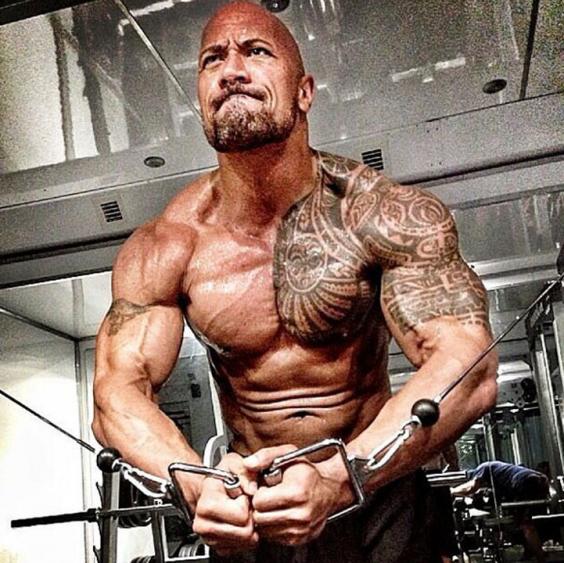 Johnson, the son of a Samoan mother and an African-American father, had a difficult childhood. He moved constantly, his father was absent and he was arrested several times as a teenager. But he maintains he got his fitness zeal from his father. "My dad was very strict, he was an athlete," he says. "Even when I was a little kid, he'd say, 'You have to eat to nourish the body and not to please the tongue.' I was six years old! That's why my taste buds are boring."
Ballers, a prestigious cable TV project, is an indication of Johnson's rising stock in the industry: "I'm in a good position today where the material I get is quality. It wasn't always like that. I had to earn my stripes. I didn't come from an acting background or a performing arts school."
Whatever the reception of Ballers, you get the feeling that Johnson is increasingly keen to distance himself from his celebrity roots. He points to his mobile phone. "I don't have anything that needs to be hacked on this phone," he says, laughing. "I'm safe! I'm smart! I don't take pictures of myself naked or anything like that." Right now, there's not much chance of him getting caught between The Rock and a hard place.
San Andreas'is out now; Ballers will be screened on Sky Atlantic later this year
Reuse content