Henry Lloyd-Hughes has ridden to the interview on a Royal Enfield motorcycle. The photographer – who is also a motorbike fan – immediately invites him to a vintage rally. Lloyd-Hughes looks keen, "I only know one or two other people who ride motorbikes – I don't yet belong to any gang." I can't say I'm surprised. His appearance is far more PG Wodehouse than Hell's Angel.
Ironically, for this gentlemanly actor, it was playing the shaven-headed school bully, Mark Donovan in The Inbetweeners that proved his biggest break.
More roles quickly followed: in television as David Miliband in Channel 4's docu-drama Miliband of Brothers (in which his younger brother, Ben, also an actor, played Ed) and as aristocratic Captain Notting in BBC's Parade's End; and in film as a hardbitten yet idealistic young raver in Weekender and a tortured professor in the philosophical sci-fi flick Dimensions. His latest film Hello Carter, directed by Anthony Wilcox and executive produced by Michael Winterbottom, will premiere at the London Film Festival this October.
As well as screen roles, Lloyd-Hughes has had stage success, receiving exemplary reviews for performances in the critically acclaimed stage-plays Punk Rock (Simon Stephens) and Posh (Laura Wade).
A neat moustache adorns Lloyd-Hughes's upper lip, oddly incongruous on such youthful features. "I had to grow it for my part in the Madame Bovary film," he explains – worried, perhaps, I would take it for a display of thespian flamboyance – "It's all part of being an actor, having to surrender control of your appearance."
However, I suspect he rather likes the look – the vintage moustache is partnered by a cream-coloured sports jacket, a cravat and, swinging casually from one hand, a glorious, glittering motorcycling helmet in bright vermillion. "If it was up to me," he goes on, "I'd probably have a shaved head, it's far simpler but that wouldn't be good for business."
And business, for this well-spoken and personable 28 year old, is currently very good indeed. He is due to start work filming a new adaptation of Madame Bovary with director Sophie Barthes at the end of this month. He will play the bourgeois doctor Charles Bovary alongside two of the hottest names in Hollywood – Mia Wasikowska (Jane Eyre, Stoker) as the eponymous heroine, and Ezra Miller (We Need to Talk about Kevin, The Perks of Being a Wallflower) as her lover, Leon. It is, however, the chance to act with Paul Giamatti (also in the film as Monsieur Homais) which excites Lloyd-Hughes most: "He's one of my top three actors in the world."
As he talks about Charles Bovary, Lloyd-Hughes is endearingly enthusiastic – leaning further and further over the table towards me. It is easy to see why Sophie Barthes was impressed. She cast him after a brunch meeting on Verona Beach a year ago during which, he says, he just "gushed". He is gushing now or, at least, idea is following idea in a veritable torrent: "Charles Bovary is very unfanciable. You pity Emma being bound to him, this guy who gets on her nerves with his small-minded, small-town life, but that's only because so much is seen through Emma's eyes.
"In this film, rather than an older, slower, dour, slightly humourless doctor, we're making the pair closer in age. It's actually much more radical and challenging if you make Charles more appealing and therefore make betraying him tougher for Emma."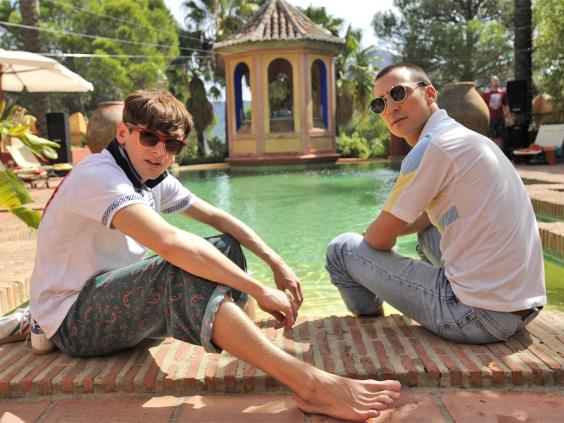 Lloyd-Hughes's grandfather, Basil Appleby, was also an actor, and had roles in films including The Dam Busters and The Black Knight. The young actor insists, however, that his was not a theatrical household – his dad, he adds by way of proof, works in a bank.
Instead, Lloyd-Hughes attributes his career choice to the support and encouragement of teachers and pupils at his school. "You know I didn't go to a drama school, I went to a normal academic school." Hardly normal, I suggest gently. It was the elite public school, St. Paul's.
Out of the 160 boys in his year group, he was the only one not to go to university. In his final year he had been signed by an agent and decided to find a job, any job, to support himself while building a career in acting. After a couple of years of unrewarding work and auditioning for roles unsuccessfully, Lloyd-Hughes was on the verge of giving it all up. He had been working as a landscape gardener and, with the cash he had managed save, had decided to buy a plane ticket to the Far East. Three days before he was due to leave his agent rang – he'd got a small part in Murphy's Law, "so the Far East never happened".
I put it to him that after the cloistered world of St. Paul's his experience of working in poorly paid jobs must have helped him to grow as an actor. He agrees: "If you exist in a closed world you can become incredibly blinkered. If you're blinkered you've got nothing coming in. That was what I told myself at the time anyway. The number of different situations I've been in – working in a bar, clearing up people's sick at four in the morning when I hadn't slept and hadn't had a break. I don't want to make it sound as if I was down the mines because I wasn't, but it was a reminder of real life."
Lloyd-Hughes's penchant for vintage extends to more than his choice of transport. A few years ago he wrote and directed a short film for Channel 4 called Bright New Wonders in which he mocked society's obsession with the next new thing. But is he himself the next new thing? He laughs. "You should just bracket me as a thing, which will hopefully become an old thing, a thing that will mature slowly and surely."
An unusually sensible wish for a young actor, but then clearly Lloyd-Hughes is, in the most modest and likeable fashion, entirely unafraid of following his own path.
'Hello Carter' premieres at the London Film Festival on 12 October