There will be no stopping Imogen Poots in 2013. The west London-born star is appearing in some of the most highly anticipated films of the year. Meanwhile as a model she has found time to front a fragrance campaign for Chloé, shot by Sofia Coppola. Her own style is certainly eclectic. When we meet in a trendy, windowless bar she is wearing trousers that feature an elaborate, chaotic silver print. "They are a bit like a party got spilled on my pants," she says. "I woke up this morning and was feeling a little dazed and I thought, Hey I'm going to put on something that is going to make me smile all the time."
Full of jokes, at 23, Poots has the confidence of someone who senses that they are about to have the biggest year of their career. First up she plays Debbie Raymond, daughter of the Soho porn magnate Paul Raymond in Michael Winterbottom's The Look of Love. After that we'll see her rubbing shoulders with Christopher Walken, Philip Seymour Hoffman and Catherine Keener in A Late Quartet, starring as a girlfriend of Jeff Buckley in the music biopic Greetings from Tim Buckley, and further down the line comes an adaptation of Nick Hornby's novel A Long Way Down.
Playing the notorious Raymond was an education. "I wasn't fully aware of her, nor the Raymond legacy," she says. "I did not necessarily see her as a party girl. I know she died in her early thirties and I always thought of her like a Peter Pan character. She never really grew up, she was savvy as hell and very intelligent but that doesn't necessarily translate into her being able to take care of herself."
Part of the enjoyment of making The Look of Love came from working with the prolific Winterbottom, she says. "He is such a kinetic film-maker, constantly switching it up and deciding things in a way that I found very brilliant. I loved working in a way that is unpredictable. You walk around and you find things that are perfect for the film and you just shoot it.
"It's a shame in a way because you then go onto other jobs and you realise: 'Oh no, not everybody is like that. Not everyone has that sort of energy and trust.'"
After that, it's a brace of musical films – A Late Quartet, in which she plays the prodigal daughter of concert violinists who conducts an affair with her father's best friend, and Greetings From Tim Buckley, which uses a concert organised by Jeff Buckley in tribute to his father to look at both musicians. Gossip Girl star Penn Badgley stars as Jeff Buckley.
"Music is something I care immensely about. Growing up in my late teens my mum and dad didn't really give me music, they gave me books," says Poots. "It was definitely my own discovery. I found that a lot of stuff that I loved stemmed from Eighties and Nineties music, but now I'm just a doo-wop fanatic."
She is also a fan of Tim Buckley. "'Once I Was' is the greatest love song ever. I mean, really ever." Would it be her wedding song of choice? "If I ever make it down the aisle, maybe that or 'Ceremony' by New Order..." As for her guilty pleasures: "I used to be embarrassed by my Billy Joel and Dolly Parton obsessions. I'm now just embracing them full-on."
She grew up in Chiswick ("full of pensioners and pigeons") and started acting with the Young Blood Theatre Company in Hammersmith. By the age of 14 she had her first Casualty appearance under her belt. Her movie career started with a turn in V For Vendetta in 2006 followed by her first major role in 28 Weeks Later when she was just 17.
The trajectory has hardly changed since and these days the actress finds herself being courted as much in America as she has been in Britain. In addition to a home in London she rents an apartment with a friend in Los Angeles, although it's New York that she calls her "favourite place in the world."
It was where she shot A Long Way Down, an adaptation of Nick Hornby's novel about four people who meet on a rooftop to commit suicide. She's also in the middle of shooting the romantic comedy Are We Officially Dating? in the city, in which she plays opposite Zac Efron, her co-star in Me and Orson Welles.
All of which left her with not very much time to spend at home over Christmas, "I was home just for five days, having a whisky with my dad and hanging out."
'The Look of Love' is out on 8 March; 'A Late Quartet' is out on 5 April; 'Greetings from Tim Buckley' and 'A Long Way Down' are out later in the year
This article appears in tomorrow's print edition of Radar Magazine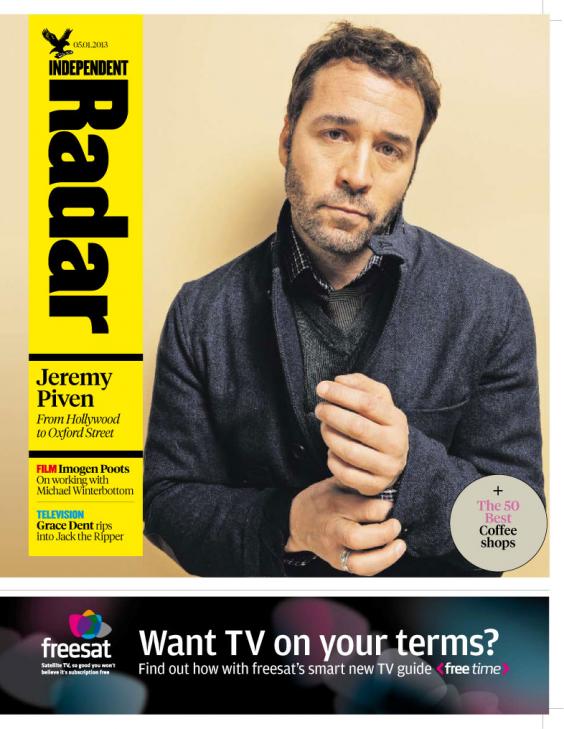 Reuse content