Star of 'The Simpsons' (in two episodes of his favourite show, albeit with a paper bag over his head), Thomas Ruggles Pynchon Jr of the Upper West Side, New York, once informed CNN that "'recluse' is a code word generated by journalists". The Simpsons, by the way, had his animated avatar stand beside a neon sign: "Thomas Pynchon's House: Come On In". For the novelist himself, the "recluse" tag merely means, "doesn't like to talk to reporters".
Communication with, and on behalf of, fellow-artists is a different matter. Ever the Utopian, Pynchon loves the idea of a creative community of equals. Via his generosity to others, he does his bit to make it a reality. In 1998, he even rang up his New York publisher to ask where he should fax a jacket endorsement for a debut by a then-unknown novelist. He called that book "a demented, deadpan comic wonder". So it was: Magnus Mills's The Restraint of Beasts.
However inaccessible to profile-writers, paparazzi and PRs, the author of V., The Crying of Lot 49, Gravity's Rainbow and Mason & Dixon dreams and writes of harmony and fellowship in the making of art. Prophet of "nobrow" culture, both populist trend-surfer and high priest of the avant-garde, Pynchon has in his practice as much as his prose sought to unify the high and the low, mind-bending experiment and street-smart entertainment.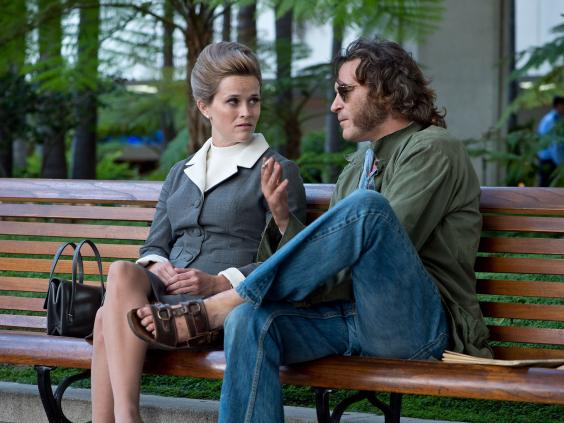 A revealing nugget of biography links him to a comparable boundary-busting icon. Pynchon's close friend at Cornell University (where he studied engineering physics, seen as the toughest of all courses on campus, before switching to English) was singer-writer Richard Farina. In 1963, Pynchon was best man when Farina married Mimi Baez – sister of Joan. Much later, in the mid-1990s, he cheer-led for the indie rock band Lotion. Pynchon's liner notes for their album Nobody's Cool insist that "rock and roll remains one of the last honorable callings, and a working band is a miracle of everyday life". In The Crying of Lost 49, he invented a wannabe-English beat-band called (inevitably, given his life-long interest in psychosis-inducing social systems) The Paranoids.
Pynchon has always adored movies too. Some of the rumours that swirl around his name have him contributing credit-free screenplays to the studios or even pitching to take over as film critic at Esquire. Allusions to films as much as music crowd his fiction (alongside the theoretical physics, genocidal history, paranoiac psychology, pharmaceutical chemistry and so much else besides). Until this year, however, Hollywood had never offered him the option of joining the kind of creative fraternity he craves. In contrast, when Matt Groening gave him an animated break, he jumped at the chance. Pynchon personally edited his scenes in The Simpsons. He added a pun ("The Frying of Latke 49") and deleted a dig at Homer: "Sorry, guys. Homer is my role model and I can't speak ill of him."
Gravity's Rainbow, his cornucopian, apocalyptic and film-saturated masterpiece from 1973, ends with a V2 rocket plunging towards a cinema in Los Angeles. (Historical note: in December 1944, the deadliest single strike by a V2 killed 567 cinema-goers, mostly Allied troops, in Antwerp). Some brave souls have sought to film the unfilmable. In the 1990s, the BBC apparently aborted a plan to adapt Gravity's Rainbow. In 2009, Alex Ross Perry's low-budget indie movie Impolex managed a scaled-down sketch of key motifs from the novel – above all, the American quest, as the Second World War ended, to harness the breakthroughs in rocketry that led to the Nazi "V" weapons. Yet, until now, the Pynchon screen at the multiplex has remained entirely blank.
No longer. Paul Thomas Anderson's film of the 2009 novel Inherent Vice opens in the UK next week. With a cast that includes Joaquin Phoenix, Josh Brolin and Reese Witherspoon, and a soundtrack composed by Jonny Greenwood of Radiohead, it sticks pretty closely to the book's laid-back labyrinth of Southern Californian noir, circa 1970. The director of loose-limbed ensemble pieces such as Boogie Nights and Magnolia has captured the serpentine, dope-befuddled twists of the story. Going with the West Coast flow, Anderson directs for mood rather than minutiae. "My best experiences reading his books have been when I allow them to wash over me," he explains. "When you don't expect anything, don't know anything… just surrender and ride along the waves he creates."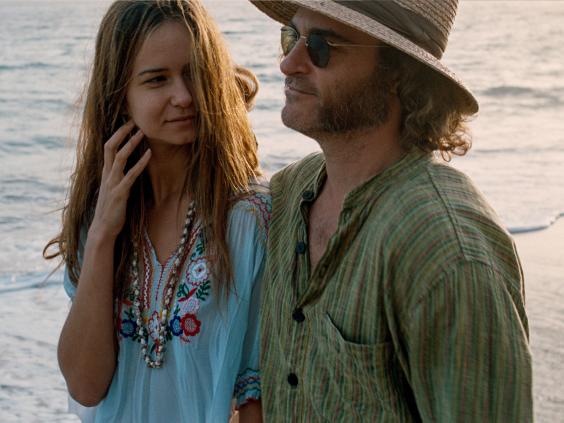 Hippie private investigator "Doc" Sportello sets off in search of the missing property tycoon Mickey Wolfmann. Along his zig-zag route, he tangles with his nemesis-cum-sidekick "Bigfoot" Bjornsen: the ultra-straight "renaissance detective" of the LAPD. In Pynchon-esque fashion, Anderson's camera upends, inverts or ambushes our viewpoint.
"Paranoia is also very, very fun to film," he comments. "People and noises and creeping around corners: it's all very cinematic. And Joaquin [Phoenix] does paranoid very well." Not for nothing does an astrology-fixated character invoke Uranus, "the planet of rude surprises". In psychedelic colours, softened by Pacific mists, the action unfolds around "Gordita Beach": a version of Manhattan Beach, south of Los Angeles airport, where Pynchon lived while he composed Gravity's Rainbow.
To some hard-core aficionados, Inherent Vice ranks as Pynchon Lite. For these devotees, it counts as a jeu d'esprit to set alongside Vineland. Another largely comic exercise in counter-cultural noir, another heartfelt homage to the faded ideals of hippie-era California, that was the surprisingly genial, relaxed novel that in 1990 broke Pynchon's 17 years of silence. Disappointed, Pynchon-lover David Foster Wallace wrote to Jonathan Franzen about Vineland: "I get the strong sense he's spent 20 years smoking pot and watching TV".
In Pynchon's mature universe, that's not such a terrible fate. Besides, during those invisible years, he was also working on his panoramic epic of the Enlightenment, Mason & Dixon (1997), and probably researching Against the Day (2006): his stupendous, and eerily prophetic, wide-screen portrait of America and Europe in crisis before and after the First World War.
Best films to watch in 2015
Best films to watch in 2015
1/9 Suffragette - 11 September

Meryl Streep is bound to make a formidable Emmeline Pankhurst in Sarah Gavron's new film about the British women's suffragette movement of the early 20th century. Streep is again working from a screenplay by Abi Morgan who also wrote The Iron Lady.

Getty Images

2/9 Far From The Madding Crowd - 1 May

Thomas Vinterberg turns his hand to Thomas Hardy and British costume drama. Memories of the John Schlesinger version with Alan Bates and Julie Christie will be hard to exorcise. Carey Mulligan and the mercurial Flemish actor Matthias Schoenaerts star as Bathsheba Everdene and Gabriel Oak.

3/9 Jurassic World - 12 June

The third Jurassic Park sequel is finally here starring Chris Pratt. The storyline goes something like this - theme park gets dinosaur to attrack visitors and it all goes horribly wrong. Should prove a fun one among cinema-goers.

Colin Trevorrow

4/9 Terminator: Genisys - 3 July

Arnold Schwarzenegger kept his promise - he's back and he's trying to stop Judgement Day.

5/9 Spectre - 6 November

Bond is back for the 24th time. So is arch-villain Blofeld. Director Sam Mendes did a sterling job with Skyfall but the last movie ended on a very downbeat note with poor old Judi Dench signing out of the series. The challenge now is to reinvigorate a franchise that is already well into its 50s.

Rex Features

6/9 Cake - 20 February

It's Rachel from Friends as you've never seen her before as Jennifer Aniston plays Claire Bennett - a woman who initiates a relationship with a widower while battling hallucinations of his dead wife.

7/9 Suite Francaise - 13 March

It will be intriguing to see how Saul Dibb's long-awaited adaptation of Irène Némirovsky's novel deals with a problem that has often confounded British film-makers: how to portray French characters played by English-speaking actors in Nazi-occupied, wartime Paris without slipping into 'Allo 'Allo!-style caricature. Michelle Williams and Kristin Scott Thomas lead Dibb's promising cast.

8/9 In The Heart Of The Sea - 13 March

Chris Hemsworth plays tough seafarer Owen Chase in this dramatic Moby Dick movie.

Warner Bros

9/9 Cinderella - 27 March

Kenneth Branagh's live action remake of Disney's classic tale stars Downton Abbey's Lily James. Helena Bonham-Carter and Cate Blanchett also star as the Fairy Godmother and evil stepmother.

Disney
In truth, Pynchon Lite and Pynchon Classic come out of the same distillery. Only their proof may differ. Movie-goers who enjoy Inherent Vice but can't quite extrapolate from its goofy, dope-addled intrigue to the mysterious titan of postmodern literature should not fret. Pynchon the nerd and Pynchon the dude are one and the same. Or rather, the nerd contains the dude – and vice versa.
Take the title. Inherent Vice is a marine-insurance term that refers to that favourite Pynchon theme: the tendency of things to fall apart. "Eggs break, chocolate melts, glass shatters," in a line from the film. When he re-published his 1960 story "Entropy" in the 1984 collection Slow Learner, the now-mellow Pynchon, happily hitched to his agent Melanie Jackson, came down hard on his youthful earnestness: "Get too conceptual, too cute and remote, and your characters die on the page." All the same, the thermodynamic principle of entropy – "the measure of disorganization for a closed system", as Callisto puts it in the story – runs like a ragged red thread through his work. Energy disperses; relationships disintegrate; chaos impends. In "Entropy", the "heat death" of American culture menaces the freedom of creative mavericks with encroaching homogeneity.
Callisto sees "the younger generation responding to Madison Avenue with the same spleen his own had once reserved for Wall Street: and in American "consumerism" discovered a similar tendency from the least to the most probable, from differentiation to sameness, from ordered individuality to a kind of chaos." Crucially for Pynchon, Nixon-style "law'n'order" wrecks rather than creates stability. Enforced by what Inherent Vice calls "dark crews" that exploit "the ancient forces of greed and fear", authoritarian control represents not the true harmony of free agents but chaos masked by guns and uniforms.
Written half a century after "Entropy", but set in 1970, Inherent Vice mourns the entropic end of the Californian counter-culture. The Manson Family and the Hell's Angels (here, the "Aryan Brotherhood") have rained on the summers of love. Paranoia spreads, as sickly but consoling as the smoke from endless joints. While Bigfoot and the Feds twitchily investigate every hippie gathering as a potential "Mansonoid conspiracy", Mickey Wolfmann funds a TV ad (hilariously shot by Anderson). It flogs real estate to heads and freaks with yuppie aspirations.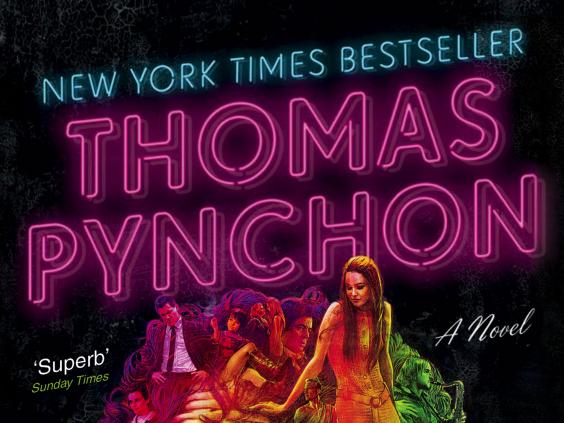 And, as a crooked LA developer, Wolfmann hints at another strand that binds Pynchon Lite to Pynchon Classic, the jester to the sage: Pynchon has always loved Raymond Chandler.
As far back as 1964, the wild-goose-chase or shaggy-dog-story elements of The Crying of Lot 49 encode a tribute to the author of The Big Sleep. Inherent Vice bows even deeper to the master. Sportello is a spaced-out Philip Marlowe. The set-up – a glamorous dame in a fix when her guy seemingly evaporates – nods vigorously to The Long Goodbye.
Just as novel tips its hat to novel, so Anderson's gleefully digressive film pays its dues to Robert Altman's 1973 take on that mystery. Shambolic but shrewd, Joaquin Phoenix almost channels Elliott Gould. As for the "long, sad history of LA land use" that underlies both book and film, writer as much as director know that they have crossed into the terrain of another school-of-Chandler classic: Roman Polanski's Chinatown.
Reportedly, Pynchon and Anderson spoke on the phone during the filming of Inherent Vice. An unconfirmed rumour claims that the author himself appears in one scene. When he gets the opportunity to work together in goodwill, the "recluse" seems to grab it. Against the suspicion and paranoia that often drives his plots, such enclaves of solidarity appeal.
Other film-makers should think about knocking at Pynchon's not-quite-closed door. After all, he's still on the look-out for a collaborative Utopia: some "blessed shore" where, in the elegiac words of Inherent Vice, "the American fate, mercifully, failed to transpire".
'Inherent Vice' opens in cinemas on 30 January
Reuse content