Johnny Depp has never seemed much interested in the phenomenon of his own stardom. That's just as well given his current dismal run of flops.
Dark Shadows was one of his least successful collaborations with Tim Burton. Disney had to issue a profit warning last summer after it announced it expected to lose close to $200m on Depp vehicle The Lone Ranger.
The Tourist was universally derided. Now, Depp's latest film Transcendence has endured a disastrous opening weekend in the US, making less than $11m.
One reason Depp is paid $20m or more per movie is that his name above the credits is supposed to guarantee that an audience will show up. There is no sentimentality about this. Stars are still what sell movies and one like Depp is regarded as an insurance policy against failure. As the Hollywood director Joel Schumacher once observed: "If their relatives could do what we do, they [studio executives] would hire them instead." The flip side is that when failure comes, the stars are the first to be blamed.
Johnny Depp on screen
Johnny Depp on screen
1/12 Johnny Depp on screen

Preening: Johnny Depp in 'Mortdecai'

2/12 Johnny Depp on screen

Johnny Depp in 'Pirates of the Caribbean: At World's End'

AP

3/12 Johnny Depp on screen

Depp in Richard Burton's 'Charlie and the Chocolate Factory'

AP

4/12 Johnny Depp on screen

In 2012's 'Dark Shadows'

AP

5/12 Johnny Depp on screen

The actor in 'Finding Neverland', 2004

AP

6/12 Johnny Depp on screen

Johnny Depp in 2006 film 'Pirates of the Caribbean: Dead Man's Chest'

AP

7/12 Johnny Depp on screen

Johnny Depp as Tonto in 2013 movie 'The Lone Ranger'

©Disney Enterprises, Inc

8/12 Johnny Depp on screen

Johnny Depp and Amber Heard star in 2011 movie 'The Rum Diary'

AP

9/12 Johnny Depp on screen

Johnny Depp and Penelope Cruz in 2011 film 'Pirates of the Caribbean: On Stranger Tides'

AP

10/12 Johnny Depp on screen

Johnny Depp stars with Angelina Jolie in 2010 movie 'The Tourist'

Rex Feature

11/12 Johnny Depp on screen

Johnny Depp as The Mad Hatter in a scene from 2010 film 'Alice in Wonderland'

AP

12/12 Johnny Depp on screen

Johnny Depp stars in Michael Mann's 2009 movie 'Public Enemies'
Now, inevitably, the speculation is that Depp's career on the A-list is over. The faith that he can "open" a movie is fast evaporating.
Of course, there are mitigating circumstances. In Transcendence, Depp isn't playing a character at all like Captain Jack Sparrow in Pirates of the Caribbean, or his various romantic anti-heroes in Burton movies. Dr Will Caster is a mad scientist of sorts but an altogether less extravagant one than you might expect. He is more the Brian Cox type. His field is artificial intelligence.
The film has barely started when he is shot by Luddites with a radioactive bullet. His partner (Rebecca Hall) reacts by uploading his consciousness on to a computer. At times, the film plays more like an episode of TV's Horizon than it does a sci-fi thriller. Dr Caster is heard as much as he is seen. The film is full of jargon about computer science and technology – not the kind of dialogue likely to appeal to Depp fans expecting some roistering, Keith Richard-like antics on the main deck.
The problem for Depp is that Transcendence, which has a reported budget of $100m, can't simply be written off as one of those offbeat, indie dramas he regularly makes between tours of duty in Pirates of the Caribbean or films with Burton. It is dry and earnest fare, the worst kind of vehicle imaginable for an actor with his delicacy and comic touch.

Depp is clearly aware of his own status. When he was first sounded out about playing notorious Boston low-life Whitey Bulger in forthcoming gangster pic Black Mass, the trade press reported that he refused to compromise on his $20m asking price. There has since been a change of director and he is back on board the project. As he showed in Michael Mann's Public Enemies (2009), he is perfectly capable of playing ruthless mobster types in character-driven crime films. These, though, aren't the type of movies that will compete with big-budget superhero franchises at the box office.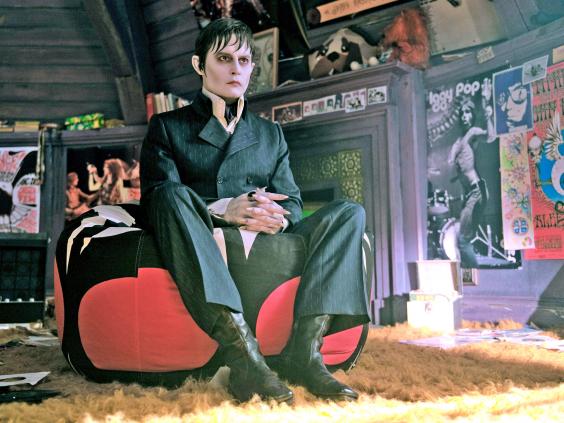 Amid all the stories about Depp's fall from box-office grace, it is easy to forget that he only became bankable relatively late in his career. Throughout the 1990s and early 2000s, he was regarded as a quirky, often brilliant but determinedly non-mainstream actor who would appear in offbeat films like Emir Kusturica's Arizona Dream and Jim Jarmusch's Dead Man. He gave one of his greatest performances as inept B-movie director Ed Wood in Burton's biopic of the director – but that film flopped at the box office. As he showed in Edward Scissorhands and What's Eating Gilbert Grape, he excelled at playing sweet-natured outsiders.
There is an irony that an actor renowned for his sensitivity became a huge international star in the Pirates of the Caribbean movies in which he gave roaring pantomime-style performances that were utterly uncharacteristic of his best work.

The danger, once you become associated with blockbuster-style film-making, is that every new film you make will be judged by its opening weekend box-office receipts. As Depp is now discovering, the quality of your performance is neither here nor there. There is no middle ground. Either the film is successful at the box-office or it isn't. In the latter case, the star takes the rap.
Depp has had failures before. His directorial debut The Brave (1997) disappeared almost without trace after its premiere at Cannes. ("Tediously slow and hugely narcissistic" complained Time Out.) If his career as an A-list actor is under threat, at least he has an escape route. He will remain in demand in US and European indie films. After all, when he isn't in Mad Hatter mode and doesn't have a bird on his head (as when he was playing Tonto in The Lone Ranger), Depp is an excellent character actor.
It is telling that when Kusturica wanted to cast Mexican revolutionary hero Pancho Villa in a biopic, Depp was his first choice. In the event, the film was postponed but this is just the kind of role that, a generation ago, you could have imagined Marlon Brando playing. Depp and Brando worked together on Don Juan De Marco (1994) and on The Brave.

Depp shares many of Brando's maverick qualities and political beliefs – and perhaps he is beginning to develop Brando's famous contempt for the very idea of movie stardom. Brando was paid $4m (then considered an astronomical sum) for a few minutes on screen as Jor-El, the father of Superman, in the 1978 blockbuster, Superman: The Movie. Despite the size of the cheque, he made it very clear the role meant absolutely nothing to him.
Last year, when Depp was doing press for The Lone Ranger, he shared anecdotes about Brando. "I remember Marlon distinctly saying he had reached a certain point in his life where he was finally able to utter the words 'I just don't care,'" Depp told CBS. He also remembered how Brando had told him not to work so hard, warning him he "would run out of characters" if he continued making so many movies.
Depp might not have reached Brando's point of "not caring" quite yet but he must be close. Over the past decade, he has made Hollywood hundreds of millions of dollars. That's why the studio bosses still want him for Alice in Wonderland and Pirates of the Caribbean sequels. His career headlining huge-budget movies isn't over quite yet – but any more mishaps on the Transcendence or Lone Ranger scale could see Depp disappear down the rabbit hole for good… and if that happens, one guesses that he won't mind in the slightest.
Reuse content