In A Scott Berg's memoir Kate Remembered, published just days after Katharine Hepburn's death in 2003, the author makes a very telling point about what distinguished Hepburn from almost every other movie star in history. In the early 1980s, Berg had interviewed silent movie actress Blanche Sweet for a biography he was writing of Samuel Goldwyn. As Sweet acknowledged, her own film celebrity had long since faded.
"[Sweet] proudly asserted that her run of nearly 20 years was, in fact, as long as any actress could ask for in the medium. 'Even the great ones,' she said, 'can't stay a star longer than that. Some of the men get to go longer' but for women, it's always about youth.'"
There was only one exception that Sweet could name – Katharine Hepburn, who now receives a lengthy retrospective in London.
Age didn't wither Hepburn. She was still as much a star in 2003 as she had been when she won the first of her four Oscars for Morning Glory in 1933. She never became a self-pitying type, desperately clinging to her past, like the Gloria Swanson character in Sunset Boulevard. Nor did she turn into a Greta Garbo-like recluse.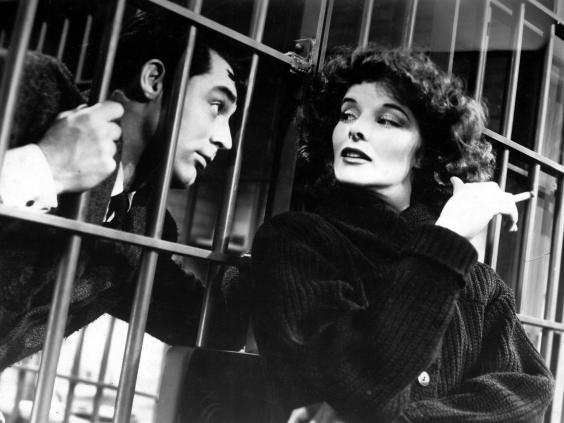 If you want to know the secret to Hepburn's longevity, you just need to see her in that famous golf-course scene as Pat Pemberton in George Cukor's Pat and Mike (1952). In a foul mood, she grabs a driver, marches on to the practice ground, hits nine perfect shots in a row, then throws her club to the ground and marches off again. It's the sheer briskness and force of personality that leap out. She doesn't waste any time fiddling around or waiting to see where the last shot went.
Hepburn's biographers (Berg among them) have suggested that her attitude might have had its roots in a terrible incident in her childhood. When she was 13, she found the body of her brother Tom, two years older, hanging from a noose made of strips of cloth from a ceiling beam. "Was athletic and happy," The New York Times said, in its report of the "mystery suicide" of the surgeon's son. "Must have killed himself as a result of suddenly developed insanity, Father says."
The family's reaction to the tragedy was to "get on" with life. Their way of coping with an incident that was both devastating and inexplicable was to keep their eyes firmly ahead.
Think of Hepburn in almost all of her most famous roles – as the missionary heading down river with Humphrey Bogart in The African Queen (1951), or as the beautiful young heiress pursuing Cary Grant's diffident palaeontologist as well as a missing leopard in Howard Hawks's screwball classic Bringing Up Baby (1938), or as the lawyer pitted against her husband (Spencer Tracy) in a court case in Adam's Rib – and what you notice is her ferocious drive and sense of purpose.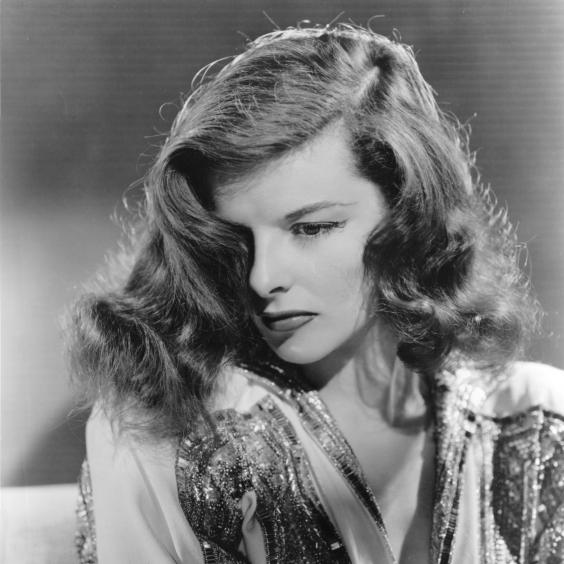 In some old Hollywood publicity shots, Hepburn looks like the typical 1930s movie star. She has the same lustrous hair and high cheekbones as Garbo and projects a similar sense of glamour. In fact, she was a far more anarchic and contrarian figure than any of her fellow contract artists. Hepburn was an outdoors type, a tomboy from blue blood, liberal and intellectual New England stock. Her mother was active in the suffrage movement. She herself wasn't the type of starlet who would be discovered in Schwab's drug store, or who would allow herself to be bullied or manipulated by US studio bosses.
After the early triumph of Morning Glory, her career in Hollywood nose-dived. "Katharine of Arrogance" was her nickname and there was a period when she was described as "box office poison" by the Independent Theatre Owners of America. This was partly to do with her choice of roles. One of her biggest flops was Cukor's gender-bending Sylvia Scarlett (1935) in which she dresses up as a man and, at one stage, is shown being kissed by a girl. Hepburn later dismissed it as "awful" but the film is still pored over on film studies and feminist-theory courses today.
Feminist quotes from the icons to inspire you
Feminist quotes from the icons to inspire you
1/35 Katharine Hepburn

"I have not lived as a woman. I have lived as a man. I've just done what I damn well wanted to, and I've made enough money to support myself, and ain't afraid of being alone"

Getty Images

2/35 Madonna

"Girls can wear jeans and cut their hair short, wear shirts and boots cause it's okay to be a boy. But for a boy to look like a girl is degrading cause you think being a girl is degrading"

Getty Images

3/35 Kurt Cobain

"Rape is one of the most terrible crimes on earth and it happens every few minutes. The problem with groups who deal with rape is that they try to educate women about how to defend themselves. What really needs to be done is teaching men not to rape. Go to the source and start there"

Getty Images

4/35 Betty Friedan

"No woman gets an orgasm from shining the kitchen floor"

Getty Images

5/35 Maya Angelou

"I want to be representative of my race - the human race. I have a chance to show how kind we can be, how intelligent and generous we can be…"

Getty Images

6/35 Emma Watson

"I am from Britain and think it is right that as a woman I am paid the same as my male counterparts. I think it is right that I should be able to make decisions about my own body. I think it is right that women be involved on my behalf in the policies and decision-making of my country. I think it is right that socially I am afforded the same respect as men."

Getty Images

7/35 Emmeline Pankhurst

"I want to say to you who think women cannot succeed, we have brought the government of England to this position, that it has to face this alternative: either women are to be killed or women are to have the vote"

Creative Commons

8/35 Patricia Arquette

"To every woman who gave birth, to every taxpayer and citizen of this nation, we have fought for everybody else's equal rights, it's our time to have wage equality once and for all, and equal rights for women in the United States of America."

AFP PHOTO / Robyn BECKROBYN BECK/AFP/Getty Images

9/35 Nawal El Saadawi

"They said, "You are a savage and dangerous woman. I am speaking the truth. And the truth is savage and dangerous"

Getty Images

10/35 Margaret Fuller

"It is a vulgar error that love, a love, to woman is her whole existence; she is born for Truth and Love in their universal energy"

Creative Commons

11/35 Germaine Greer

"All societies on the verge of death are masculine. A society can survive with only one man; no society will survive a shortage of women"

Getty Images

12/35 Naomi Wolf

"A cultural fixation on female thinness is not an obsession about female beauty but an obsession about female obedience"

Getty Images

13/35 Rebecca West

"I myself have never able to find out precisely what a feminist is. I only know that people call me a feminist whenever I express sentiments that differentiate me from a doormat"

Creative Commons

14/35 Aung San Suu Kyi

"In societies where men are truly confident of their own worth, women are not merely tolerated but valued"

Getty Images

15/35 Margaret Atwood

"Does feminist mean large unpleasant person who'll shout at you or someone who believes women are human beings. To me it's the latter, so I sign up"

Getty Images

16/35 Julie Burchill

"A good part - and definitely the most fun part - of being a feminist is about frightening men"

Getty Images

17/35 Scarlett Johansson

"Why do [male co-stars] get the really interesting, existential questions and I get the, like, rabbit food question?"

Getty Images

18/35 Susan B. Anthony

"I declare to you that woman must not depend upon the protection of man, but must be taught to protect herself, and there I take my stand"

Creative Commons

19/35 Margaret Sanger

"No woman can call herself free who does not own and control her body. No woman can call herself free until she can choose consciously whether she will or will not be a mother"

Getty Images

20/35 Sylvia Plath

"Apparently, the most difficult feat for a Cambridge male is to accept a woman not merely as feeling, not merely as thinking, but as managing a complex, vital interweaving of both"

Creative Commons

21/35 Hillary Clinton

"I suppose I could have stayed home and baked cookies and had teas, but what I decided to do was to fulfill my profession, which I entered before my husband was in public life"

Getty Images

22/35 Lena Dunham

"The idea of being a feminist—so many women have come to this idea of it being anti-male and not able to connect with the opposite sex—but what feminism is about is equality and human rights. For me that is just an essential part of my identity. I hope [Girls] contributes to a continuance of feminist dialogue"

Getty Images

23/35 Bette Davis

"When a man gives his opinion, he's a man. When a woman gives her opinion, she's a bitch"

Creative Commons

24/35 John Legend

"All men should be feminists. If men cared about women's rights, the world would be a better place"

Getty Images

25/35 Mae West

"Every man I meet wants to protect me. I can't figure out what from"

Creative Commons

26/35 Jane Austen

"I hate to hear you talk about all women as if they were fine ladies instead of rational creatures. None of us want to be in calm waters all our lives"

Creative Commons

27/35 Gloria Steinem

"A woman without a man is like a fish without a bicycle"

Getty Images

28/35 Sheng Wang

"Why do people say "grow some balls"? Balls are weak and sensitive. If you wanna be tough, grow a vagina. Those things can take a pounding"

Getty Images

29/35 Anais Nin

"I hate men who are afraid of women's strength"

Creative Commons

30/35 Barack Obama

"We stand with women by fighting for economic security, protecting access to health care and supporting women's leadership across the country"

Getty Images

31/35 Elizabeth Warren

"I have a daughter and I have granddaughters and I will never vote to let a group of backward-looking ideologues cut women's access to birth control. We have lived in that world, and we are not going back, not ever"

Getty Images

32/35 Malala Yousafzai

"In Pakistan, when we were stopped from going to school, at that time I realized that education … Is the power for women, and that's why the terrorists are afraid of education"

Getty Images

33/35 Janis Joplin

"Don't compromise yourself. You are all you've got"

Getty Images

34/35 Lupita Nyong'o

"I hope that my presence on your screens and in magazines may lead you, young girl, on a similar journey. That you will feel the validation of your external beauty but also get to the deeper business of being beautiful inside. There is no shade in that beauty."

Getty Images

35/35 Virginia Woolf

"As a woman I have no country. As a woman my country is the whole world"

Getty Images
RKO brought her to Hollywood in the early 1930s, provided her with starring roles in 14 features – and lost money on almost all of them. The last was Bringing Up Baby: regarded as a cast-iron classic today, it performed disastrously at the box-office. (At least, they all enjoyed making it with Hepburn, as Todd McCarthy notes in his biography of Hawks, continuing "her custom of serving tea on the set.") After Bringing Up Baby, Hepburn bought out her contract. In theory, that should have marked the beginning of her decline into obscurity. She was in her 30s with a solid track record of commercial failure behind her.
Post RKO, Hepburn's career began to bloom. Smash hit The Philadelphia Story (1940) was one of the turning points. She had acquired the film rights after starring in the Broadway production, which had been written for her. (Her lover Howard Hughes lent her the money.) She then negotiated a deal with MGM that guaranteed her the leading role as the volatile and witty socialite – who was an exaggerated version of herself.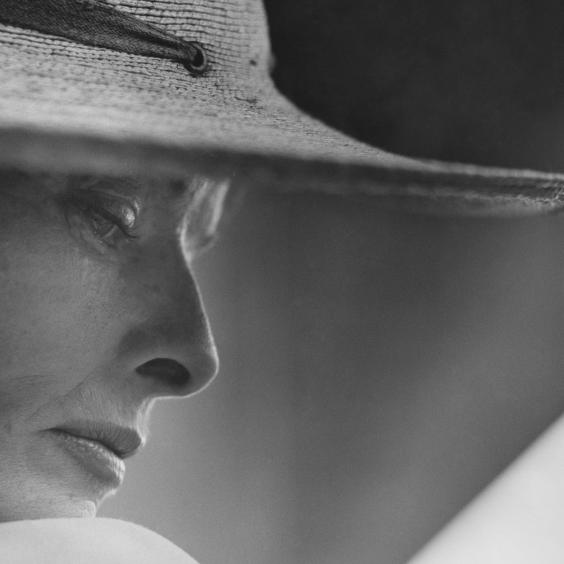 The qualities that made Hepburn special were only amplified as she grew older. She was a brilliant screen comedienne. She combined the eccentricity and mannerisms of the best character actors with a diva-like glamour and sex appeal. The arrogance that had so irked the RKO bosses began to seem a benefit. She was so far above the petty squabbling of the Hollywood studios that she wasn't bothered by the ebbs and flows in her popularity. Post RKO, Hepburn was also one of the few stars able to control her own career. She was an astute businesswoman, albeit one whose negotiating tactics seemed to have been learnt in the nursery. "She usually got anything she wanted because she would turn up wearing the traditional slacks. And she would barge into [the studio bosses'] offices and give them hell," her friend and collaborator Garson Kanin said of her.
Hepburn picked the films she wanted to appear in and chose her co-stars – one reason why she worked so often with Spencer Tracy. They made a very engaging double act, on screen and off. The hard-drinking Tracy was gruff and down to earth while she remained flighty and mercurial. In their movies together, they always bickered furiously – and the more they argued, the more obvious their attraction for one another became.
It wasn't just Tracy. Many of Hepburn's best movies feature adversarial relationships with equally strong-willed male co-stars, whether Bogart in The African Queen, Peter O'Toole in The Lion in Winter or even John Wayne in Rooster Cogburn.
Over a decade after her death, there has been no diminution of interest in Hepburn's life and work. Cate Blanchett won an Oscar for playing her on-screen in Martin Scorsese's The Aviator. "I would be hard pushed to think of another artist in any medium who has given me as much pleasure as the divine Ms H," the novelist Zadie Smith wrote of her. Hepburn's films are often revived – and whenever they are, the conclusion is always the same: there really never has been any other Hollywood star quite like her.
Katharine Hepburn season, BFI Southbank, London SE1 (bfi.org.uk) to 19 March. 'The Philadelphia Story' is re-released by the BFI in selected cinemas across the UK from 13 February
Reuse content