Kelly Macdonald would like to get something off her chest. The Scottish actress cannot bear reality television. "The people on programmes like Made in Chelsea just want to be celebrities. It's so depressing," she says. "No proper actor has that as a goal. I'm striving for longevity in my career. I won't be on I'm a Celebrity... Get Me Out of Here!. They'd say, 'Get out of here – you're not a celebrity!'"
She may not be a celebrity, but that does not stop Macdonald being a cracking actress who provides an object lesson in the benefits of making canny career choices.
The 38-year-old, who is married to the Travis bassist Dougie Payne and has two sons, Freddie, six, and 18-month-old Theodore, had a very good CV over here – giving strong performances in Trainspotting, Gosford Park, Harry Potter, Nanny McPhee, State of Play and The Girl in the Café (for which she won an Emmy). But she has, if anything, done even better since decamping to the US six years ago.
Over there, she has co-starred in the Oscar-winning movie, No Country for Old Men, and now in five series of Boardwalk Empire. Macdonald has won many awards for HBO's hit drama and was featured as one of "8 Actors Who Turn Television into Art" in a New York Times Magazine cover story.
It all began for Macdonald when she was a 19-year-old working as a waitress in a cocktail bar. She was handed a flyer advertising a "cattle call" audition for the role of Diane, the teenager who seduces Renton (Ewan McGregor) in Danny Boyle's adaptation of the Irvine Welsh bestseller, Trainspotting. After several re-calls, Macdonald won the part. Trainspotting was released on her 20th birthday in 1996 and swiftly became an era-defining British hit.
Dressed today in an elegant blue jacket and black jeans, the Glaswegian actress reflects on the impact that audition has had on her life. "Back then, I could never have envisaged where I am now. It felt like a series of coincidences and luck that I ended up getting the part in Trainspotting, but it's been an incredible journey since then. Every now and then, I sit and really think about it, and it blows my mind. I have to stop because I don't want my brain to implode."
These days Macdonald does not see much of her Trainspotting co-stars – as well as  McGregor, who went on to star as the young Obi-Wan Kenobi in the Star Wars films, the movie featured Robert Carlyle, Jonny Lee Miller, Ewen Bremner and Kevin McKidd – because they are all so busy. "I sometimes see E-wan Kenobi when we're doing red-carpety business. But it's not like you can have a sustained conversation in that environment." When I mention what a superb launching pad Trainspotting was for the careers of all its stars, she jokes: "Yes, we're all taking Manhattan!"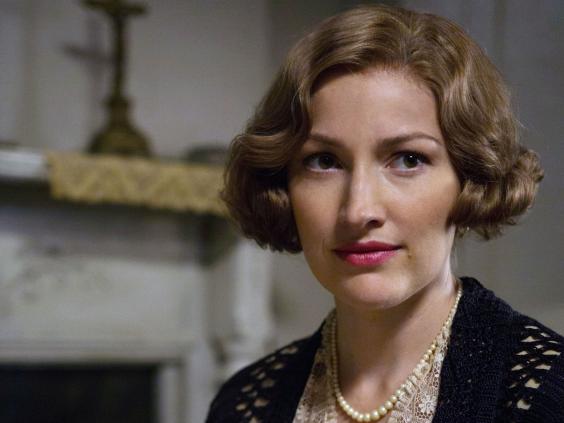 Manhattan is where Macdonald has made her home for past five years. "I love this city," she asserts. "These have been my New York years, and I've really embraced them. I adore the fact that when I'm driving home from work, as soon as I hit my neighbourhood, I see people I know. It's such a great community. It's like being in a village in Scotland. New York will always be a part of me." That said, Macdonald is thrilled now to be returning to her native city. "We live in a lovely part of Glasgow that has a lot of cultural significance. You can feel it. The buildings are alive with history and learning. It's a very inspiring place to be."
It was Boardwalk Empire, Sky Atlantic's compelling, yet uncompromising, saga about the rise of American gangsters during Prohibition, that brought Macdonald to New York. Since its epic first episode – directed by Martin Scorsese and costing an eye-watering $18m – was broadcast five years ago, the drama has established itself as a classic American gangster story to rank alongside the director's other timeless tales of East Coast hoods, Mean Streets, GoodFellas, Gangs of New York and The Departed.
It charts the myriad ways in which local politician Nucky Thompson (Steve Buscemi), based on the real-life criminal Enoch L Johnson, uses bootlegging during Prohibition to take control of Atlantic City. The fifth and final series, which begins on Saturday, is set in 1931. Nucky travels to Cuba to secure a rum distribution deal that is ready to roll the moment Prohibition is lifted. Meanwhile, his long-suffering and estranged Irish wife Margaret (Macdonald) is dealing with her own traumas in her job on Wall Street.
"People are continually fascinated by gangsters – the characters are all larger than life," says MacDonald. "But the drama also underlines that human beings don't change hugely, particularly as far as love is concerned. History endlessly repeats itself."
The show also offers strong female characters. "I'm very pleased to be playing a woman who doesn't have to lead with her sexuality. Margaret can use that when she needs to, but she's always as smart as any man she's in the room with. That's a real privilege to play. I hit the jackpot with this character."
"When the show started, her prospects weren't great. She was in an abusive marriage. She had two children and another on the way. Things were grim. But, oh God, has she developed since then. It's now 1931. She's a modern woman. She's her own boss and in charge of her own finances. She has this great steeliness. If she reaches old age" – never a given in Boardwalk Empire– "she'll have some story to tell."
Now the show is drawing to a close, Macdonald will surely be inundated with offers. "I properly enjoy what I do, but I know it's not brain surgery," she concludes. "I don't take myself too seriously. There's only one diva in our household, and he's tiny. There's no room for any others."
Boardwalk Empire begins on 13 September at 9pm on Sky Atlantic
Reuse content