"At the end of the 20th century, I cease to be a human being," says Nick Cave as he wakes up alongside his wife, Susie, in the crisp white sheets of their bed at their Brighton home. "I eat, I sleep, I write," he continues, before going on to explain that he has become a cannibal. He "cannibalises" every aspect of his life by using it as material for his songwriting, he says, but mainly it's his wife who's the one "being cooked and spat out in the form of a song". This seemingly voyeuristic moment is just one of several slightly surreal scenes in 20,000 Days on Earth, a new quasi-documentary which purports to portray a day in the life of Cave. Or at least a day as artists and film-makers Iain Forsyth and Jane Pollard have orchestrated it.
In another scene we see Cave chauffeuring Kylie Minogue from Brighton to Shoreham. "Are you worried about being forgotten?" he asks as he looks at her in the rear-view mirror, the streetlights casting an amber glow on their faces as the rain beats down softly on the windows. It's a question that recurs throughout the film. Blurring the boundaries between reality and artifice, Cave plays himself as we see him go about his day, taking in a visit to a psychoanalyst, a session in the recording studio, lunch with his musical collaborator Warren Ellis and various other "drives". But while some of these scenes were staged by Forsyth and Pollard, with Cave's voiceovers scripted by him at their suggestion, the dialogue is entirely spontaneous.
So what prompted Cave to agree to such a project? As many a journalist who interviewed Cave in the Nineties will testify, myself included, Cave developed a reputation for being, shall we say, less than forthcoming. The answer appears to be a mixture of his trust in Forsyth and Pollard and the desire to try something new. He had worked with the pair on the video for his 2008 single, "Dig, Lazarus, Dig!!!", and various other small projects subsequently so when it came to recording his 2013 album, Push the Sky Away, Cave decided to let them film the early stages of songwriting. It was not something he had done before but as Pollard explains to me at the wonderfully bijoux, stylishly arty east London home she shares with Forsyth, Cave and his band just thought, "We think we could cope with you. We think we wouldn't kill you..."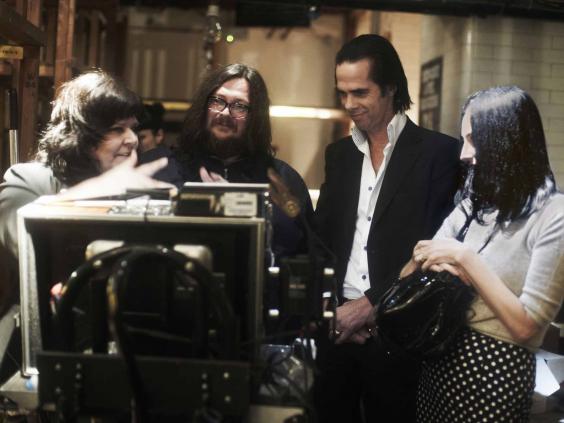 The pair were so pleased with the resulting footage that they decided it would be a shame for it not to have a proper outlet and proposed expanding it into a feature film. Cave not only agreed but perhaps even more amazingly, gave them carte blanche to follow their own vision of how the film should be. Or more or less carte blanche. There was an understanding that the film shouldn't just be about Cave himself. It had to deal with what the pair describe as "universal truths" and explore the creative process in itself. "Had this have been in any way a conventional film, there is just no way it would have happened," says Pollard.
The three of them agreed that they didn't want to make a standard, fly-on-the-wall, music documentary in which the artist is "unmasked", usually to reveal them pushing a trolley down a supermarket aisle, yelling at their PA or some other hitherto unseen, generally mundane aspect of their life. Partly because they didn't want to detract from the mystique of "the artist" but also because they felt that that approach wasn't in fact appropriate with Cave. "We've known Nick for quite some time now," says Forsyth, "and that's just not the reality of him at all. The Nick you see with his wife and his boys at home is the same person you see on stage or on TV." Really? Hard to believe, but who knows?
So how did Cave respond to being directed for the interlinking scenes where we see him arriving, immaculately besuited and crisp white shirted as ever, at different places? "Nick really doesn't have the patience for acting," says Forsyth. "It's not a discipline that he's really suited to," he laughs. "Some of the longest, perhaps more tedious bits of making this film were when you were just trying to join things up so you need to say to Nick, 'Can you stand up and walk over there and go through that door', and you'd have to do six takes before you got one that didn't have a funny walk or him looking over his shoulder pulling a funny face."
Consequently and perhaps unsurprisingly, the beautifully shot, reportage-style scenes of Cave working on the album in the studio are some of the most natural in the film. At one point, Cave is at the piano noodling and playing around with a riff, head thrown back in meditative contemplation. The multi-instrumentalist Warren Ellis comments that it reminds him of something. "Who's that?" says Cave, "Tim Buckley?" "No," says Ellis. I was thinking more Lionel Richie." It's a wonderful pretention-busting moment and to his credit Cave morphs his riff into Ritchie's "All Night Long".
The odd moment of pretension-busting doesn't go amiss. Large swathes of the feature contain film-noir style voiceovers from Cave, musing on the creative process or the importance of memory and mortality itself: "Memory is what we are…. Your very soul and reason to be alive is tied up in memory," he tells us at one point or "the song is heroic because the song confronts death".
In another of the "drives", Cave plays chauffeur to Ray Winstone as they chat about the problems faced by ageing rock stars and actors alike. Winstone's appearance was no accident either. "Nick's presence," explains Forsyth, "even amongst people who know him a bit can be quite overwhelming 'cause he's big, tall, intelligent, whatever, and people get a bit nervous. But Ray has no truck with any of that. He just kind of cuts through everything. A spade is a spade is a spade." "There's no bullshit," adds Pollard. "It's refreshing to have that around Nick."
Each drive was in fact designed to bring out a different aspect of Cave's personality and it's a construct that works. As Forsyth explains, "Nick, like most of us, is different depending on who he's with, so it felt like a shortcut to get different sides of his character to come out. Kylie brings out such a different side to Nick," he continues. "A tenderness, gentleness, nostalgia. It's almost melancholy..."
But it's the film's closing sequence – one of its best, which perhaps gives us as significant an insight into Cave as anything else. At a live performance of his "Jubilee Street" at Sydney Opera House, the piano bassline builds to a climax as the live shots are intercut with images of him making similar on-stage moves over the past 20 years. This is Cave, as "cannibal" in action. As he tells Ray Winstone when he asks if he's worried about getting old: "I can't reinvent myself. It's all an invention… I live for the performing. It's the moment I get to be the person I always wanted to be."
'20,000 Days on Earth' is released in cinemas nationwide on 19 September
Reuse content