"I don't think they know themselves," says Mat Whitecross when asked if he reckons Oasis will reform. It's a question he's been asked before, and it's certainly one he'll be asked again. But when you've tasked yourself with directing a documentary on one of the most successful rock bands of all time, it's a question you clearly don't mind answering.
"I think it'd be such a shame if they don't," the vibrant 39-year-old continues. "Just for themselves. Noel's friends with Chris Martin and he's constantly saying to them, 'Just pick up the phone.' But it's obviously not as easy as that because else he would have done it."
Oasis documentary Supersonic, released this Friday, is many things: a cinematic tale about two warring brothers, a paean to an era-defining chapter of music and a 20th-anniversary celebration of the band's Knebworth concerts, which still hold the record as the highest-demanded gigs in British history (more than 2.6 million people applied for tickets).
Supersonic is Whitecross's answer to the question: how do you commemorate such a momentous event? Setting to work at the end of 2015, he braced himself for the unthinkable – sitting down to discuss the history of Oasis with Liam and Noel Gallagher themselves, albeit individually.
"I was terrified about everything," the director tells me excitedly on a sunny September afternoon in central London. "It was the classic 'you don't want to meet your heroes' thing. But they were exactly as you'd hope they'd be. The first time Liam came in, he was like 'OK, who's the villain: me or him?' He wasn't cagey in the interviews, but he was a bit, 'OK, I've got your number'. Which is fair enough, because he's been stitched up enough in the past."
Of course, this being the Gallagher brothers, Whitecross had to deal with the small case of their well-documented rivalry: after a few weeks of hopeful chatter, he was unable to get them in the same room. Ever the professional, he used this to his advantage.
"When I look back on the archives of them together, it's very funny and scandalous, but it's relatively superficial. When we got them separately, we could dig deeper, revisit stuff and not worry one of them might walk out at any moment."
It turns out one sibling seemed to enjoy his time as a documentary subject slightly more than the other.
'Liam kept saying, 'This is like therapy I never had; I'm going to come back next week'. I kept on saying we should pretend the film's not coming out!"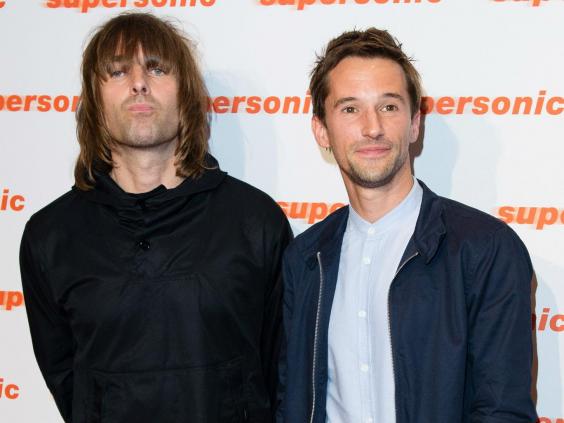 Supersonic is an Oasis documentary that refuses to preach to the converted. That happens naturally. Instead, it's a music documentary that can be enjoyed whether or not you've ever been guilty of drunkenly singing "Don't Look Back In Anger" huddled with your mates in the dingy section of your local nightclub. It's a bittersweet reflection upon the Nineties' most documented band. That it feels fresh throughout is to the credit of its director, but also to the unparalleled access he's been granted: never-before-seen childhood photos and rare studio recordings abound. 
Did the nostalgia ever seem to hit the siblings? Whitecross certainly thinks so; they might be two of rock music's most recognisable icons but they are, after all, two working-class guys from Manchester.
"In the first session we did with each of them, we'd got some footage that they'd forgotten had even been filmed and, it might just be in my imagination, but it definitely felt like they were quite moved – it's because you can see how much love there is between the two of them which throughout the years got eroded."
Perhaps unsurprisingly, Whitecross – whose previous credits include Ian Drury biopic Sex & Dugs & Rock & Roll and Stone Roses film Spike Island – is an Oasis fan.
"They were part of the soundtrack of my life as soon as they became big," he explains. "I was exactly the right age."
He regrets not being one of the unlucky 250,000 to secure those coveted Knebworth tickets
Perhaps one of the biggest decisions thrown the filmmaker's way – being such a fan – was deciding which Oasis tracks would feature in the finished film.  
"We had a list of every song on the wall. The golden rule was it's not enough for a song to be good - it's got to tell a story."
It turns out there were multiple casualties ("I'm Out of Time" included), one of which wasn't even written by a Gallagher brother.
"I wanted their version of 'I Am the Walrus' in there so we could start talking about The Beatles' influence. The music supervisor went, 'Let's put it this way: you can have the entire Oasis back catalogue or 'I Am the Walrus' – which is more important to you?'" He smirks. "I was like, 'fuck it, I'll take that one out'."
He cites B-sides "The Masterplan" and "Acquiesce" as two of his favourites. "I kept on asking did they have any regrets about the past and Noel said that he wishes he'd kept all those B-sides and that could have been their third album. 'Then we would have been bigger than The Beatles,' he said. 'I wouldn't be talking to you, I'd be talking to Martin Scorsese'." It seems not even their documentarian can escape the lash of Noel's wry tongue.
What is Whitecross's overarching ambition with Supersonic? Turns out, it's soberingly simple.
"I hope it reminds people what they've lost. I'm not a musician, but it feels to me the trajectory that band took is impossible now and that's a tragedy. You also get the sense that people don't know the real Liam and Noel, they think they're these caricatures, which is not even close to the truth. I hope we can redress the balance."
He smiles wistfully, his mouth curling into a grin: "And if we can get the band back together, even better."
'Supersonic' is in cinemas now
Reuse content