This is Star Wars... but like you've never experienced it before. 
On the one hand, The O2's new Star Wars Identities exhibition is formidable in its display of over 200 props, models, costumes, and artwork taken from the cinematic franchise; with Montreal's X3 Productions taking full advantage of their collaboration with Lucasfilm Ltd and their ability to mine the archives of the Lucas Museum of Narrative Art. 
That, in itself, is quite the opportunity. As a die-hard Star Wars fan, I couldn't help but cherish every little detail I came across in my visit; every stitch on Han Solo's holster, early concept art of Yoda that made him look more like a Christmas elf than a wise Jedi, seeing side-by-side Stormtroopers old and new.
These props and costumes were only really intended to survive the length of the film's production; so not only is it a miracle these pieces have actually survived (and a lot has certainly been lost), but it's a sure rarity to see so many of them displayed in one place like this. 
And, though the exhibition was originally conceived before Disney even landed its historic deal with Lucasfilm, the London run does feature a few select props from last year's Star Wars: The Force Awakens for eagle-eyed fans to uncover; including, most notably, a chance to meet the lovable BB-8 in the robotic flesh.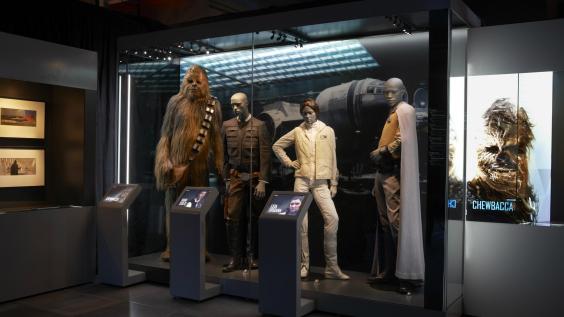 Yet, Star Wars Identities is more than meets the eye; it's a chance to experience the films afresh from an utterly unique perspective, combining cinematic storytelling with the complex science of what drives and shapes human identity. Yoda may have helped Luke understand who he was, and now he's helping us understand who we are.
As you initially enter the exhibition, you're handed an interactive wristband; a ticket to crafting your very own Star Wars alter-ego by mimicking the journeys and choices of your favourite characters. Your options are broken down into ten components: species, genes, parents, culture, mentors, friends, marking events, occupation, personality, and choices. 
Over the course of my journey, I slowly crafted my female Togruta (think Clone Wars' Ahsoka); raised on Tatooine, I chose to survive my tough desert childhood by collecting scrap metal for trade before rising up the ranks to Rebel pilot thanks to the mentorship of one Padmé Amidala, who represented the kind of fierce moral code I've always identified with in my own life. 

And with each of these new decisions, I was offered the opportunity to learn exactly how those genetic codes and influential environmental factors actually shaped my fictional character and my real self; the exhibition even seeing you undertake a personality test, before having to make a (rather agonising) judgement for your dearest values. 
Throughout the exhibition, your own exploration of identity is matched against two twinned – but opposing – storylines within the Star Wars universe: those of Luke and Anakin Skywalker. However, it's in speaking to Sophie Desbiens, Communications and Museum Relations Director for X3Productions, that the worth of this exhibition really hits home; in its powers to help young and old understand the forces that shape us.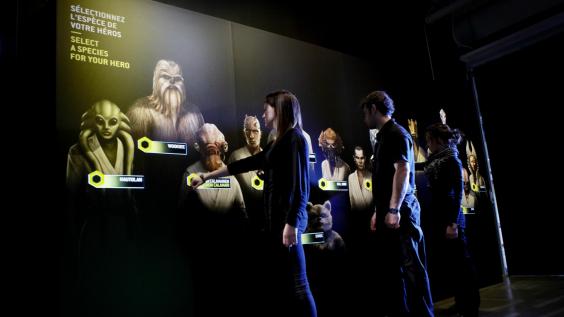 She describes her favourite experience with the tour: when she received a letter from a mother who visited the exhibition with her adopted sons, discovering that through Luke and Anakin – orphaned themselves – she was able to communicate with her children about both their experiences and their relationship with each other. In turn, it brought a whole new level of understanding within the family. 
If this is "edutainment", it goes far beyond the usual and into a sphere of learning that has the potential to bring concrete difference to people's lives; it's hard, really, to come away from the exhibition without the impulse to examine your own life and those factors which moulded its existence. I know I wasn't personally immune to it.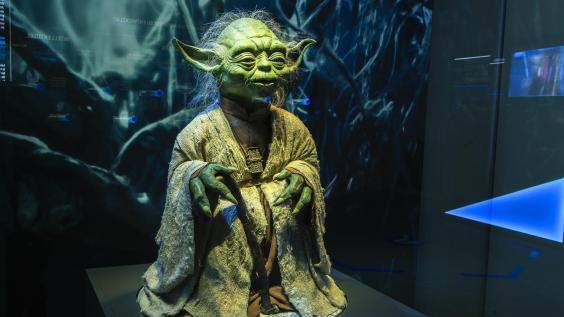 Indeed, Star Wars Identities works with our identification with these characters and their stories to ask the question: what drove Anakin to choose the Dark Side, and what chose Luke to choose the Light? A dilemma you must confront yourself in your final moments at the exhibition, as you come face to face with Darth Vader himself. 
The Star Wars Identities exhibition at London's The O2 runs from 18 November 2016 to 3 September 2017. Tickets can be purchased here.
Reuse content