It seems appropriate for a film about doubles to interview its maker and lead actor simultaneously, with an emphasis on matters of personal duality. Certain obstacles present themselves from the outset, however. First, there's the unavoidable fact that neither the director of The Double, Richard Ayoade, nor the film's star, Jesse Eisenberg, is particularly comfortable talking about themselves. Or each other. Or, in fact, just talking, full stop. Secondly, there's the diplomatic imperative to pay equal attention to both interviewees. If I talk too much to one of them, the other could feel left out, I suggest.
Richard Ayoade (politely) "I won't feel left out."
Jesse Eisenberg (looking at his phone) "I'd prefer it if you left me out."
As double acts go, they've certainly got their distinctions sorted out. The 35-year-old Ayoade cuts a distinctive figure: tall, idiosyncratically tailored, free-range Afro and thick-rimmed spectacles. Eisenberg, five years his junior, is streetwear-anonymous and keeps his head down – usually inclined towards his phone. Ayoade speaks in articulate, received pronunciation; Eisenberg mumbles and stumbles in an accent that will be identifiable as New York when he eventually gets a complete sentence out. Perfect – we're here to talk about him playing two versions of himself in one film, and he's only half-present.
Articulacy issues aside, The Double is a high point in both Ayoade's and Eisenberg's careers so far. Freely adapted from Dostoevsky's novella, it is a masterpiece of dystopian deadpan, set in a gloomy alternate reality that brings to mind Franz Kafka, Terry Gilliam's Brazil or even David Lynch's Eraserhead. Other ingredients include some very English humour, some 1960s Japanese and Korean pop, and a carousel of cameos: The Independent's Tim Key, Chris Morris, Cathy Moriarty, James Fox, J Mascis from Dinosaur Jr, not to mention most of the cast of Ayoade's debut movie, Submarine. The net result is a surreal one-off that's greater than the sum of its parts.
So how did this odd couple come together in the first place?
Ayoade "It was when Submarine came out... to enormous commercial success in America. So I was there to promote it. Just on noticeboards, mainly. Just putting up notes round New York..."
Eisenberg "...telephone poles..."
Ayoade "...and leafleting. A lot of it was just trying to get people in the street. The script for The Double existed before Submarine, and I was working on it with Avi Korine [brother of filmmaker Harmony], and so I met Jesse to sort of say, 'We'd like to send you this thing. Please don't throw it in the bin as soon as you get it'."
Eisenberg "We met a few more times in New York, then a lot of rehearsal in London. The bulk of it was Richard explaining to me the tone and aesthetic he wanted, so I could understand as an actor what I had to do."

Eisenberg plays Simon James, a gutless, socially awkward office drone for whom even simple tasks such as ordering food or entering an elevator become a fraught challenge of hesitation and anxiety. Out of nowhere, along comes James Simon, also played by Eisenberg. He's confident, charming, instantly popular, and rapidly achieves everything his hapless counterpart craved, including the affections of Simon's colleague Hannah (Mia Wasikowska). Of course, nobody ever remarks that Simon James and > James Simon look identical – principally because nobody has noticed Simon James even exists. "One is lacking something; the other has too much of it," says Eisenberg. "And both are dangerous. One has no ego, no confidence, the other has no conscience."
Playing two characters in one film has its challenges, technical, dramatic, even psychological. Just look at what happened to Lindsay Lohan after she did The Parent Trap. In David Cronenberg's Dead Ringers, Jeremy Irons tried using two separate dressing rooms and wardrobes, one for each of his twin gynaecologists – until Cronenberg told him he didn't want audiences to be able to tell them apart. Eisenberg has form in the twin department, too. In his 2010 hit, The Social Network, playing Facebook founder Mark Zuckerberg, he had to deal with the strapping, identical Winklevoss twins. For that movie, director David Fincher filmed two non-identical actors, then digitally mapped the face of one (Armie Hammer) on to the body of the other. Ayoade's method was considerably less high-tech, he explains. They basically shot the scene with one Jesse, then wound the film back and shot it again with the other Jesse. "It isn't that different from what Georges Méliès did," he says. There was, however, an actor who stood in for the other Eisenberg during rehearsals. The double had a double. There's no visual difference between Eisenberg's characters, but you're never in doubt as to which one you're watching.
Eisenberg "Your body moves in a different way. You have a different posture. You have a different feeling inside, which ends up looking different outside I suppose. The only difference is they're sometimes standing face to face."
Ayoade "The hardest thing is just having Jesse act back to a recording. In a shot where they're both appearing together, you have to pick a take on the day, then play that back through an earpiece while Jesse does the other character, acting to something that isn't there. You never see a scene in its entirety. So it's an imaginative leap and a technical challenge."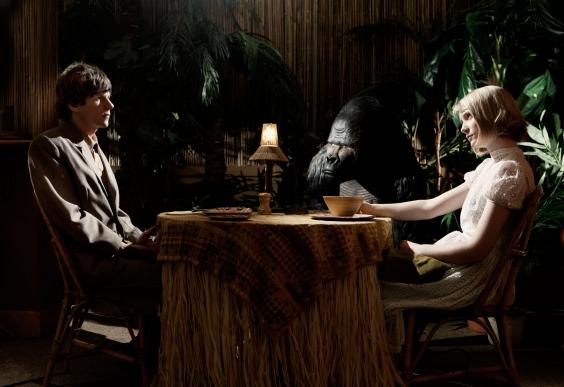 Was it twice the work?
Eisenberg "No. If anything it's more comfortable. What's really annoying on set usually is waiting around for long periods. That just wasn't the experience here. You develop a momentum that's helpful. You don't spend as much time agonising over how the previous scenes went."
On the downside, Eisenberg's investment in his roles meant he felt differently after a day's shooting, depending on whether he'd been confident 'James' or miserable 'Simon':
Eisenberg "One of the characters loves himself and enjoys life and everybody's nice to him. So you naturally feel better about it. Simon is sad and put-upon and lonely, and even though those situations are not real, you still, naturally, start to feel like that, because you've spent all day forcing yourself to feel those feelings."
The Double doesn't labour the suggestion that we all, potentially, harbour a split personality, but could it be that both Ayoade and Eisenberg have exploited a similar duality in their careers? Between them, the two have profitably mapped the terrain of geekdom over the past decade, Ayoade as terminally-square techie, Maurice Moss, in hit sitcom The IT Crowd, and Eisenberg as the archetypal awkward teenager in movies such as The Squid and the Whale and Adventureland, not to mention The Social Network – a movie that surely represents for computer programmers what Wall Street once did for bankers. And yet, despite a certain shyness, Ayoade is quick-witted, erudite (he has a law degree from Cambridge) and far too fashionably attired ever to be confused with a genuine nerd. Eisenberg, too, has a cooler, cockier side to his persona, as revealed in the heist thriller, Now You See Me, in which he played an arrogant illusionist. The recent announcement that he will play arch-baddie Lex Luthor in the forthcoming Superman versus Batman movie promises more of the same – plus special effects.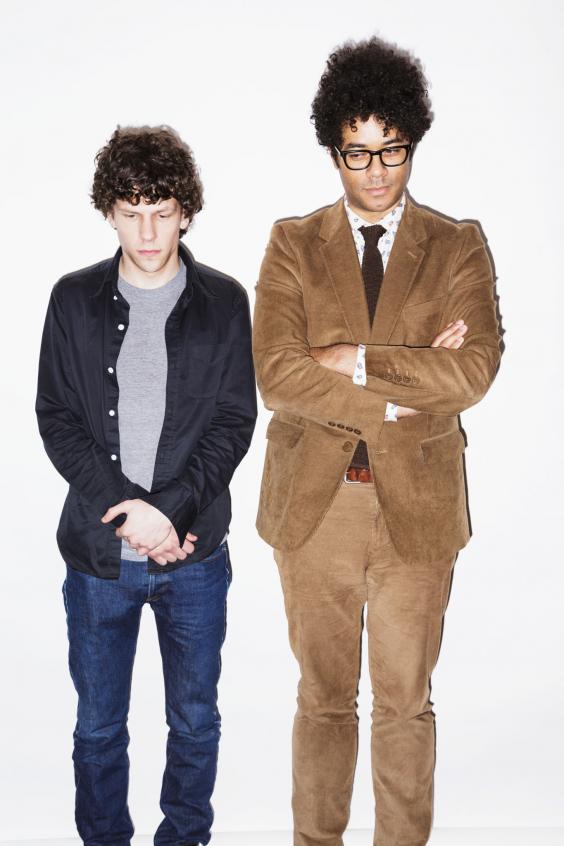 Ayoade "I tend not to get offered superhero roles. You are aware that if you wear glasses, you're not going to be cast as Arnold Schwarzenegger's double, but yeah, there's the idea in The Double that people aren't just one thing. And if you aren't able to accept certain things about yourself – your darker side – it will come out. The Jungian idea of the shadow: someone who's unable to accept that they may be capable of evil is mad."
Eisenberg "I don't know. I guess I just think of roles on an individual basis. I don't really feel like I'm trying to exhibit a side of myself. I don't think of myself as part of the equation." (Goes back to looking at his phone.)
Ayoade "Also, for me, acting changed a lot in the late Sixties. Before that, a lot of actors seemed completely alien. Like, I don't know... Gregory Peck, or Gene Kelly. They're so unlike anyone. But people like Dustin Hoffman or Richard Dreyfuss or Jack Lemmon were able to portray for the first time characters who were weak or flawed. In The Squid and the Whale, Jesse's so believable, so real, that people can say, 'Oh he's good at playing nerdy people'. I think he's good at playing whatever character he's cast as."
There's another sense in which the pair lead double lives: both are masters of more than one trade. The Double should firmly establish Ayoade as a director, but before now, he's been better known as a performer. As well as The IT Crowd, he's been a fixture of British cult comedies such as The Mighty Boosh, Nathan Barley and Garth Marenghi's Darkplace, not to mention a regular on TV panel shows. But all the while, he's been honing his directing skills via music videos. It's a predictably tasteful client list: Vampire Weekend, Yeah Yeah Yeahs, Kasabian and, particularly, Arctic Monkeys, with whom he's made three videos and a feature-length concert movie. Eisenberg, meanwhile, moonlights as a playwright, and writes humorous columns for the likes of The New Yorker and McSweeney's. Last year, he performed his second play, The Revisionist, off Broadway. It was a semi-autobiographical two-hander, about a young American writer who goes to Poland to visit a distant relative, played by Vanessa Redgrave. "I started acting in theatre when I went to drama school, and so when I write, it just comes out as a play," Eisenberg says.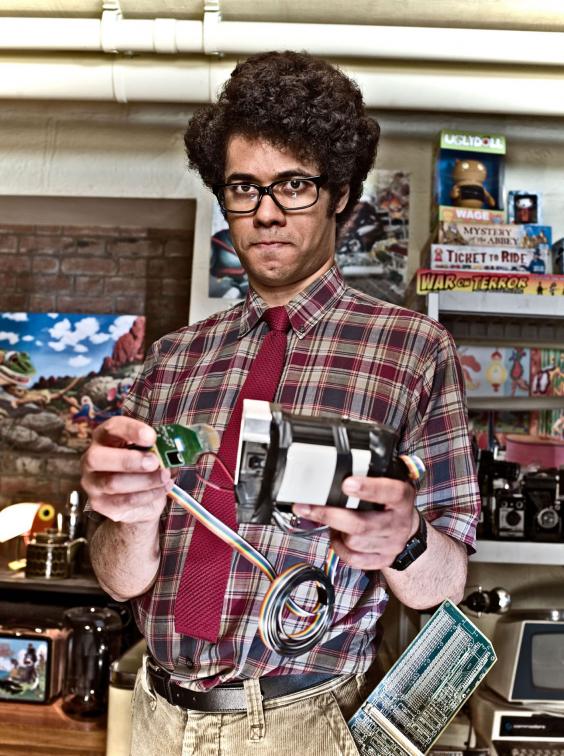 Ayoade is similarly diffident. "I never wanted to act," he says. "And I never think of myself as an actor, especially having worked with very good actors. I'm vaguely able to 'do a turn' in something." If anything, acting himself has taught Ayoade how difficult it is for actors. "It's just... on a basic level, being witnessed is awful."
That brings us to another aspect of dual identities. Increasingly, as their profiles rise, Ayoade and Eisenberg are in the public eye, and both still find it a strange, unsettling experience: being recognised in the street, seeing pictures of themselves in magazines, reading reviews of their work. A chasm starts to open up between private self and public image. A few weeks before we meet, Eisenberg was snapped by paparazzi kissing his Double co-star Mia Wasikowska at an outdoor café in Toronto, or 'going public with his romance' as the gossip websites prefer to put it. Eisenberg is trying to remain detached about it all.
"Any time somebody other than you is articulating something about you, it feels inaccurate," he says. "I don't read stuff about myself, because even if it's positive or neutral, it feels at odds with how I think about myself." By extension, he tries to stay detached about his acting work, too. He refuses to watch any of his movies. "Once I stopped watching things I was in, I felt so much more comfortable on set. Because not even in the back of my unconscious was I thinking, 'At some point I'm going to look at this'. So it's freeing in a way."
In a slightly less intrusive way, I mention to Ayoade that I saw him walking through Soho just a few weeks ago. He winces. Eisenberg takes the opportunity to compound the embarrassment.
Eisenberg "Yeah I heard about that. What were you doing?"
Ayoade "I could have been going to Boots."
Eisenberg "That's what we thought."
Ayoade "That was the rumour."
Eisenberg "Because it seemed like at the beginning part of the day, you didn't have the saline solution, but at the end..."
Ayoade "I hope the idea of seeing me in the street is as boring to everyone else as it would be for me."
The notion extends to interviews, as well. If Eisenberg and Ayoade began our interview with all the enthusiasm of patients waiting to see a dentist, they end it like naughty schoolboys, deliberately trying to provide non-answers to every question. What was it like meeting the real Mark Zuckerberg, Jesse?
Eisenberg "Brief. It was just, like, 10 seconds."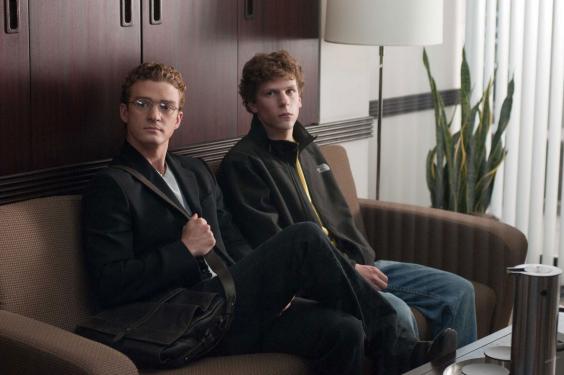 If you could be someone else, who would you be?
Ayoade "If I was someone else, I would no longer have the experience of being that other person, so it would just be like being me. I could be anyone because this consciousness would be extinguished and it wouldn't matter. OK... Patrick Duffy."
What would you say you both had in common?
Ayoade "Well, we both did that film... It's very odd to talk about yourself. Take Alex Turner [of Arctic Monkeys], who is obviously incredibly articulate and verbally brilliant, but doesn't like being interviewed. And because he's articulate and verbally brilliant and able to write amazing songs, he ends up back in rooms doing interviews about these brilliant songs he wrote. So you end up in this strange cycle. Most people in the public eye give it very little thought: I wonder what my interview persona's going to be like?"
Eisenberg "Well, it's probably hard to sustain the thing that gets you to be in interviews, if the thing you're thinking about is the interviews."
Ayoade "Yeah. It's an odd thing. And it generally makes me feel uncomfortable, because it seems incredibly ungracious to even talk about."
Eisenberg "Yeah."
Shall I get my coat then?
Ayoade "Potentially! But there's almost a tacit assumption that if something you say has been written down, it is worthy of record. I think that nothing I say ought to be written down, or is worth writing down."
Too bad. It has been.
'The Double' is released on Friday
Reuse content