When the new Nicole Kidman biopic Grace of Monaco opens the Cannes Film Festival it will get plenty of good (by which I mean free) publicity for at least one bad reason. The royal family of Monaco is furious. Grace Kelly's son, Prince Albert, is spoiling for a right royal row. He and his sisters have claimed that the director ignored their feelings by making a drama about their adored mother, Princess Grace, who died in a car crash in 1982.
I can see why a film-maker would want to put Kelly back on screen, even by proxy. Sixty years after she won the Best Actress Oscar in 1954 for The Country Girl, she continues to fascinate. She was gorgeous, beguilingly enigmatic, smart, resourceful, conflicted and totally timeless.
Albert of Monaco and his sisters have denounced Olivier Dahan's film before it even opens. They will surely be affronted that the authorities at Cannes have chosen it to open this year's event. Monaco is just around the corner from Cannes and the festival is the reason Albert's parents met in the first place. Back in 1955, when she was one of the top film stars in the world, Kelly went on a day trip to the palace at Monte Carlo where she met Prince Rainier. They were married less than a year later. Perhaps their son will show up on the Croisette to denounce Kidman in person come May. That would be a PR coup.
The film was already mired in controversy long before its premiere was announced. Forensic attention was given to whether Kidman, now in her late forties, was too old to play Kelly at 30. Questions were also asked about whether the filmmakers were wise to focus on a period of Kelly's life in the early 1960s that was dominated by a (yawn-inducing) quarrel between Monaco and France over constitutional rights and territory.
Then the director was rumoured to have claimed that his film had been harmed by producers who wanted it re-cut. The release was supposed to be last year but it has been postponed, and postponed again, nearly always a sign of trouble. The fears are that it could turn out to be this year's Diana disaster. It won't.
The last time Kelly was portrayed in a feature was by Cheryl Ladd, a former Charlie's Angel whose performing talents were better suited to Kalashnikov than Stanislavski. Kidman is no Cheryl Ladd. She is one of the finest actresses of her generation and it's fitting she will portray one of the finest actresses of the 1950s. Kelly wasn't just ridiculously beautiful, she really could act. The best directors wanted to work with her, she held her own on screen opposite Cary Grant and James Stewart, walked off with an Oscar after only a few years, and then walked away for good when only 26. Kidman is a star of the first rank and will know that Kelly became more interesting, not less, after she left Hollywood. The wonder is that nobody thought to make a film about her life as a princess before now.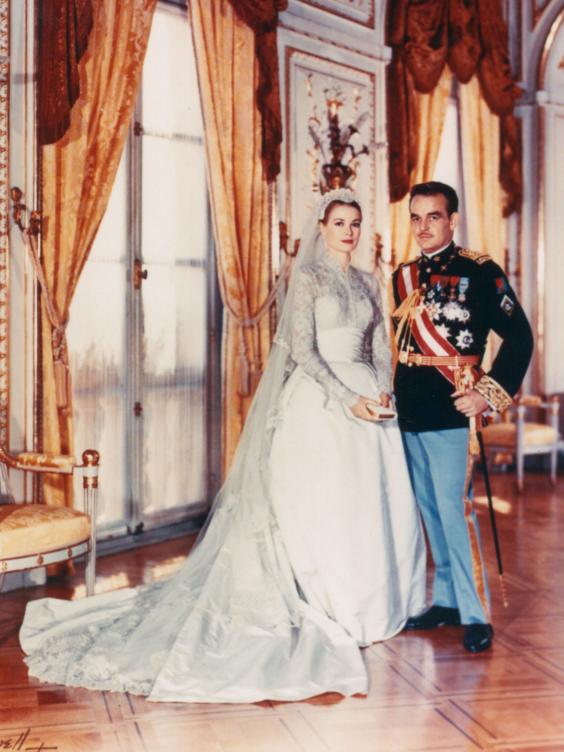 Born in the same year as Audrey Hepburn and Jacqueline Kennedy, Kelly had few peers when it came to global celebrity by the time she married Prince Rainier in the spring of 1956. More reporters covered that royal wedding than had been at D-Day. Throughout the 1960s and 1970s, Kelly and Rainier were fodder for columnists in a way that was only comparable to Elizabeth Taylor and Richard Burton. Yet throughout the years of crazy fame, Kelly retained her dignity, kept her marriage on track, raised three children (who only went off the rails after she died), and did a serious amount of work for charity and the arts.
This was why I made her the heroine of my novel The Comeback. Her history as the perfect Hitchcock blonde makes her an ideal character for a thriller. My novel also speculates about the big issues of her later life: why did she leave Hollywood, why did she never go back, and did she die a happy woman or an unfulfilled one who regretted trading in her talents for a tiara? In the book she uses her intelligence, her wealth and connections, and her diplomatic passport to solve a mystery that takes her behind the Iron Curtain and almost kills her. It's set in the last year of her life when – at 52 – there were signs that she might return to acting. She'd been reading scripts again and was active on the board of a major film studio. By that time Hitchcock was dead but there were plenty of younger directors desperate to lure her into making the big comeback.
Grace of Monaco shows her as the kind of woman determined to put personal desires aside and stick to the path of duty she'd chosen when she walked up the aisle of Monaco's cathedral, but later in life she may have been ready to take on roles other than the one she'd married into.
Fictionalising her final year on Earth and making her a Hitchcock-style heroine once again allowed me to reclaim the best of Kelly. The Comeback is an imagined caper that draws on the mythology and makes her heroic. The book also tries to clear up the most glaring errors about her personal history: did Hitchcock bitchily call her "Princess Disgrace"? The story goes that he resented her abdication from his movies (they'd made three hits together and he wanted more). I was able to read their personal correspondence at the palace in Monaco. Instead of being furious, Hitchcock had written to her in a deeply considerate way. "After all, it was only a movie, Grace," wrote The Master, allaying her guilt and thereby remaining her friend until death.
Another myth that has grown over the years was that she was murdered by the Mafia, who rigged the brakes of her car, or that her under-age daughter was actually driving and lost control. It now seems undeniable that she simply had a seizure at the wheel that caused her to lose consciousness on the most dangerous part of a mountain road. A Hitchcock hairpin bend.
It is cinema's loss she never made another film, but the Kidman biopic will be a comeback of sorts for Kelly. Her "look" has been captured faithfully. Squint slightly and Kidman could be Kelly in the early 1960s, a bouffant beauty in Chanel and Hermès. Whether filmgoers will flock to see Grace of Monaco or not, the film and the attendant fuss may well encourage a new generation to check out Kelly's short but sweet Hollywood career. She made fewer than a dozen movies in half a dozen years. Some of them are gems, and even the lesser ones are made watchable by her luminous, expressive face.
'The Comeback' by Jude Quillan is available from Amazon (paperback and Kindle) £7.99