The American director and activist Michael Moore has weighed into the controversy over the record breaking movie American Sniper and its subject by claiming that such soldiers are cowards.
Clint Eastwood's film, which has secured six Oscar nominations, opened this weekend and earned more than $90m, setting a new record for films that open in January.
The film, starring actor Bradley Cooper as US Navy SEAL Chris Kyle, said to be America's most lethal sniper, has quickly collected both supporters and detractors. Among the most outspoken was the 60-year-old Moore, whose films include Bowling for Columbine. 
"My uncle [was] killed by sniper in WW2. We were taught snipers were cowards. Will shoot u in the back. Snipers aren't heroes. And invaders r worse," Moore said on social media. "But if you're on the roof of your home defending it from invaders who've come 7K miles, you are not a sniper, u are brave, u are a neighbour."
Seth Rogan, the director of The Interview, said the film reminded him the faux Nazi propaganda film that Quentin Tarentino featured in his film Inglorious Basterds, in which a German sniper talks about how he picked off 200 Allied soldiers from a clock tower.
Mr Kyle, the subject of Clinton's movie, served four tours in Iraq and won several commendations for bravery. He was recorded as having shot and killed 160 people, though he later claimed the real figure was 255. The film divides its time between featuring Kyle in Iraq and back home in the US with his wife and children. He shot dead at a gun range in February 2013, allegedly by Eddie Ray Routh, a Marine veteran apparently suffering from post-traumatic stress disorder. He is awaiting trial.
Reactions to the film, the latest in a series about the conflicts in Iraq and Afghanistan that have included Green Zone, The Hurt Locker, Zero Dark Thirty, have divided people, but not always on predictable lines.
Newt Gingrich, the former Republican Speaker of the House, denounced Moore's comment. "Michael Moore should spend a few weeks with ISIS and Boko Haram," he said. "Then he might appreciate @AmericanSniper. I am proud of our defenders."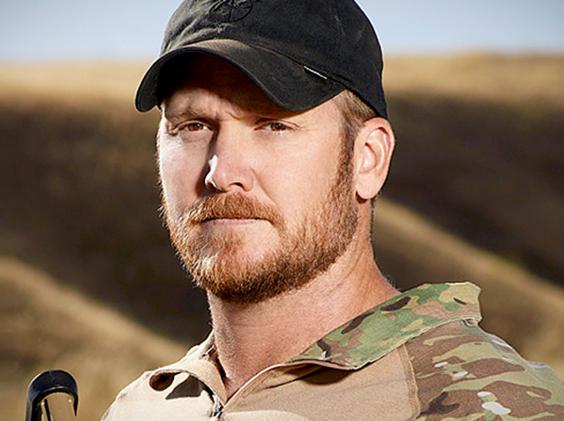 Yet the actress and high-profile liberal, Jane Fonda, said she also liked the film. "Just saw American Sniper. Powerful," she said on Twitter. "Another view of "Coming Home". Bradley Cooper sensational. Bravo Clint Eastwood."
Cooper has said the film was designed to be a character study rather than a vehicle for a political message.
"For me, and for Clint, this movie was always a character study about what the plight is for a soldier," he told the Daily Beast. "The guy that I got to know, through all the source material that I read and watched, and home videos - hours and hours - I never saw anything like that. But I can't control how people are going to use this movie as a tool, or what they pick and choose whatever they want."
Reuse content