Mark Ronson has cast a favourable verdict on the new Amy Winehouse documentary, finding it "respectful" to the late singer-songwriter despite being a "tough" watch.
The producer, who worked with Winehouse on many of her biggest hits including "Valerie" and "Rehab", took his wife Josephine de La Baume to see Asif Kapadia's acclaimed film Amy and learn more about the talented woman she never met.
"What I love about it is that my wife never got to meet Amy and I am always telling her stories about us in the studio and the clever, witty things Amy would say," Ronson told The Mirror.
"We watched it and my wife said, 'Now I get it, now I see the Amy you talked about'. I forget that not everyone got to see that side of her."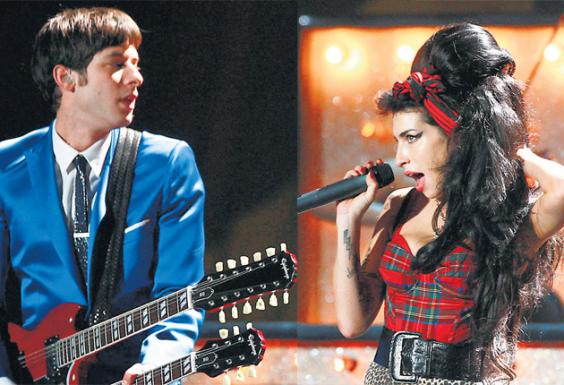 Ronson praised the movie for reminding viewers why Winehouse became famous in the first place. "She was a genius. I forget that when I played her the piano chords to 'Back to Black', she wrote the lyrics in an hour," he said. "I was blown away, people just don't write lyrics like that anymore.
"The thing that's really good about the film is the way they show the lyrics to make sure you read every word and understand them, the genius of them.
"You also see she was a real jazz performer with the attitude that , 'I write these songs, I go out and sing them and that's what I'm all about'.
"There was nothing pretentious about her, she had a gift and a talent and then she ended up becoming a runaway success that led to some unfortunate things happening."
Amy Winehouse: Before the beehive
Amy Winehouse: Before the beehive
1/8 Amy Winehouse

Amy at Osidge Primary School

2/8 Amy Winehouse

Amy at her brother Alex's bar mitzvah

3/8 Amy Winehouse

A note Amy drew at school

4/8 Amy Winehouse

Amy singing and playing guitar with a friend in Amy

Amy

5/8 Amy Winehouse

Amy Winehouse celebrates her birthday in Amy, from the makers of Senna

6/8 Amy Winehouse

Janis with Amy as a baby

7/8 Amy Winehouse

Island in the sun: Janis and her daughter Amy in healthier, happier times in St Lucia in 2009

8/8 Amy Winehouse

Amy Winehouse playing the guitar in Amy

Amy
Ronson's reaction to Amy differs considerably to that of her father Mitch, who threatened to sue filmmakers for "painting him as absent during her last years" and "giving the impression the family weren't there".
He dropped his plans to file for defamation after the documentary was re-edited but claims it is still misleading. Kapadia remains unfazed by his comments.
Amy has broken the UK box office record for the highest opening weekend of a British documentary film, grossing £519,000 from 133 cinemas since its release on Friday 3 July. It also enjoyed success in the US, earning £142,000 from just six cinemas before it expands in the coming weeks.
Winehouse died aged 27 on 23 July 2011 from alcohol poisoning, sparking an outpouring of tributes from the music world.