The BBFC, film censorship board for the UK, have officially awarded a 'U' certificate to a ten-hour film of paint drying, created as part of a protest of its practices by British filmmaker Charlie Lyne. 
Lyne first established a Kickstarter to fund the submission of a film entitled Paint Drying to the Board of Classification; one which would consist of a single, unedited shot of white paint drying on a brick wall. The money raised would pay for the BBFC's imposed tariffs on having work certified, which Lyne believes unfairly burdens independent filmmakers who must fork out an average of $1,000 per submission. 
Having declared every donation would further contribute to the film's run-time (as tariffs are calculated by a per-minute fee), the campaign ended up raising £5,936 and allowed Lyne to submit a 607-minute film to the censors; though it's still beaten by Jacques Rivette's 1971 Out 1, running at 775 minutes, as the longest film to be reviewed for classification by the board.
 
Today's the day: two BBFC examiners are currently watching 'Paint Drying'. AMA: https://t.co/weVqKBnZzf pic.twitter.com/tTsS15176P

— Charlie Lyne (@charlielyne) January 25, 2016

The BBFC recently came under fire for awarding The Diary of a Teenage Girl, a film depicting a young girl's erotic awakening, an 18 certificate; with many believing the rating unfairly punished feminine sexuality.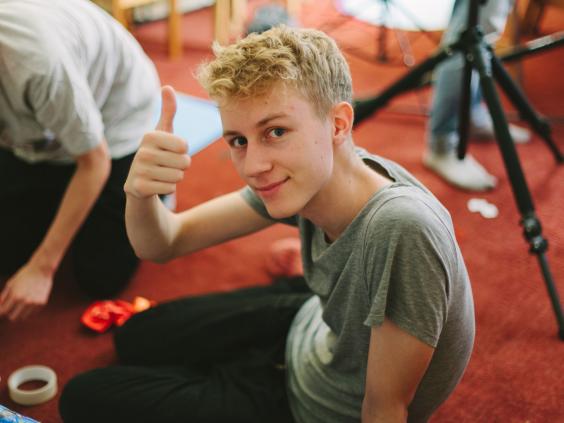 Lyne, with surely a small sense of ironic pride, tweeted out an image of his film's certificate. 
 
£5,936 well spent. pic.twitter.com/DKfufcr4qk

— Charlie Lyne (@charlielyne) January 26, 2016

The BBFC responded to Mashable's request for comment with the following statement; "The BBFC will classify the film as it would any other submission. With regards to the motives behind making the film (as a protest against censorship and fees for classification), the BBFC was set up in 1912 by the film industry itself, as an independent body to bring a degree of uniformity to the classification of film nationally."
"The BBFC is a non-profit organisation that works to protect children, from content which might raise harm risks and to empower the public, especially parents, to make informed viewing choices. It implements Classification Guidelines that reflect changing social attitudes towards media content through proactive public consultation and research."
"The BBFC respects the principle of adult free choice, but will still intervene where required by the law or where in our view there is a credible harm risk. Both the free choice principle and these limited exceptions are supported by the public, and also reflect our statutory duties."
 
BANNED: The most controversial films
BANNED: The most controversial films
1/20

A Clockwork Orange (1971)

Adapted from Anthony Burgess's best-selling novel, A Clockwork Orange tells the story of Alex and his gang of violent 'droogs' who kill tramps and rape women.

The film is infamous for the copycat behaviour it inspired - which many thought to be the reason that director Stanley Kubrick withdrew the film in the UK. After his death, his wife Christiane revealed that the actual reason he had the film banned was on the advice of the police after severe threats were made to him and his family.

2/20

The Texas Chainsaw Massacre (1974)

Five friends go to visit their Grandfather's grave after hearing it was vandalised, and pick up a hitchhiker on the way. After the hitchhiker takes a knife and slashes himself and one of the boys, they promptly get rid of him but have to stop for gas at a small sinister looking place which unbeknown to them, is the home of the chainsaw wielding Leatherface.

The film was loosely inspired by real-life murderer Ed Gein who wore human skin, but didn't use a chainsaw.

3/20

The Exorcist (1973)

One of the most controversial horror films of all time tells the story of a 12 year-old girl possessed by a demonic force and the two priests who try and save her soul.

The film received critical acclaim when it was nominated for 10 Oscars, and won 2 for Best Sound and Best Writing. But filming was plagued by disaster and William Friedkin's movie has legendary status as one of the most cursed films to have been made.

4/20

5/20

6/20

7/20

8/20

A pair of teenage girls go to a rock concert to celebrate one of their birthdays and afterwards try to get some marijuana in the city. They are then kidnapped by a gang of psychopaths who have just escaped from prison.

The Last House on the Left was directed by Wes Craven who also directed The Hills have Eyes (1977) which was banned in Finland, A Nightmare on Elm Street (1984), and the Scream films - where he appeared in all three.

9/20

A beautiful trapeze artist agrees to marry the leader of the circus performers who is also a dwarf, but his friends discover she is only marrying him for his inheritance.

Director Tod Browning took the exceptional step of casting real people with d

10/20

11/20

120 Days of Sodom (1975)

Also known as Salò, this film is based on the book by Marquis de Sade which he wrote while imprisoned in the Bastille in 1785. Sade was incarcerated in prison and in an insane asylum for nearly half his life.

In Pasolini's film, four men of power in Italy: the Duke, the Bishop, the Magistrate and the President, collect a group of teenagers, and subject them to 120 days of torture. Graphically violent, the film was, and is still, banned in several countries for its depiction of sexual torture - particularly to children, as they are raped, mutilated and forced to eat faeces. Despite all of this - the film still excludes some of the horrors of the book - it's no wonder why the word Sadism was derived from Marquis de Sade's name.

12/20

Mikey

Opening with a boy killing his parents, the film follows Mikey, a disturbed little boy who murders his family, and moves onto his adoptive parents. Mikey had, in fact, been passed '18' uncut by the BBFC in November 1992. This fi

13/20

I Spit on Your Grave (1978)

Also known as Day of the Woman, this is the story of a woman who retreats out of New York to write her first novel, and is captured by a group of local men, in order for one of them to lose their virginity. The four men gang-rape her, destroy her novel and leave one to murder her - but he cannot go through with it. After her recovery, she then plots to take her revenge each of them, violently murdering each them all.

The controversy is linked to the lengthy and graphic gang-rape scene which has been described as glorifying violence against women. The writer and director, Meir Zarchi, responded to such criticisms by explaining how he was inspired to make the film after he helped a young woman after finding her bloodied and naked in New York after she had been raped - denying that the film was too exploitative.

14/20

15/20

16/20

17/20

Das Testament des Dr. Mabuse (1933)

The Testament of Dr. Mabuse follows Berlin police inspector Lohmann investigating a case in which all clues lead to a man, Dr Mabuse, who has been in an insane asylum for years.

With the rise of Hitler, Goebbels became head of the Ministry of Propaganda and banned the film in Germany, suggesting that the film would undercut the audience's confidence in its political leaders. Goebbels called the film a menace to public health and safety and stated that he would not accept the film as it 'showed that an extremely dedicated group of people are perfectly capable of overthrowing any state with violence'.

Despite Goebbels saying he was 'struck by the dullness of its portrayal, the coarseness of its construction, and the inadequacy of its acting' he still organised private viewings for his friends, and the director, Fritz Lang, later claimed that Goebbels asked him to work for him in order to create films for the Nazis (although there is no evidence to support this).

18/20

Aftermath (1994)

This short horror film is directed by Nacho Cerdà and doesn't actually feature any dialogue. The audience sees a mortician after hours in the morgue, as he mutilates the corpse of a young woman who died in a car crash. Shortly after, he has sex with the dead body, taking pictures in the process. He then brings her heart home to feed his dog.

Unsurprisingly, the necrophilia is the controversial topic in the film which shocked audiences, but it has also been praised for its attention to detail and cinematography.

19/20

The Devils (1971)

Based on The Devils of Loudun by Aldous Huxley, the film is a dramatised historical account of the rise and fall of Urbain Grandier, a 17th century French priest executed for witchcraft following the supposed possessions of Loudun.

Father Grandier's sexual appeal makes the clergy jealous and the nuns outraged, accusing him of sorcery and evil spells, not content until he is burned at the stake.

Ken Russell's film was banned from Italy and its stars Vanessa Redgrave and Oliver Reed were threatened with three years' jail time if they set foot in the country.

20/20

Straw Dogs (1971)

Dustin Hoffman stars as a Mathematician who experiences some harassment from local men, who go on to rape his wife Amy, leading him to respond with a violent attack.

The initial rape scene was criticised, as Amy begins to find it pleasurable due to a sexual history with the rapist. Feminist cinema critics accused director Peckinpah of glamorizing rape and the BBFC asked for cuts to the scene, but the film was finally passed fully uncut for DVD in September 2002.

Released in the same year as A Clockwork Orange, The French Connection, and Dirty Harry, the film sparked heated controversy over the increase of violence in cinema.

"The BBFC's income is derived solely from the fees it charges for its services, calculated by measuring the running time of films, DVDs/videos and other works submitted for classification. Film makers wishing to show their films at cinemas in the UK without a BBFC certificate may do so with permission from the local authority for the area in which the cinema is located."

When asked to clarify how the submission was received, a spokesperson insisted no special treatment was given to the film; "Examiners are required to watch a very wide variety of content every day, so this didn't phase them." So, yes, they did watch every minute of it. 
Don't worry, Lyne is also in the business of producing real films. His documentaries Beyond Clueless and Fear Itself challenge the traditional mode of video essays whilst exploring teen movies and horror respectively. 
Reuse content