The aura around film stars is being eroded by social media, the veteran French actress Catherine Deneuve has said at the opening of the 68th Cannes International Film Festival – uniting in a traditionalist backlash with the jury chairmen Joel and Ethan Coen.
Deneuve, 71, star of the opening-night film, Standing Tall, said the amount of information readily available on social networks was undermining the concept of film stars, while the Coen brothers defended the practice of watching films at the cinema over small-screen alternatives.
More than 50 years after coming to fame in Les Parapluies de Cherbourg – which won the festival's top prize, the Palme d'Or, in 1964 – Deneuve said the way actors received widespread coverage on social media "didn't enable people to dream any more about these people".
"The private lives of actors and actresses are displayed all over the globe," she said. "People even post their own private photos on the social networks. I find this a pity. One can do as one wants in life but that isn't conducive to dreams.
"Being a star entails glamour and secrecy. You have to keep something for yourself. You shouldn't display everything of your private life. You see so many pictures, so many images – it's hard to keep some degree of mystery." Without such overexposure, she said, "there could still be stars".
The festival itself had already shown its hand by encouraging a crackdown on selfies on the red carpet this year, after the festival director Thierry Frémaux decried the practice as "ridiculous and grotesque".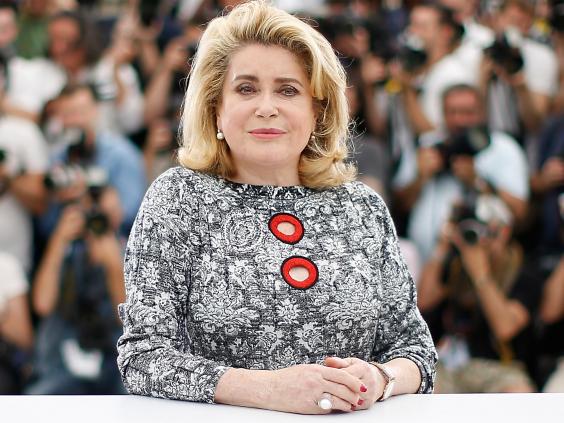 Meanwhile, Joel and Ethan Coen, who won the festival's top prize in 1991 with Barton Fink and are this year's joint chairmen of the competition jury, admitted they did not watch much television, let alone anything on screens smaller still. "How do we feel about people watching Lawrence of Arabia on their iPhone?" Joel Coen asked.
"There's something very special about sitting in a cinema with a big crowd of people and watching a movie on a big, 80ft screen. Nothing can compare with that. That's something that film festivals like this keep alive. It's great."
Even television was "a different thing", he said. "It's not the furrow we're ploughing and never have."
His brother added: "It's not even that I don't like TV. I don't watch it. It's alien to me. I haven't watched a television show in decades."
But it emerged that the brothers do not watch movies together. Joel said he expected the judging process to shed light on Ethan's tastes. "I don't really know what he watches. We don't really talk about it. This is going to be very enlightening for me."
The juror Jake Gyllenhaal said he was thrilled to see films before anyone else in the world had the chance while his jury colleague, Sienna Miller, said she could not believe she had been asked. "I had never been to Cannes so it's an overwhelming, huge honour," she said.
Despite the traditionalist message, the festival has broken some moulds this year as  Emmanuelle Bercot became the first woman to direct an opening night film since Diane Kurys in 1987.
She said her gender was not important because a third of directors in France were women. But she admitted: "For women to be on an equal standing with men we have to catch up on 50 years of history."
Deneuve said that choosing Standing Tall, a social drama about juvenile delinquency, "was a way for the festival to respond to a difficult year in Europe and particularly in France".
She and Bercot drew parallels between the juvenile delinquent in the film and the disengaged young men who carried out the Charlie Hebdo massacre.
Reuse content