One of Britain's leading young actor's turn as a transgender artist and a film about a lesbian relationship are among the frontrunners for this year's prestigious Baftas.
Nominations for British Academy of Film and Television Awards, which are seen as a good indicator of who may walk away with an Oscar next month, has been announced in London.
Carol, which depicts an affair between a shop assistant played by Rooney Mara and Cate Blanchett's glamorous older woman in 1950s New York, was nominated for nine awards. 
And Eddie Redmayne is looking to make it two best actor awards at the Baftas in as many years after he was nominated for his role as a transgender artist Lili Elbe in the true story The Danish Girl. Elbe was one of the first people to undergo sex reassignment surgery in the early 20th century.
Elizabeth Karlsen, producer of Carol, told The Independent: "It's amazing for a film like Carol to get that many nominations. It's an extraordinary love story." 
As well as best film and director nods for Todd Haynes, Blanchett is in the leading actress category and her co-star is nominated for supporting actress. "Todd is one of the most important directors working in the States today," the producer said. She added that the film appealed to British tastes as he "has a European sensibility as a director".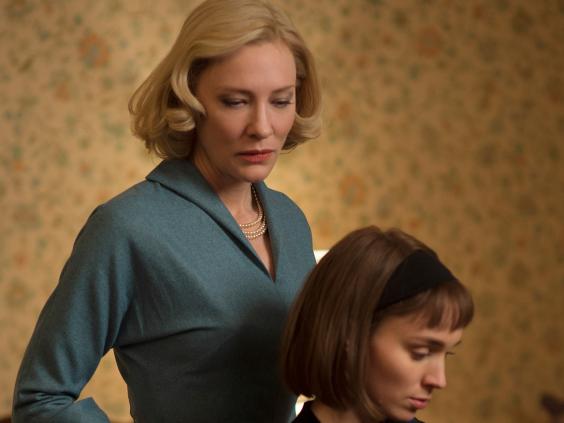 Blanchett will be up against Dame Maggie Smith, who has been nominated for her role as Miss Shepherd in the Alan Bennett-scripted The Lady in the Van.
Bridge of Spies, the Cold War thriller directed by Steven Spielberg and starring Tom Hanks and Mark Rylance, also picked up nine nominations, including for film, director and supporting actor for much-loved British actor Rylance, his first Bafta nomination. 
Redmayne, the 2015 Bafta and Oscar winner for his portrayal of Stephen Hawking in The Theory of Everything, will be up against Leonardo DiCaprio who, after four nominations, is still searching for his first win for best actor.
DiCaprio is nominated for The Revenant, which is released this week.
Leading actress category is among the most keenly fought with Blanchett and Danish Girl star Alicia Vikander up against Saoirse Ronan, Brie Larson and Maggie Smith. Some, however, bemoaned the omission of Charlotte Rampling and Helen Mirren.