A limited edition poster for The Hunger Games: Mockingjay Part 1 has been revealed at Comic-Con in San Diego, ahead of the movie's autumn release.
Created by street artist WK Interact, the black, white and red military artwork depicts a soldier holding a machine gun behind the symbol of the Mockingjay, hinting at a bloody rebellion.
The next instalment in the hit franchise, based on Suzanne Collins' bestselling novels, will see heroine Katniss Everdeen, played by Jennifer Lawrence, find herself in District 13 after destroying the Games forever.
"Under the leadership of President Coin (Julianne Moore) and the advice of her trusted friends, Katniss spreads her wings as she fights to save Peeta (Josh Hutcherson) and a nation moved by her courage," an official synopsis reads.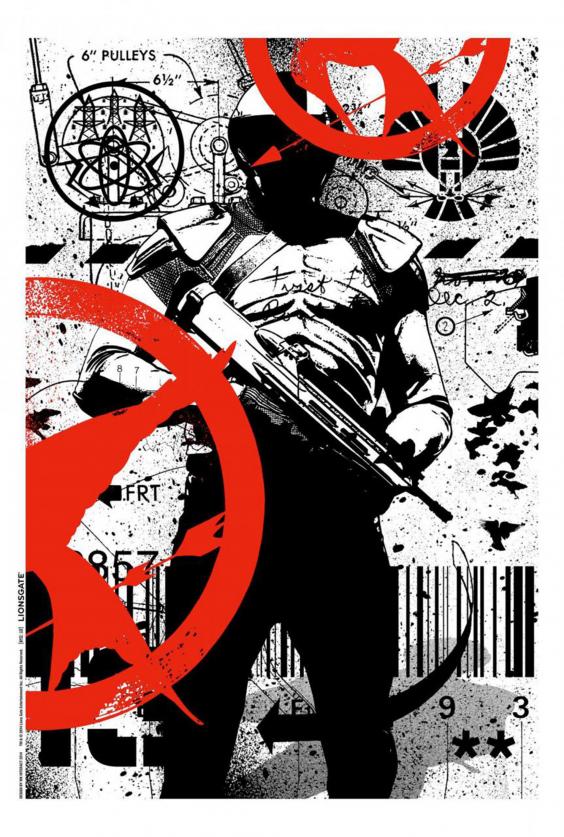 The exclusive, graffiti-style poster follows the latest teaser clip, showing President Snow (Donald Sutherland) warning against Panem resistance before an interruption from District 13's hacker interrupts to announce: "The Mockingjay lives."
The official trailer is set to debut on Friday, also at Comic-Con, the four-day festival celebrating comic books, film, TV, video games and more.
Liam Hemsworth, Elizabeth Banks, Jena Malone, Woody Harrelson, Philip Seymour Hoffman and Stanley Tucci also star in the penultimate Hunger Games movie, directed by Francis Lawrence.
The Hunger Games: District Heroes
The Hunger Games: District Heroes
1/7 District 3

After shorting out, then quickly repairing District 3's mainframe at the age of nine, Fibre Bissette, 32, has proven her fearlessness in the face of any challenge.

Lionsgate

2/7 District 4

The proud daughter of a deep-sea fisherman and a sixth-generation pearl diver, Naida Dolan, 22, channels her legacy as she proudly holds the day's catch.

Lionsgate

3/7 District 6

Thought to have gasoline pumping through his veins, Malcolm Kastel, 31, is devoted to District 6's mission of keeping Panem moving.

Lionsgate

4/7 District 7

Elias Haan, 26, has kept the axe handed down to him by his great-grandfather as a reminder of the hardships he and his great District have overcome.

Lionsgate

5/7 District 9

After a day in the fields, Triti Lancaster, 17, graciously offers a bundle of wheat to her fellow citizens of Panem.

Lionsgate

6/7 District 10

Raised amongst the herd, Felix Stam, 35, possesses a quiet understanding of the ways of animals and the circle of life that unites us all.

Lionsgate

7/7 District 12

Lily Elsington, 6, captures the spirit of the next generation of District citizens: ready, willing, and eager to fuel the Panem of tomorrow.

Lionsgate
Earlier this week, two creepy "living portrait" posters were released, showing Johanna and Peeta slowly rotating to the swell of an orchestra.
The movie is due to reach UK cinemas on 21 November, with the final part following in November 2015.
Reuse content