Guardians of the Galaxy star Chris Pratt is rumoured to be lining up to join Channing Tatum in a new Ghostbusters film.
A separate remake of the cult 1984 movie with an all-female team battling the supernatural has already been confirmed by director Paul Feig.
Bridesmaids actors Kristen Wiig and Melissa McCarthy, and Saturday Night Live comedians Kate McKinnon and Leslie Jones will star in that reboot, while the Tatum and Pratt version is said to be "complementary" to it.

Badass Digest reported that the idea spins out of the chemistry between the real-life friends, who pitched the idea to Sony Pictures themselves.
Devin Faraci wrote that insiders had told him of a Ghostbusters "universe" featuring four films – the Feig reboot, Tatum film, an Avengers-style meeting of both teams and a prequel.
"The plan is to have this new Ghostbusters universe feel big and have the kind of tonal variety that allows there to be a legitimate shared universe, not just a whole bunch of franchises running in tandem," he reported.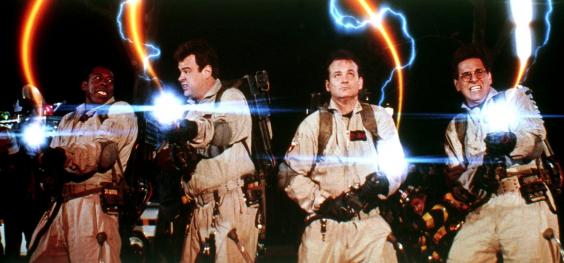 Sony has not confirmed Pratt's involvement but it would not come as a complete surprise after leaked emails during the Sony hack featured correspondence between him, Tatum and executives.
In an email to Sony Pictures Entertainment co-chairman Amy Pascal, Tatum reportedly wrote: "Let us show the world The DarkSide and let us fight it with all the glory and epicness of a HUGE BATMAN BEGINS MOVIE. I know we can make this a huge franchise. Fun adventure craziness. COME OONNNN!!!," he wrote.
The original Ghostbusters line-up
The original Ghostbusters line-up
1/7 Ghostbusters

Bill Murray, Dan Aykroyd and Harold Ramis in 1984's Ghostbusters

Rex

2/7 Ghostbusters

Ernie Hudson, Dan Aykroyd, Bill Murray and Harold Ramis in '1984's Ghostbusters

Rex

3/7 Ghostbusters

Bill Murray, Dan Aykroyd and Harold Ramis in a scene from 1984's Ghostbusters

4/7 Ghostbusters

Ramis, Ernie Hudson, Bill Murray and Dan Aykroyd star in 1984's Ghostbusters

Rex

5/7 Ghostbusters

Bill Murray, Dan Aykroyd, center, and Harold Ramis, right, appear in a scene from the 1984's Ghostbusters

AP

6/7 Ghostbusters

Annie Potts stars in 1989's Ghostbusters II

Rex

7/7 Ghostbusters

In this Ghostbusters scene Sigourney Weaver's character suspects her apartment is haunted, only to find a box of exploding eggs in her kitchen that begin to fry and pop on their own accord
In another leaked email to Sony executives, co-president of production for Columbia Pictures Hannah Minghella said she thought Tatum and Pratt's idea could "be developed in partnership (with the Feig film) so they complement one another with the same Ghostbusters universe".
The female film is rumoured to be first, taking over from the original 80s team of Bill Murray, Dan Aykroyd and the late Harold Ramis, with a possible release date in July next year.
The stars had been linked with the project for some time, with Murray previously saying he thought the idea of a female team was "swell".
Reuse content