It's really, really hard for me to lose respect for actors over their career choices. 
Let me put that statement into perspective: I still hold a genuine, healthy level of respect for Nicolas Cage. I'm serious; he's an interesting, perpetually committed character actor who just happens to be in a position of having to star in 10,000 sub-par movies a year to fund his penchant for dinosaur bones. I get that. We've all been there on some level. 

But I don't get Dirty Grandpa. And, though this revelation tears my soul to shreds, Dirty Grandpa has robbed me even of my respect for Robert De Niro.
 

Not forever, mind. Maybe repeated viewings of Cape Fear and Casino will drain those tainted feelings like lullabies after a rocky nightmare. Or maybe time is the simple healer of all things. But all I know is, right now, I feel the kind of repellant second-hand embarrassment that rears its head during the holidays when a drunk, bigoted relative stands up in the middle of the living room to relay a pre-prepared speech you're almost certain was gleaned entirely from the comments section of the internet. 

I didn't think this was possible before now. I didn't go into Dirty Grandpa like a hound baying for blood, I've loved De Niro's filmography far too much for that kind of pettiness. I entered instead with a secret optimism; quiet, little prayers that Dirty Grandpa would prove each of my worst assumptions unfounded. 

And though it made me die just a little inside to hear the Oscar winner scream in the film's trailer, "I want to f*ck, f*ck, f*ck, f*ck", I'd mentally prepared myself for a certain level of infantilism, and hoped this would maybe turn out be crude in all the right ways. De Niro could have made a delightful Dirty Grandpa, if he hit that right combination of the gleeful and the absurd.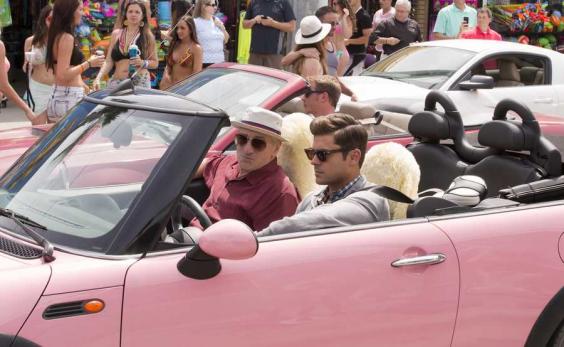 But it turned out Dirty Grandpa's title is wholly inaccurate, and I absolutely wasn't prepared for that kind of revelation. De Niro's Dick Kelly falls far more into line with admittedly far less catchy title of 'All Round Awful Human Being Grandpa'. It's a non-stop assault on decency that he rolls out here; taking offensiveness to this whole new level of consistency and stupidity that's like entering the mind of a teenage boy hopped up on sugar, testosterone, and screaming. 

He doesn't refer to the pink car his grandson (Zac Efron) drives by a feminine moniker just once; oh no, he does it over and over and over again. "Giant labia", now. "Giant tampon", after. It's endless, aggressively enthusiastic comedic trolling; like De Niro woke up a toddler one day, overheard his first swear word, and is now traipsing through his house screaming it at the top of his lungs while several panicked adults sprint behind. 

Annoyingness is forgivable, but it's the insidiousness hiding behind the humour that leaves such a foul taste. To see Dick Kelly, supposedly in the act of reinvention after his wife's death, laughing in a homosexual guy's face because; "you're just really gay." It's 2016, and still some screenwriter thinks the very act of being gay is the funniest thing to ever have happened. 
 
Actors you think have won Oscars but haven't
Actors you think have won Oscars but haven't
1/14 Bill Murray

With only one Oscar nomination to his name (2003's Lost in Translation), Bill Murray is one oversight that - in many people's eyes - could easily throw the Academy Awards into disrepute.

AFP/Getty Images

2/14 Samuel L. Jackson

Considering he's one of the most bankable film stars in the world, it's a surprise that - with over 160 credits to his name - Samuel L. Jackson has only received a mere one nomination (Pulp Fiction in 1994).

2016 Getty Images

3/14 Joaquin Phoenix

With three previous nominations under his belt - for films including Gladiator and The Master - it was his performance as Johnny Cash in 2005 biopic Walk the Line that was expected to see him win an Oscar (he lost to the late Philip Seymour Hoffman's for Capote).

2015 Getty Images

4/14 Brad Pitt

The ever-present fixture he remains in Hollywood today, you'd think Brad Pitt would have won an Oscar by now; while serving as producer of 2014 Best Picture winner 12 Years a Slave, he currently has zero acting wins to his name despite three nominations (Twelve Monkeys, The Curious Case of Benjamin Button and Moneyball).

2015 Getty Images

5/14 Tom Cruise

Still one of the biggest movie stars on the planet, Tom Cruise seemed like a sure awards bet back in the Nineties with films Born on the Fourth of July, Jerry Maguire and Magnolia all earning him nominations - and yet, he never once emerged victorious.

2015 Getty Images

6/14 Richard Gere

Would you believe us if we told you Richard Gere has never even been nominated? Well, it's true - and, quite honestly, shocks us quite a bit. Poor guy.

Juan Naharro Gimenez

7/14 Gary Oldman

One of the film industry's finest character actors, Gary Oldman has been nominated just the once for playing George Smiley in Tinker Tailor Soldier Spy.

2014 Getty Images

8/14 Johnny Depp

Despite his recent dip in quality, Johnny Depp has delivered several Oscar-worthy performances in the past. With a total of three nominations to his name - all for post-2000 releases including Pirates of the Caribbean and Finding Neverland - it's more a wonder he didn't receive more recognition for standout films such as Ed Wood and Donnie Brasco in the Nineties.

2015 Getty Images

9/14 Harrison Ford

Harrison Ford may now be the world's highest-grossing actor (sorry, Samuel) but still doesn't have the Academy Award to back up such a feat. In fact, he's now into his third decade of not receiving recognition from the Academy with his sole nomination arriving back in 1985 for Witness.

Getty

10/14 Edward Norton

Edward Norton is just the kind of actor you'd assume would've scooped a statuette at some stage or another, but no - Norton just has three nominations to speak of; his first in 1996 (Primal Fear), his second in 1999 (American History X) and his third just last year (Best Picture winner, Birdman).

AFP/Getty Images

11/14 John Malkovich

American actor John Malkovich was nominated once in 1984 (Places in the Heart) and again in 1993 (In the Line of Fire) but hasn't posed much of a threat since.

2013 Getty Images

12/14 Annette Bening

Poor Annette Bening, who has come close to victory four times (The Grifters, American Beauty, Being Julia and The Kids Are All Right) but is yet to clinch one.

2015 Getty Images

13/14 Glenn Close

...well, it could be worse; she could be Glenn Close who has been on the shortlist six times for films including Fatal Attraction, Dangerous Liaisons and, most recently, Albert Nobbs.

14/14 Helena Bonham Carter

Helena Bonham Carter may have received a Best Actress nomination for Wings of a Dove (1997), but it was her Best Supporting Actress nomination for 2012's Best Picture winner The King's Speech that seemed a sure bet; Melissa Leo's role in The Fighter won that round.

2015 Getty Images

And, when Bradley (Jeffrey Bowyer-Chapman) retorts that Dick may not have noticed that he's also black, De Niro snaps back; "that's really funny, too." Oh, don't for a second, believe this is intended as any kind of satire; we're absolutely meant to like Dick, even find him charming. We're meant to be laughing with him at this poor kid just because he's black and gay. It actually hurts my brain to think about how anyone thought that joke was either funny in the slighest, or a smart idea to put in a movie more than four people were planning to watch. 
This is exactly one of those situations in which it would be such an unparalleled gift to have second sight, or an out of body experience that would send me floating over a Hollywood boardroom just at the moment De Niro signed the contract for this film. Was he overjoyed? Harrassed? Was this an eager decision? Or one of those obligations woven into the complex threads of Hollywood's web of half-made promises and compromises?
De Niro clearly doesn't want to forever be De Niro of Taxi Driver, De Niro of Heat. Maybe it's just come to a point in his career when he wants to have fun, when he's achieved enough that the idea of a challenge no longer sounds appetising. Maybe he's always wanted to do mainstream comedy, and he's finally in a comfortable enough position to do so. And it's not exactly as if he's given up on interesting, complex dramatic roles; three times now he's worked with David O. Russell, most notably delivering a touching, Oscar-nominated performance as Bradley Cooper's father in Silver Linings Playbook. 

And that's fine. Do as many Meet the Parents as you like De Niro, do a thousand sequels to The Intern. You look happy in those. But not this, not here. Not a film which seems to dare you to feel wretched about your cinematic icon; riddling its opening credits with photoshopped family snaps that look as if a dog taped scissors to its paws so it could cut out movie stills from The King of Comedy and paste them over the sample photographs you get with IKEA frames. 
De Niro doesn't look like he's having fun here. No one does. The discomfort hangs in the air like the stench of something rotten. When a young, horny-as-hell college girl (Aubrey Plaza, why, Aubrey? Why?!) twerks up against De Niro in a nightclub, it looks almost as if he's crying. When he starts doing rap karaoke while bouncing his arms around in a 'hippity-hoppity' fashion, he somehow instantly ages himself by 1,000 years.
This can't possibly be what anyone wanted it to be. This can't possibly be what De Niro wanted it to be; I refuse to believe it. I won't ever be able to unsee Dirty Grandpa, but I'm determined not to be beaten down by it. So I sit here, endlessly repeating to myself: De Niro is cool. De Niro is cool. De Niro is cool. 
Reuse content