When Sampat Pal and her friends in the poor Uttar Pradesh village of Atarra decided to form a vigilante group, they did so with one aim in mind - protecting women like themselves who were all too often victims of abuse or violence.
Clad in pink saris and wielding bamboo sticks, they acted as a security force for women who could not otherwise get protection or justice. On one occasion Ms Pal even hit a policeman who had attacked her in the station.
As head of the Gulabi Gang - gulaab is Hindi for pink or rose - Ms Pal has earned widespread media coverage, an appearance on a television reality show and even the interest of political parties. Yet she has also witnessed no small amount of controversy.
This week, Ms Pal found herself in the Delhi High Court trying to stop a Bollywood movie, supposedly inspired by her life, from being shown in 1,600 theatres across India. "This is about my respect and integrity," she said in a statement.
The activist, who formally set up her group with dozens of supporters in 2006, claimed the movie Gulaab Gang, starring actresses Madhuri Dixit and Juhi Chawla, has wrongly portrayed her and damaged her reputation. She has also alleged the filmmakers had breached her copyright.
Ms Pal appeared particularly concerned that scenes in the film show her and her fellow activists bearing arms, whereas she said they only ever carry bamboo sticks, or lathis.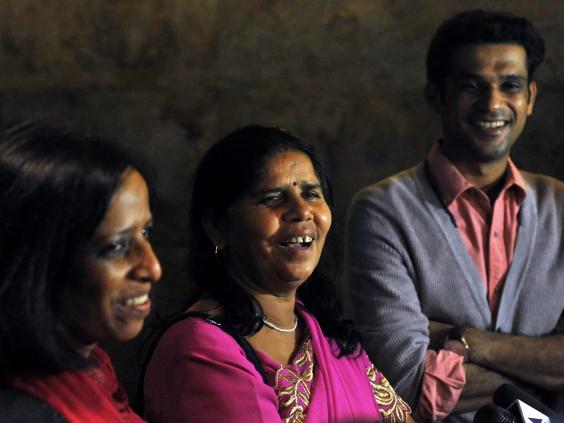 On Wednesday, Ms Pal had obtained a stay order on the film being shown by a single judge bench. However, on Thursday the film's producers, Sahara One Media and Entertainment, appealed and got permission from a higher bench for the film to be shown if it carries a disclaimer. The disclaimer has to say that the film has nothing to do with her.
"The film can only be shown after giving a clear disclaimer that it has nothing to do with the life of Sampat Pal and her organisation Gulabi Gang," said the bench made up of Justice B D Ahmed and Justice Siddharth Mridul.
Ms Dixit celebrated the decision by using social media to urge her supporters to go and see the film and to do so wearing pink. "Thanks to all my fans for their prayers and good wishes! See you at the theatres," she said.
Ms Pal's lawyer, Kush Sharma, told The Independent scenes in the film that had been shown to the activist showed her carrying an axe and a sickle.
Mr Sharma said while the release of the film, directed by Soumik Sen,  could go ahead with the disclaimer, he would be returning to the court on Monday in attempt to secure damages for Ms Pal.
Ms Pal, 56, was born into a family of goat-herders in the Banda district of Uttar Pradesh, about 140 miles south of the city of Lucknow. Like countless others in her situation, her family initially declined to send her to school, but she taught herself to read from her brothers.
An uncle eventually arranged for her to go to school until the age of 12 when she was married to an ice-cream seller. Three years later she had the first of five children. As an activist, Ms Pal also worked to promote women's education.
"The Gulabi Gang has a direct impact on the lives of men and women who turn to them for help on a daily basis. Of course, such interventions are but small drops in an ocean, given the scale of the law and order challenges faced by states like Uttar Pradesh," said Amana Fontanella-Khan, author of book about Ms Pal, Pink Sari Revolution.
She added: "Perhaps their biggest impact is less tangible but just as important: they have proven to be very effective at raising awareness about violence against women."
Ms Pal's story has inspired thousands of women across India and earned her an invitation to appear on the reality show Bigg Boss, the Indian version of Big Brother. Four years ago, British documentary maker Kim Longinotto completed the film Pink Saris about Ms Pal and her group.
Ms Pal has never been far from drama. This week it was reported that members of her group were trying to force her out. The Times Of India newspaper said other members claimed Ms Pal had been using her fame to further her political career. In 2012 she ran for the Congress party in local elections but lost.
The group's national convener, Jai Prakash Shivhare, accused Ms Pal of misusing the gang's reputation and name to serve personal interests. A meeting has been called for March 22 to select a new leader.
Yet Mr Sharma, the lawyer, said Ms Pal had not been forced out. He suggested it was no coincidence that the controversy had emerged while Ms Pal was in Delhi taking on powerful "corporate interests".
"She is distressed by this news but she is boldly fighting," he said. "She has spoken to the members of the Gulabi Gang and they are standing with her."
Reuse content