Jennifer Lawrence might be on the verge of a year's hiatus from Hollywood, according to producer Harvey Weinstein.
The August: Osage County producer voiced his opinion that Lawrence, 23, "deserves a rest" after a hectic filming schedule on movies such as The Hunger Games franchise, X-Men: Days of Future Past and American Hustle.
"She's going to have a long break for a year where she won't do anything. Jennifer is too nice and will do people favours and agrees to do a movie like American Hustle when she could have had a rest," Weinstein reportedly told the Sun on Sunday.
"She signed on to do Hunger Games when she was young and wouldn't have realised how much it would dominate her life. But she's a professional and always will be."
Lawrence was absent from the Baftas in London's Covent Garden last week, which Weinstein said was more than justified. The Oscar-winning actress won Best Supporting Actress for her role as neurotic housewife Rosalyn Rosenfeld in David O Russell's American Hustle, beating tough competition from 12 Years a Slave star Lupita Nyong'o.
O Russell had to apologise in January after he sparked outrage by describing Lawrence's Hunger Games filming schedule as "12 years of slavery".
Jennifer Lawrence's best quotes
Jennifer Lawrence's best quotes
1/20

"I was at the Oscars, waiting to hear
 if my name was called, and I kept thinking, cakewalk, cakewalk, cakewalk.I thought, 'Why is 'cakewalk' stuck in my head?'" - On why she fell at the Oscars 2013

2/20

"I finally get to make out with Christian Bale and he's a really fat guy. He's Fatman, not Batman." - American Hustle director David O Russell lets slip J-Law's on-set words to US Magazine

3/20

"I can't even... It's like past mad, it's this weird other emotion … I feel like my heart just fell out." - To presenter Shaun Robinson after she spoiled the Homeland Season 3 finale

4/20

"He was at a party, and I turned into a perverted guy. I was like following him into rooms and staring at his ass…He asked me if I was on mushrooms and I said, 'No. I'm dead sober. This is just me.'" - on stalking John Stamos at a party

5/20

"I think any time a girl has to show her thighs, it's never going to be her favorite look. I love the dress...if someone else wore it." - To Good Morning America

Getty Images

6/20

"I'm a horrible dancer! I'm like a dad at prom. I look like Gumby getting electrocuted." - On whether you'll see her twerking any time soon

7/20

Shares in Jimmy Choo, the shoemaker popular with such Jennifer Lawrence, are set to be priced between 140p and 180p, valuing it at up £700 million

PA

8/20

"I wrap myself up to look like Lord Voldemort so that they can't see anything because the thought of giving them a picture that will make them money absolutely infuriates me." - Entertainment Weekly

Getty

9/20

"If I don't have anything to do all day, I might not even put my pants on." - Glamour Magazine

Getty

10/20

"I think people are fascinated with breasts that bounce. They are so used to seeing [fake ones]. People are confused [that mine bounce]! My breasts have a life of their own." - The Sun

Getty

11/20

"You guys are just standing up because you feel bad that I fell and that's really embarrassing, but thank you." - 2013 Oscars acceptance speech

Getty

12/20

"I really would not call myself a fashion icon. I would call myself somebody who gets dressed by professionals. [It's like], 'Dance, monkey, dance' right on the red carpet.' I would call me more of a monkey." - To E!

Getty

13/20

"If anybody even tries to whisper the word 'diet,' I'm like, 'You can go f– yourself." - To Harper's Bizarre

Getty

14/20

"I was surprised at how little camel toe problem there was. I was expecting a lot more." - To E! on her Hunger Games jumpsuit

Getty

15/20

"If I were just your average 23-year-old girl and I called the police to say that there were strange men sleeping on my lawn and following me to Starbucks, they would leap into action." - To Vogue on the paparazzi

Getty

16/20

"I'm the fastest pee-er ever. I'm famous for it." - Rolling Stone

Getty Images

17/20

"I can see the McDonalds right there. Wait, hold on, I didn't say fries! I'm seeing you talk and all I'm seeing is me being pissed I didn't get fries. And you have to remind them about ketchup because they never include ketchup, you have to ask for it. Cheapskates." - Being interviewed on the Oscars red carpet

Getty Images

18/20

"I want to play a character I've never been before-a crazy serial killer like Charlize Theron in Monster. I'd love to have to shave my head."

Getty Images

19/20

"This isn't like an auction, right? You guys aren't going to take it away?" - Backstage at the Oscars

Getty Images

20/20

"This isn't like an auction, right? You guys aren't going to take it away?" - Backstage at the Oscars

Reuters
Lawrence is nominated for her second Oscar at the Academy Awards ceremony next Sunday 2 March, after taking the Best Actress accolade in 2013 for her performance alongside Bradley Cooper in Silver Linings Playbook. Weinstein worked with her in the latter film about two lovers with psychological issues.
In a recent interview with The Hollywood Reporter, O Russell revealed how Lawrence won her role in Silver Linings Playbook. "I asked her to cry and she made me cry. Then she went and killed a spider in the bathroom that was behind her, which was just kind of amazing to me" he said about her 2011 Skype audition.
"She had cried so she went to get a tissue, then when she went in the bathroom she went, 'Ah, there's a gigantic spider in the bathroom!'"
"Then she imitated how the spider went when she tried to attack the spider. That fascinated me as much as anything else. She was unlike anybody I'd ever seen, unlike anybody I'd ever met."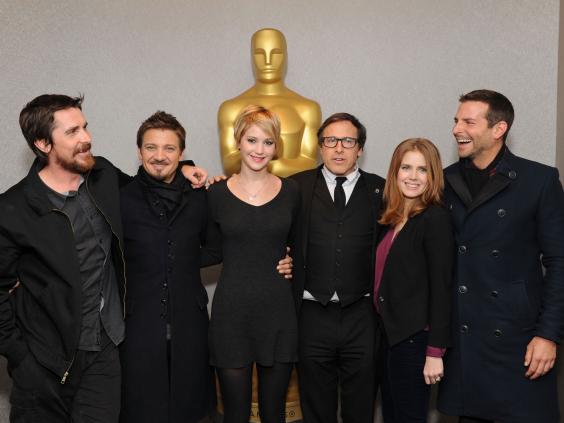 O Russell took the Skype tape to Weinstein who was convinced of Lawrence's talent within just 30 seconds. In an earlier interview with Empire magazine, Lawrence spoke of her plans to "turn her phone off for a year" after finishing shooting for the final Hunger Games instalments.
Perhaps she wasn't joking, or perhaps she is concerned about over-exposure, alongside needing a good sleep. "I feel like I'm becoming way too much, everybody is very fickle," she told Vulture in November. "They like me now, but I'm going to get really annoying really fast. Just watch."
Reuse content