The Lone Ranger may have thought that dealing with the corrupt lawmen and fearsome outlaws was hard enough, but according to the stars of the big-budget flop, his biggest foe came from the six shooters of the critics.
Walt Disney's hopes that the clarion call of "High-Yo Silver" would prove box office gold quickly crumbled as audiences failed to fall for the western hero resurrected for the big screen.
The studio admitted this week it faces losses of up to $190 million (£124 million) on The Lone Ranger, which stars Arnie Hammer in the title role and Johnny Depp as his trusty sidekick Tonto.
So who is to blame for this debacle? The actors and producer pointed their fingers squarely at the critics, claiming they pre-wrote negative reviews that sunk the movie.
Depp said: "I think the reviews were written seven to eight months before we released the film" when the critics found out director Gore Verbinski, producer Jerry Bruckheimer and Depp, who worked on the Pirates of the Caribbean franchise, were reuniting.
"They had expectations that it must be a blockbuster. I didn't have any expectations of that. I never do," he said. So far the film has made $86m at the US box office.
His co-star Hammer believes the on-set problems that dogged the making of the film have coloured the reviews of the finished film.
"They've been gunning for our movie since it was shut down the first time. That's when most critics wrote their initial reviews," he told Yahoo UK.
The 2013 incarnation of the Lone Ranger brought back the much-loved character portrayed on the radio, books and television who first appeared in the 1930s.
The film follows lawyer John Reid's conversion into the justice bringing Ranger after the murder of his brother, and with help from Tonto.
The finished result has been criticised as overlong and overwrought. Time Out dubbed it "Frustrating, lazy and lifeless," while Rolling Stone gave it one star out of four.
"Why is The Lone Ranger such a huge flop at the box office?" its critic Peter Travers asked. "Because the movie sucks, that's why."
The Daily Mail's Christopher Tookey said he did not blame the leads wearing a mask and face paint respectively, "if I'd had anything to do with it I'd be wearing a balaclava and writing under an assumed name".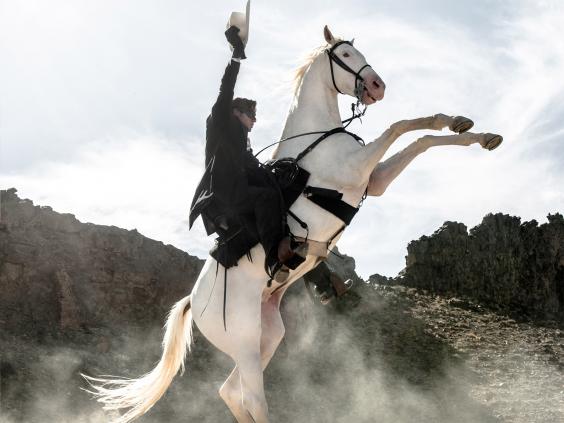 But The Independent's Geoffrey Macnab called it "a perfectly serviceable summer blockbuster" Adding: " Like most other features that cost $200 million or more to make, it combines visual inventiveness and lavish set-pieces with moments of extreme clunkiness."
The production was plagued with difficulties and was delayed when the ballooning budget, threatened to get out of control.
Bruckheimer added that the critics were reviewing "the budget, not reviewing the movie."