Fans of schmaltzy Christmas romcoms rejoice – Jude Law has said he would be very interested in making a sequel to The Holiday.
The 2006 movie stars Cameron Diaz and Kate Winslet as two love-troubled women who swap homes for the festive period and find new romance.
Law, 42, was asked by Glamour magazine whether he'd be keen for a follow-up to the popular film.
"That's a good idea, absolutely," he said. "The girls (his character Graham's adorable daughters) will be grown up. Oh my goodness, they'll be like teenagers! Miffy (Englefield) was such a sweet little girl."
Jude Law a career in pictures
Jude Law a career in pictures
1/9 The Talented Mr Ripley

Jude law in 1999 psychological thriller in which he plays a charming psychopath

2/9 Dom Hemingway

Jude Law stars in dark British comedy drama Dom Hemingway

AP

3/9 Henry V

Jude Law as Henry V in Michael Grandage's West End production

Johan Persson

4/9 Side Effects

Screen chemistry: Jude Law and Rooney Mara in 'Side Effects'

5/9 Anna Christie

Jude Law and Ruth Wilson in Michael Grandage's production of Anna Christie at the Donmar Warehouse

MARC BRENNER

6/9 360

Jude Law and Rachel Weisz in 2011 romantic thriller 360

7/9 Closer

Jude Law stars in a movie about four cold-hearted Londoners who lie and cheat their way into each others' beds

8/9 The Holiday

Jude Law plays Cameron Diaz's love interest in this Christmas romcom

9/9 Sherlock

Jude Law stars as Dr Watson in Sherlock Holmes
The two-time Academy Award nominee can currently be seen starring as rugged Scotsman Captain Robinson in Black Sea, a role he described as a "bit of a risk".
"Making a character have a regional accent seems like quite a bold move, but my biggest concern was that if you're going to command men, then you've got to have a certain presence," Law said last month.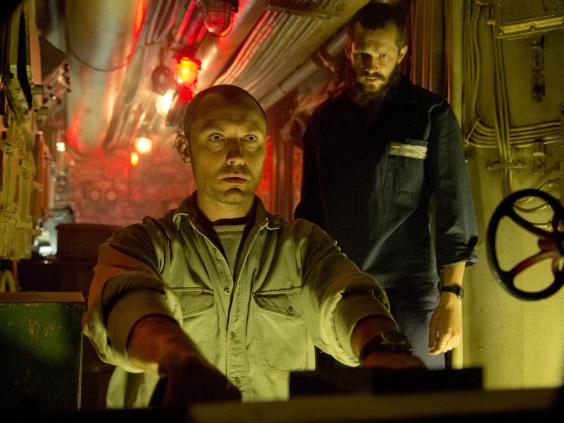 The film sees Robinson lead a British and Russian crew in search of a German U-boat stuffed with World War II-era gold rumoured to be lying on the floor of the Black Sea.
Reuse content