Apart from Gérard Depardieu, it's hard to find anyone with a bad word to say about Juliette Binoche. At the Cannes Film Festival, the Oscar winner was once again receiving high praise, this time for her turn as an actress returning to the stage in Olivier Assayas's Clouds of Sils Maria.
She even managed to coax a career-best performance from Kristen Stewart who plays her assistant. Chloë Grace Moretz plays a young starlet who will take on a role that Binoche played in her youth, while France's most famous actress is now handed the role of the suicidal mother.
Over her 30-year career Binoche has been celebrated as one of the greatest actresses on the planet. She is known simply as La Binoche in France where it seems only Depardieu wasn't beguiled by her charms. In 2010 he posited, unprompted, "Can you please explain to me what the mystery of Binoche is meant to be?" The actress refused to retaliate, only stating that she didn't know Depardieu or understand the violence of his words. But if he really wants an answer, the heavyweight actor just needs to look at the roles the 50-year-old actress has taken on this year.
Clouds of Sils Maria, which is a homage to The Bitter Tears of Petra von Kant and All About Eve, stemmed from an idea developed by Binoche together with director Assayas. They first worked together when Assayas was the screenwriter on Rendez-Vous in 1985, in which Binoche played a young actress who moves to Paris to make it big. It was the role that established the dark-haired star as a leading lady.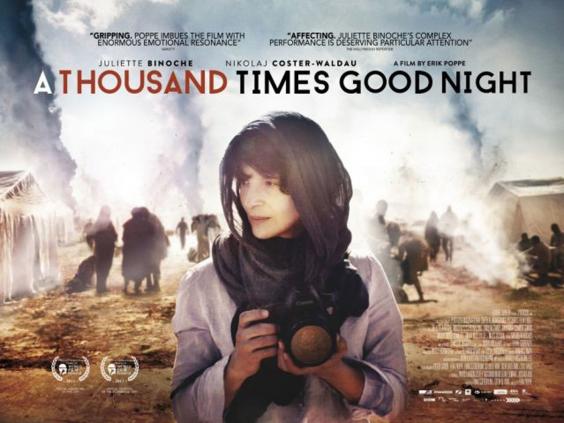 "I was on holiday and was thinking of a film with three female characters and I thought who could I ask to make this," says Binoche. She thought of Assayas, despite saying that when they worked together on Summer Hours in 2008 she felt no real connection with the director. "I said I'd like you to direct the film and take risks, really go for it. Two weeks later he phoned and said it interests me and after a year and a half he came back with a script that was huge and totally his. I didn't have the story of the actress, he made it up, and because we knew each other on Rendez-Vous, I think he wanted to relate it to an experience we had together, to have a perspective on things and what has changed."
In addition to her exuberance in Clouds of Sils Maria, she plays fraught and anguished in Camille Claudel 1915 as the French artist and lover of Rodin who was impounded in an asylum. In A Thousand Times Good Night she's a determined war photographer working in Afghanistan battling the twin demands of career and family while in a cameo in Godzilla she plays the faithful wife willing to do everything for her husband right up to her untimely death and in romance Words and Pictures opposite Clive Owen, she essays a feisty confident singleton art teacher with rheumatoid arthritis.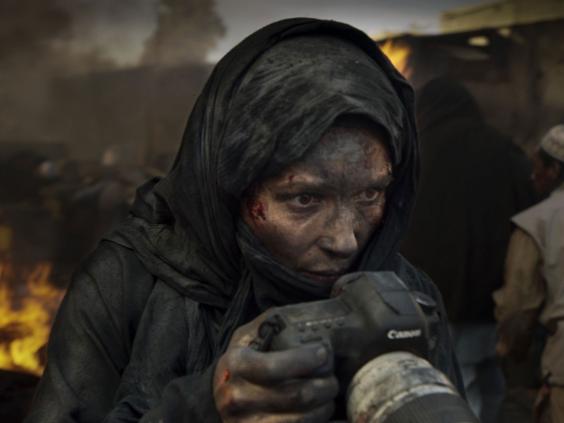 Of her cameo in Godzilla, Binoche states, "Gareth Edwards, the director, he wrote me a beautiful letter. I was drawn by it. Also I felt it was a wink for my son because he loves Godzilla and I thought OK I can make him happy now." Binoche has two children: a 20-year-old son Raphaël whose father is André Halle, a professional scuba diver and a 14-year-old daughter Hana, whose father is actor Benoît Magimel, with whom Binoche starred in the 1999 film Children of the Century. Never married, the actress has also enjoyed high-profile relationships with director Leos Carax, actor Olivier Martinez and Argentine film producer Santiago Amigorena.
She says of the challenge of being a working mother, a theme explored in A Thousand Times Goodnight, "I try to be as much as I can a mother, you really have to aim for it. I can't stop myself from what I'm doing, it's my life, it's my task, it's me. So when I'm not a woman staying at home they have to deal with it. But at the same time, I love cooking for them and being for them when I can."
It's her performance in Camille Claudel 1915 that best displays her range and ability. Binoche moves with a heaviness that makes it seem like she's carrying an imaginary sack of potatoes. The film looks at three days in the life of the sculptor, and intriguingly Binoche is the only professional actor in the film. Her co-stars were patients living in the south of France asylum where the action was filmed and the nuns caring for them were real-life nurses.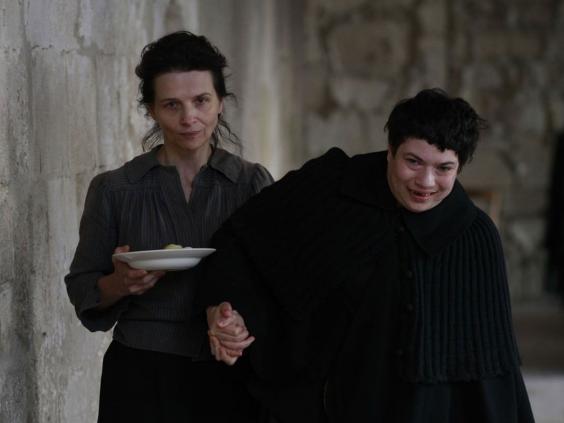 The daughter of directors and artists herself, she says of her unusual colleagues, "As a teenager I had some experience, because a member of my family was in an asylum for a while. So I have some memories of it, so going there, it was a big deal and it was not a big deal, because memories were coming back, but at the same time I didn't know what to expect in a way. I had to find myself as Camille. The other patients had to call me Camille, because we couldn't take the risk that they would call me Juliette or Julie in the middle of a take so we were very cautious."
She adds that the personality of the artist also helped because, "Camille was quite distant from them. She was always going away. At times, I found it quite hard to place myself because I wanted to be a nurse [to her co-stars]. I had to restrain myself from my first instinct."
The thin gap between art and life is also mirrored by the fact that just like her character in Clouds of Sils Maria, Binoche will soon be back on the London stage. It's just been announced that she'll be starring in Antigone, directed by Belgian theatre director Ivo van Hove. The adaptation of Sophocles's Greek tragedy will play at the Barbican in March next year before going to the Edinburgh International Festival.
Her theatrical career has been as acclaimed as her Oscar-winning screen career. She made her London stage debut in 1998 in a production of Luigi Pirandello's Naked. In 2000 she appeared in a Broadway production of Harold Pinter's Betrayal for which she was nominated for a Tony Award. At the Barbican in 2012 she appeared in Mademoiselle Julie, an updating of August Strindberg's Miss Julie.
But there have also been the mishaps, most notably her decision to put on a one-woman contemporary dance production at the National Theatre in collaboration with Akram Khan. It seemed as eccentric as it was bold, especially as her dance experience consisted of six months of intensive lessons.
Why does she take such risks? "It's my need as a human being, of knowing myself and also giving myself. In the giving there is knowledge. Jeanne Moreau used to say we need to rendre grace/give grace back. Let's explore, let's share and let's be."
It's a typically beguiling response from an actress with a remarkable ability to bounce back and continually surprise. A trait she shares with a certain Mr Depardieu.