Production has reportedly been put on hold on the set of Mission: Impossible 5 in a last-minute attempt to improve the ending.
Tom Cruise's latest film in the franchise is due to be released on 31 July – five months earlier than the Christmas opening originally planned.
But work was recently stopped in London to give director Christopher McQuarrie time to fine-tune the ending, according to the Hollywood Reporter.
While one source told the website McQuarrie was "scrambling" to come up with an ending that would work, a Paramount insider said: "Chris, Tom (Cruise) and a third person wanted to take a minute to get from what they thought was a good place to a more perfect place".
On Twitter, McQuarrie said filming never wrapped on MI5 but a "short break" had been taken to "prep the finale properly".
.@jramjee if only that were the case. Filming never wrapped. We took a short break to prep the finale properly.

— ChristopherMcQuarrie (@chrismcquarrie) February 21, 2015
Paramount has not announced a change to the summer release date, suggesting that the delay is not expected to be a lengthy one.
The studios suffered a more serious hitch during the filming of World War Z, starring Brad Pitt, as the release was pushed back for months for extensive re-shoots.
A spokesperson for Paramount said Mission: Impossible 5 would see Cruise reprise the role of spy Ethan Hunt almost two decades after the character's first screen outing in 1996.
Biggest blockbusters to see in 2015
Biggest blockbusters to see in 2015
1/10 Mission: Impossible 5

Tom Cruise returns for more action.Release date: 31 July

2/10 Star Wars: Episode VII

The wheels are now fully in motion on Star Wars: Episode VII. Release date: 18 December

3/10 Fifty Shades of Grey

Christian Grey cradles Ana in the Fifty Shades of Grey film. Release date: 14 February

Universal

4/10 Avengers: Age of Ultron

Iron Man and Captain America in a scene from The Avengers ahead of the release of next film The Avengers: Age of Ultron. Release date: 1 May

5/10 The Hunger Games: Mockingjay – Part 2

Hunger Games: Mockingjay Part 1 is out, but Part 2 is coming next year. Release date: 20 November

Lionsgate

6/10 Taken 3

Liam Neeson will back on badass form for Taken 3. Release date: 9 January

YouTube/Fox UK

7/10 Jurassic World

Jurassic Park is back and the movie is scheduled for release next summer. Release date: 12 June

Universal

8/10 Terminator: Genisys

The franchise that made Arnold Schwarzenegger a star returns next year. Release date: 1 July

Rex

9/10 Bond 24

Skyfall sequel, Bond 24, Spectre, will be released in 2015 starring Daniel Craig. Christoph Waltz is thought to have joined the cast. Release date: 6 November

10/10 Ted 2

Ted 2. Release date: 26 June
It is being produced by the actor himself through Tom Cruise Productions, Paramount and J.J. Abrams' Bad Robot, who served as producers on previous films in the franchise. 
"I am thrilled to reunite with Chris for the latest instalment in the Mission series," said Cruise when McQuarrie was announced as director.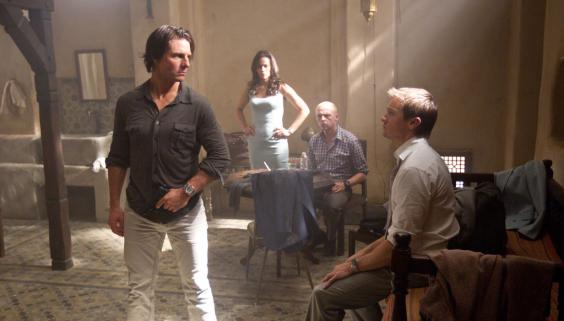 "I began producing the films with the goal that a different director with his own vision would make each one.  Chris is an extraordinary filmmaker who will deliver the heart-pounding action and thrills that audiences around the world have come to expect from the Mission: Impossible franchise."
The previous film, Mission Impossible: Ghost Protocol, earned almost $700 million (£450 million) around the world and became the star's highest grossing film to date.
Reuse content