Kevin Smith has announced some upsetting news about his much-loved character Silent Bob before beginning filming for the True North trilogy's final part, Moose Jaws.
Smith is appearing in the film that looks set to become a cult classic with constant on-screen companion Jason Mewes.
The True North trilogy is a series of horror-comedy films set in Canada - so far it has produced Tusk, a film about a man who is turned into a walrus, and Yoga Hosers which is due for release in 2016 and stars Smith's daughter Harley Quinn Smith and Johnny Depp's daughter Lily-Rose. 
The conclusion to the trilogy is inspired by Steven Spielberg's classic horror film Jaws, but replaces the great white shark with a giant moose.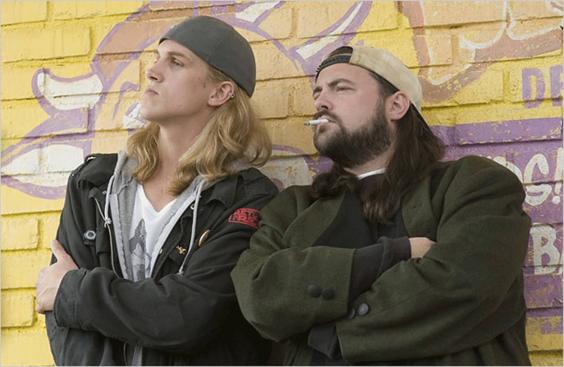 Smith told news.com.au that Silent Bob will meet a grisly end in Moose Jaws.
"I just finished writing the scene where – spoilers – Silent Bob gets eaten by the moose. That's how he f***ing goes out!
"Isn't that fun?... So, rather than let him go out with dignity, he'll be eaten by a f***ing moose."
While it appears strange that Smith would admit the death of a character before he begins filming, it has been suggested that this could be his way of avoiding the disruption that such a scene could create for the rest of the film.
Fans shouldn't lose hope just yet, however.
Smith originally claimed Jay and Silent Bob Strike Back would be the end of the duo's saga, but the pair have been going strong since then.
Reuse content