He was known for avoiding the spotlight after the success of The Catcher in the Rye but at last, author JD Salinger's life will be the focus of a new biopic.
British actor Nicholas Hoult is taking the lead role in Rebel in the Rye, with Empire creator Danny Strong writing and directing a storyline based on Kenneth Slawenski's biography JD Salinger: A Life.
The drama will follow Salinger's journey from rebellious youth and World War II frontline service to literary fame and eventual reclusiveness.
Met with controversial upon its publication in 1951, The Catcher in the Rye is considered an iconic novel particularly popular with teenage readers for its themes of angst, alienation and lost innocence.
Most iconic book covers
Most iconic book covers
1/12 The Great Gatsby - F Scott Fitzgerald

Francis Cugat designed the cover art for Fitzgerald's quintessential jazz age novel. He finished it before the book was complete and the author liked it so much he 'wrote it into' the novel.

2/12 The Godfather - Mario Puzo

This 1969 cover art was produced by S Neil Fujita and became so iconic that the gothic typeface and puppeteer's hand were used as imagery in the film too.

3/12 The Cat in the Hat - Dr Seuss

Theodor Seuss Geisel designed this cartoon for his own 1957 children's classic.

4/12 Fifty Shades of Grey - EL James

If this cover to EL James' first erotic novel isn't one of the most iconic sleeves of recent times, we don't know what is.

5/12 The Catcher in the Rye - JD Salinger

Salinger was known for being fussy when it came to his book designs. He liked them simple with the only words being his name and the title, like this one by E Michael Mitchell.

6/12 'Porno' - Irvine Welsh

DJ Design came up with this crass cover for Irvine Welsh's Trainspotting sequel that few book-buyers could walk by without noticing.

7/12 Catch 22 - Joseph Heller

American jazz musician and designer Paul Bacon created this simple yet striking cover for Heller's novel. He is also the man behind the One Flew Over the Cuckoo's Nest and Slaughterhouse-Five sleeves.

8/12 One Day - David Nicholls

Craig Ward designed this bright romantic sleeve for David Nicholls' 2009 novel.

9/12 A Clockwork Orange - Anthony Burgess

David Pelham came up with this famous cover ten years after A Clockwork Orange was first published in 1962.

10/12 In Cold Blood - Truman Capote

S Neil Fujita designed this crime thriller's sleeve using a classic typeface, a strong black border and a simple drop of blood. The drop was brighter at first but Capote asked for it to be made darker as time had elapsed since the murders.

11/12 Grapes of Wrath - John Steinbeck

Illustrator Elmer Hader painted this by Steinbeck's request for his 1939 novel. He then created the cover art for East of Eden and The Winter of Our Discontent, too.

12/12 Invisible Man - Ralph Ellison

Edward McKnight Kauffer's powerful artwork represents the protagonist who is struggling to assert his identity in a world of hate.
More than 65 million copies have been sold worldwide to date but there have been no film adaptations of the book. Salinger refused to sell studios the screen rights after his short story Uncle Wiggily in Connecticut was adapted into the poor My Foolish Heart in 1949.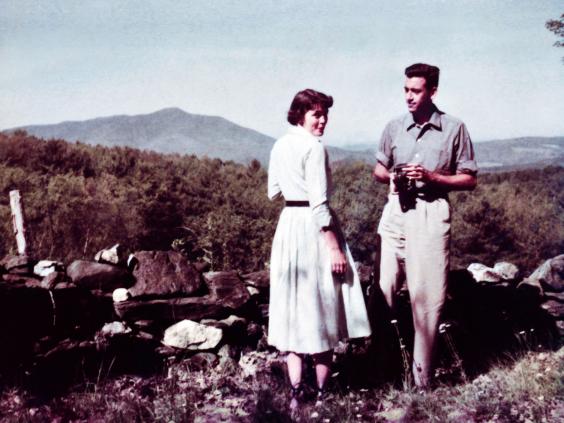 Salinger once wrote that he did not believe protagonist Holden Caulfield's first-person narration would translate well into cinema and therefore did not want to see a film in his lifetime. He died in 2010 aged 91.
Salinger's life, however, has been the subject of a documentary before. Shane Salerno released Salinger in 2013 and is currently working on a rival biopic with the Weinstein Co.
Further details on casting and release for Rebel in the Rye are yet to be confirmed.
Reuse content