The world needs Leonardo DiCaprio to finally win his Oscar. It just does. It's required for our society to function normally once more, instead of crumbling under the weight of our collective sleepless nights; haunted by the sad puppy-dog eyes of a man who wants something so badly, and yet has been so continually refused it. 
Until then, The Line has created the perfect game through which to vent all your frustrations. Leo's Red Carpet Rage is an arcade-style platform game which sees DiCaprio barrelling down the red carpet after his true beloved Academy Award.
No obstacle will get in his way (if you can press the space bar so he jumps in time); not the paparazzi, the interviewers, the iceberg that felled the Titanic, or a rampaging Lady Gaga.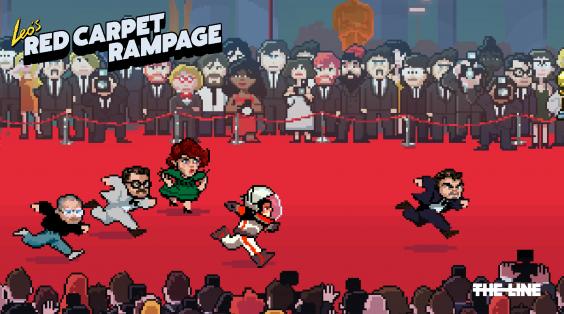 There's also plenty of opportunity to speed race the other nominees for Best Actor: including Michael Fassbender as Steve Jobs, Bryan Cranston as Trumbo, and Eddie Redmayne as Lili Elbe (from The Danish Girl). Watch out, though. You may think Matt Damon's The Martian space suit would slow him down but he's a surprisingly sprightly sort. 
Plenty of mini-games await between each round: you can pen your own acceptance speech or attempt the (actually impossible) task of finding the black nominee. There's even an opportunity to recreate The Wolf of Wall Street's infamous quaalude scene. 
Better than just twiddling your thumbs until the Academy Awards finally take place 28 February. You can play the game here.